Bank Compliance Officer CV Sample
The first important step in growing your career as a procurement officer is designing a CV that clearly stands out, positively highlighting all your critical strengths while also reflecting your procurement competencies and skills. Our Procurement Officer CV sample is among the priceless tools we have designed to help you gain insights into what you need to include in your CV. Additionally, the Procurement Officer CV sample guides you on the most appropriate CV format so that you instantly grab the attention of HR Managers.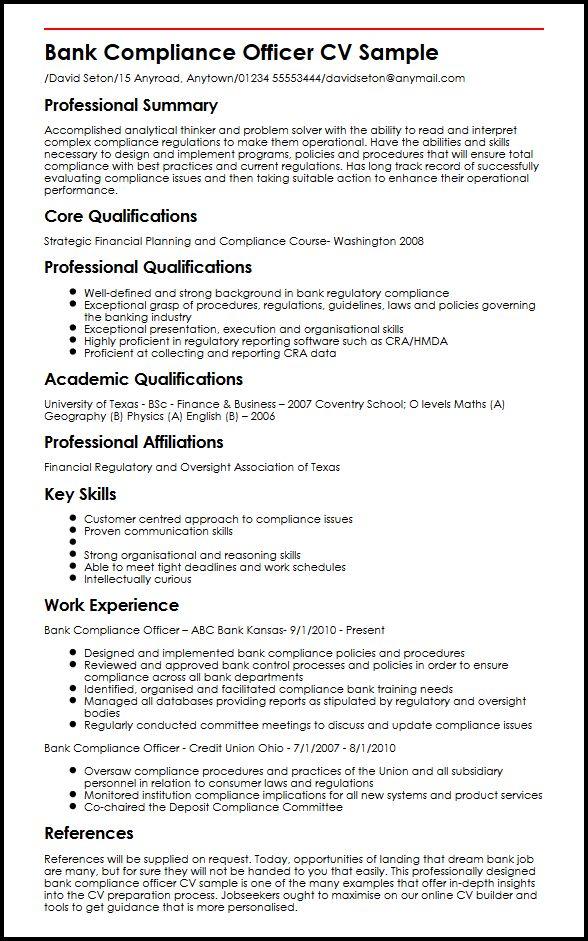 Bank Compliance Officer CV Sample /David Seton/15 Anyroad, Anytown/01234 55553444/davidseton@anymail.com
Professional Summary
Hardworking, capable and results driven procurement professional with an exceptional long track record of improving processes and significantly reducing costs. Proven ability of ensuring that a company enjoys a distinct competitive edge in comparison to competitors through securing the best processes, quality, and terms from the suppliers. Timely delivery of results against company strategic objectives, whilst ensuring they remain within the core beliefs and values of the company.
Core Qualifications
CPIM and CPM Certification
Professional Qualifications
Establishing lean initiatives; operating policies and processes that are effective
Extensive understanding of purchase order systems as well as related software
In-depth understanding of vendor management principles
Comprehensive know-how & experience in intricate purchasing and inventory management strategies
Deep knowledge of SAP
Academic Qualifications
Evesham North University-BA (Hons) Supply Chain Management- 1999Coventry North College-A levels Maths (C)English (C)Physics (B) - 1996
Professional Affiliations
UK Procurement Oversight Body
Key Skills
Supply chain management
Process management
Budget management
Change management
Strong negotiating skills
Work Experience
Procurement Officer | Power Solutions | Bath - August 2005 | Present
Managing Company-wide comprehensive procurement logistics
Handling supply chain related compliance and regulatory measures
Establishing systems integration best practices
Enforcing best warehouse procurement management systems and technology
Evaluating supplier core competencies and industry trends
Procurement Officer - XYZ Solutions London - May 2000 | July 2005
Outlined bid evaluation forms and coordinated with Company field offices
Formulated purchase orders and regular status reports
Monitored shipments movements and performed database and file maintenance
Assisted in proposals design, procurement and projects management
Imparted short term required technical assistance
References
Available on request
Conclusion
Currently there are lots of opportunities for landing that highly coveted job in the procurement sector; however, you are not going to get it that easily. This expertly crafted Procurement Officer CV sample is just one among the several that provide insightful perspectives into the process of CV preparation. Persons seeking employment are advised to make use of our CV builder and tools available here to get more personalised guidance.