Beauty Therapist CV Sample
To get a good chance of working in the beauty sector you will need to have put together a CV which offers a fair representation of your therapy skills and other workplace aptitudes, like being able to work in a team or punctuality. You must highlight your strengths as well as covering all of the information required for a detailed summary of your work history. In addition, it should be laid out in a clear format that makes your CV simple to digest for those reading it. Try our free beauty therapist CV sample which is a helpful tool for jobseekers already working in the beauty industry or for those looking to break into it.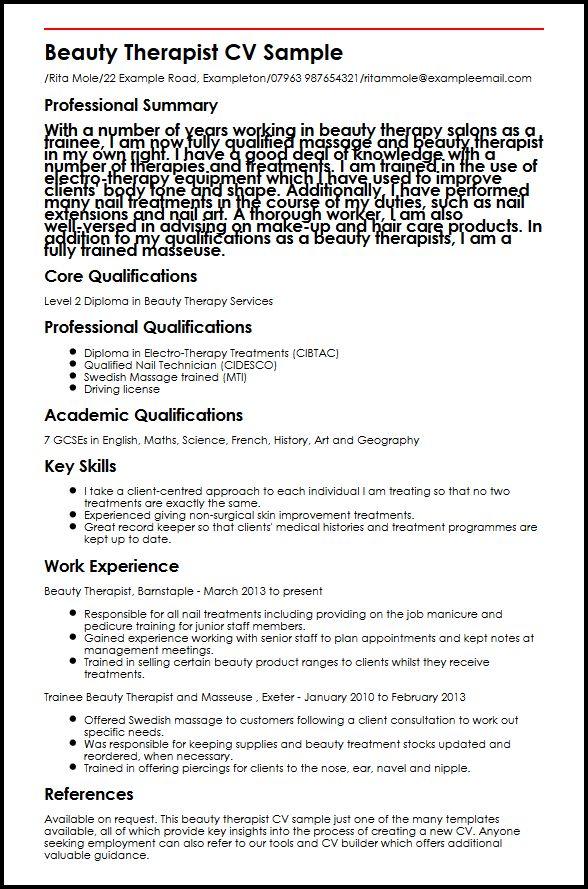 Beauty Therapist CV Sample/Rita Mole/22 Example Road, Exampleton/07963 987654321/ritammole@exampleemail.com
Professional Summary
With a number of years working in beauty therapy salons as a trainee, I am now fully qualified massage and beauty therapist in my own right. I have a good deal of knowledge with a number of therapies and treatments. I am trained in the use of electro-therapy equipment which I have used to improve clients' body tone and shape. Additionally, I have performed many nail treatments in the course of my duties, such as nail extensions and nail art. A thorough worker, I am also well-versed in advising on make-up and hair care products. In addition to my qualifications as a beauty therapists, I am a fully trained masseuse.
Core Qualifications
Level 2 Diploma in Beauty Therapy Services
Professional Qualifications
Diploma in Electro-Therapy Treatments (CIBTAC)
Qualified Nail Technician (CIDESCO)
Swedish Massage trained (MTI)
Driving license
Academic Qualifications
7 GCSEs in English, Maths, Science, French, History, Art and Geography
Key Skills
I take a client-centred approach to each individual I am treating so that no two treatments are exactly the same.
Experienced giving non-surgical skin improvement treatments.
Great record keeper so that clients' medical histories and treatment programmes are kept up to date.
Work Experience
Beauty Therapist, Barnstaple - March 2013to present
Responsible for all nail treatments including providing on the job manicure and pedicure training for junior staff members.
Gained experience working with senior staff to plan appointments and kept notes at management meetings.
Trained in selling certain beauty product ranges to clients whilst they receive treatments.
Trainee Beauty Therapist and Masseuse , Exeter - January 2010 to February 2013
Offered Swedish massage to customers following a client consultation to work out specific needs.
Was responsible for keeping supplies and beauty treatment stocks updated and reordered, when necessary.
Trained in offering piercings for clients to the nose, ear, navel and nipple.
References
Available on request.This beauty therapist CV sample just one of the many templates available, all of which provide key insights into the process of creating a new CV. Anyone seeking employment can also refer to our tools and CV builder which offers additional valuable guidance.