You can kick start your new career today, by getting a little help with that tricky first step: your CV. Use our free commis chef CV sample as a framework to get you started, with a sample layout and inspiration for your personal summary. Tailor this to your needs and then you can focus on selling yourself and starting your new role.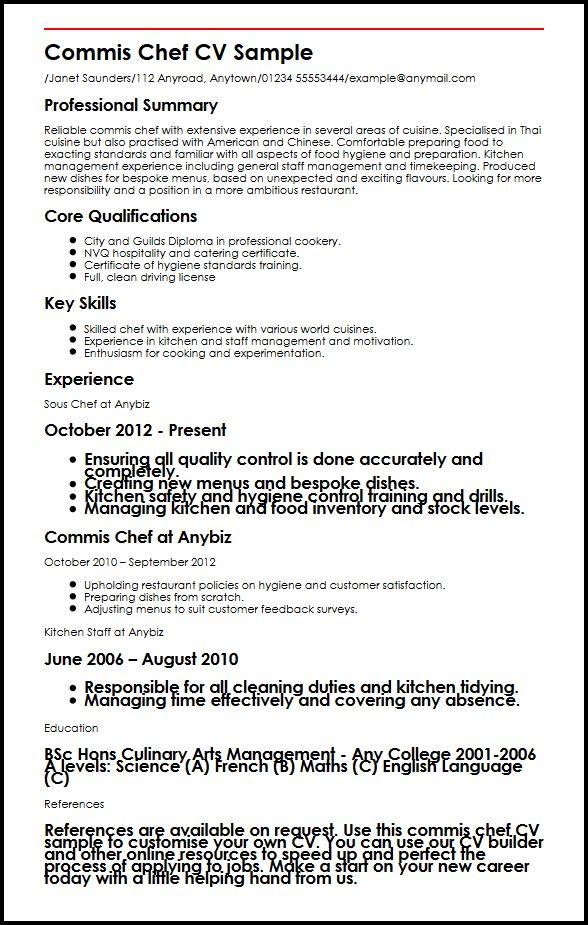 Commis Chef CV Sample/Janet Saunders/112 Anyroad, Anytown/01234 55553444/example@anymail.com
Professional Summary
Reliable commis chef with extensive experience in several areas of cuisine. Specialised in Thai cuisine but also practised with American and Chinese. Comfortable preparing food to exacting standards and familiar with all aspects of food hygiene and preparation. Kitchen management experience including general staff management and timekeeping. Produced new dishes for bespoke menus, based on unexpected and exciting flavours. Looking for more responsibility and a position in a more ambitious restaurant.
Core Qualifications
City and Guilds Diploma in professional cookery.
NVQ hospitality and catering certificate.
Certificate of hygiene standards training.
Full, clean driving license
Key Skills
Skilled chef with experience with various world cuisines.
Experience in kitchen and staff management and motivation.
Enthusiasm for cooking and experimentation.
Experience
Sous Chef at Anybiz
October 2012 - Present

Ensuring all quality control is done accurately and completely.
Creating new menus and bespoke dishes.
Kitchen safety and hygiene control training and drills.
Managing kitchen and food inventory and stock levels.

Commis Chef at Anybiz
October 2010 | September 2012
Upholding restaurant policies on hygiene and customer satisfaction.
Preparing dishes from scratch.
Adjusting menus to suit customer feedback surveys.
Kitchen Staff at Anybiz
June 2006 | August 2010

Responsible for all cleaning duties and kitchen tidying.
Managing time effectively and covering any absence.
Education
BSc Hons Culinary Arts Management - Any College 2001-2006A levels: Science (A) French (B) Maths (C) English Language (C)
References
References are available on request.Use this commis chef CV sample to customise your own CV. You can use our CV builder and other online resources to speed up and perfect the process of applying to jobs. Make a start on your new career today with a little helping hand from us.