Creativity is a very important quality to possess when writing a CV.Not only should this document display all of your important skills and talents, but it is a great idea to add in a bit of personality.This can help to separate your unique qualities from those of your competitors.We have therefore taken the liberty of providing the creative CV sample that you see below.Please have a look through its contents and observe its structure.You can then modify this document to serve your own unique needs.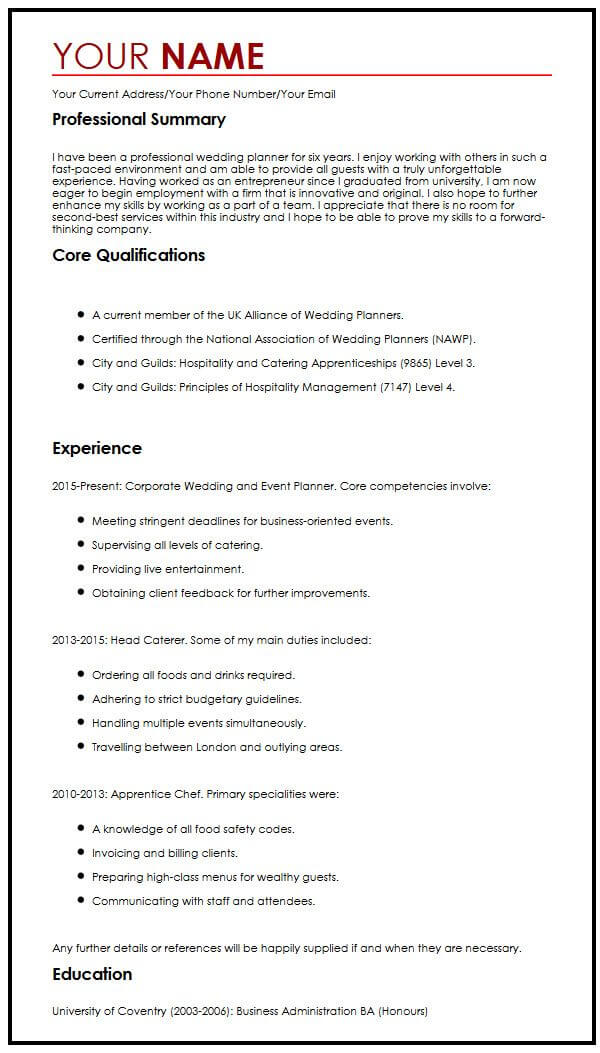 Your Current Address/Your Phone Number/Your Email
Professional Summary
I have been a professional wedding planner for six years.I enjoy working with others in such a fast-paced environment and am able to provide all guests with a truly unforgettable experience.Having worked as an entrepreneur since I graduated from university, I am now eager to begin employment with a firm that is innovative and original.I also hope to further enhance my skills by working as a part of a team.I appreciate that there is no room for second-best services within this industry and I hope to be able to prove my skills to a forward-thinking company.
Core Qualifications
A current member of the UK Alliance of Wedding Planners.
Certified through the National Association of Wedding Planners (NAWP).
City and Guilds: Hospitality and Catering Apprenticeships (9865) Level 3.
City and Guilds: Principles of Hospitality Management (7147) Level 4.
Experience
2015-Present: Corporate Wedding and Event Planner.Core competencies involve:
Meeting stringent deadlines for business-oriented events.
Supervising all levels of catering.
Providing live entertainment.
Obtaining client feedback for further improvements.
2013-2015: Head Caterer.Some of my main duties included:
Ordering all foods and drinks required.
Adhering to strict budgetary guidelines.
Handling multiple events simultaneously.
Travelling between London and outlying areas.
2010-2013: Apprentice Chef.Primary specialities were:
A knowledge of all food safety codes.
Invoicing and billing clients.
Preparing high-class menus for wealthy guests.
Communicating with staff and attendees.
Any further details or references will be happily supplied if and when they are necessary.
Education
University of Coventry (2003-2006): Business Administration BA (Honours)
Conclusion
It should now be easier to appreciate the structure and format of a typical CV.We have used a wedding planner as an example role, although you can change these contents to suit your speciality.This creative CV sample is only one of the numerous other documents that are contained throughout our website.Those seeking a rewarding job should take a further look at the information that we have to offer.