CV Example for Executives
Thanks to a fluid economy and a diverse range of opportunities, it is now quite common for executives to seek different types of employment throughout their careers.A high-quality CV is just as important for this demographic as it is for a first-time job seeker.Unfortunately, this process can become muddled and confusing from time to time.We have therefore constructed this CV example for executives.It is designed to provide a basic idea of how this document is formatted, as well as the vital information that needs to be contained within.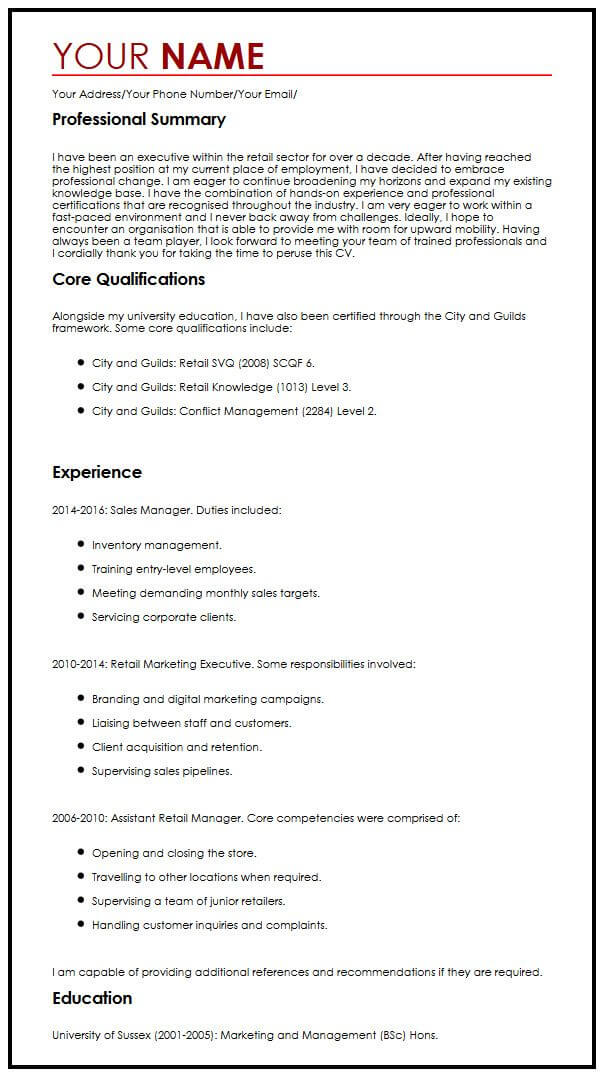 Your Address/Your Phone Number/Your Email/
Professional Summary
I have been an executive within the retail sector for over a decade.After having reached the highest position at my current place of employment, I have decided to embrace professional change.I am eager to continue broadening my horizons and expand my existing knowledge base.I have the combination of hands-on experience and professional certifications that are recognised throughout the industry.I am very eager to work within a fast-paced environment and I never back away from challenges.Ideally, I hope to encounter an organisation that is able to provide me with room for upward mobility.Having always been a team player, I look forward to meeting your team of trained professionals and I cordially thank you for taking the time to peruse this CV.
Core Qualifications
Alongside my university education, I have also been certified through the City and Guilds framework.Some core qualifications include:
City and Guilds: Retail SVQ (2008) SCQF 6.
City and Guilds: Retail Knowledge (1013) Level 3.
City and Guilds: Conflict Management (2284) Level 2.
Experience
2014-2016: Sales Manager.Duties included:
Inventory management.
Training entry-level employees.
Meeting demanding monthly sales targets.
Servicing corporate clients.
2010-2014: Retail Marketing Executive.Some responsibilities involved:
Branding and digital marketing campaigns.
Liaising between staff and customers.
Client acquisition and retention.
Supervising sales pipelines.
2006-2010: Assistant Retail Manager.Core competencies were comprised of:
Opening and closing the store.
Travelling to other locations when required.
Supervising a team of junior retailers.
Handling customer inquiries and complaints.
I am capable of providing additional references and recommendations if they are required.
Education
University of Sussex (2001-2005): Marketing and Management (BSc) Hons.
Conclusion
This CV example for executives is meant to highlight the main points that should always be mentioned when applying for a job.Depending upon your specific title and experience, the aforementioned sections may be longer or shorter than seen here.Finally, please do not hesitate to take advantage of the other tips and tricks that are found throughout this website.