CV Example for International Students
When you need to write a CV for international students to carry out a job search, you need to create a well-written document that targets the job you're interested in and reflects your top qualifications, achievements and skills. Take a look at this CV Example for International Students, which will help you greatly when it comes to getting a good idea of what to write and what format to use. The CV Example for International Students below is the ideal example of the type of CV that will impress recruiting management and inspire them to select you for interview.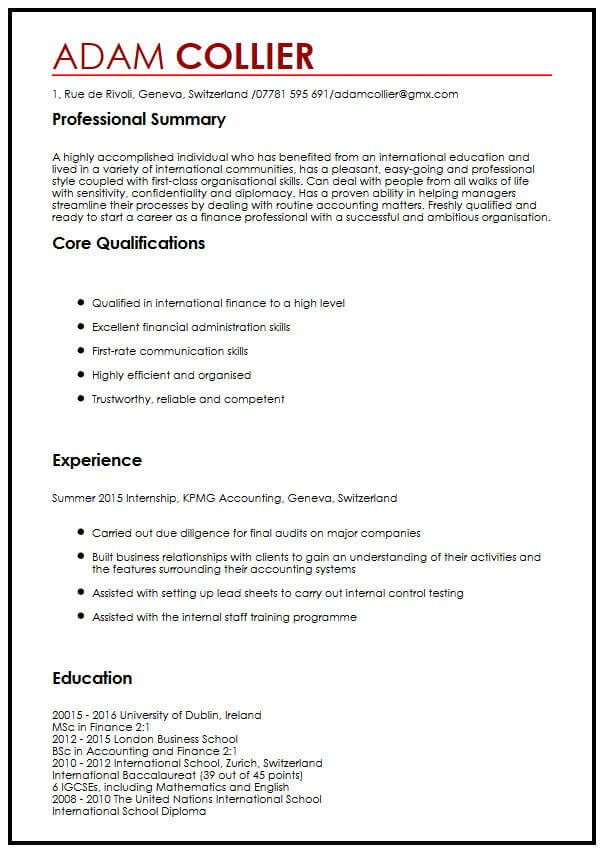 1, Rue de Rivoli, Geneva, Switzerland /07781 595 691/adamcollier@gmx.com
Professional Summary
A highly accomplished individual who has benefited from an international education and lived in a variety of international communities, has a pleasant, easy-going and professional style coupled with first-class organisational skills. Can deal with people from all walks of life with sensitivity, confidentiality and diplomacy. Has a proven ability in helping managers streamline their processes by dealing with routine accounting matters. Freshly qualified and ready to start a career as a finance professional with a successful and ambitious organisation.
Core Qualifications
Qualified in international finance to a high level
Excellent financial administration skills
First-rate communication skills
Highly efficient and organised
Trustworthy, reliable and competent
Experience
Summer 2015Internship, KPMG Accounting, Geneva, Switzerland
Carried out due diligence for final audits on major companies
Built business relationships with clients to gain an understanding of their activities and the features surrounding their accounting systems
Assisted with setting up lead sheets to carry out internal control testing
Assisted with the internal staff training programme
Education
20015 - 2016 University of Dublin, IrelandMSc in Finance 2:12012 - 2015 London Business SchoolBSc in Accounting and Finance 2:12010 - 2012 International School, Zurich, SwitzerlandInternational Baccalaureat (39 out of 45 points)6 IGCSEs, including Mathematics and English 2008 - 2010 The United Nations International School International School Diploma
Conclusion
The CV Example for International Students is part of our extensive library of CVs covering many different areas to provide you with the right information to write a professional CV. Jobseekers can benefit from consulting this site's tools and CV builder to help with the CV writing process.