CV Example to Get You Hired
In order to make a positive impact with would-be employers before you have even met them, it is best that your CV really stands out and is well written. Ideally, your CV will show off your work-related abilities in a strong and professionally presented manner. By using our free CV example as a template, you will ensure that you mention all of the right things that companies that are looking to hire will be expecting. Your CV should also be laid out in a way that makes it easy for anyone to understand, without having to read every section. As well as presenting all of your work history in the most appropriate manner, it must be engaging to read.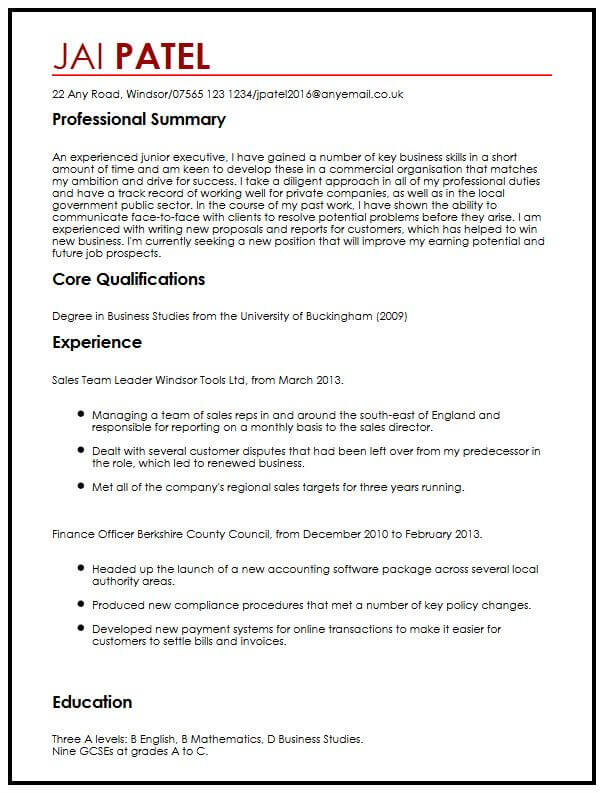 22 Any Road, Windsor/07565 123 1234/jpatel2016@anyemail.co.uk
Professional Summary
An experienced junior executive, I have gained a number of key business skills in a short amount of time and am keen to develop these in a commercial organisation that matches my ambition and drive for success. I take a diligent approach in all of my professional duties and have a track record of working well for private companies, as well as in the local government public sector. In the course of my past work, I have shown the ability to communicate face-to-face with clients to resolve potential problems before they arise. I am experienced with writing new proposals and reports for customers, which has helped to win new business. I'm currently seeking a new position that will improve my earning potential and future job prospects.
Core Qualifications
Degree in Business Studies from the University of Buckingham (2009)
Experience
Sales Team LeaderWindsor Tools Ltd, from March 2013.
Managing a team of sales reps in and around the south-east of England and responsible for reporting on a monthly basis to the sales director.
Dealt with several customer disputes that had been left over from my predecessor in the role, which led to renewed business.
Met all of the company's regional sales targets for three years running.
Finance OfficerBerkshire County Council, from December 2010 to February 2013.
Headed up the launch of a new accounting software package across several local authority areas.
Produced new compliance procedures that met a number of key policy changes.
Developed new payment systems for online transactions to make it easier for customers to settle bills and invoices.
Education
Three A levels: B English, B Mathematics, D Business Studies.Nine GCSEs at grades A to C.
Conclusion
By using this CV example to get you hired, you can improve your existing CV or produce a new one from scratch, if preferred. Nevertheless, it is just a single template and there are many differing approaches you could take. It is therefore possible to obtain further ideas and tools from the CV builder section of this site.