A successful CV with publications is a document that is written using appropriate wording and the right format. It will specifically reflect your academic qualifications, skills and accomplishments as well as targeting the job you would like to get. Looking at this CV Example With Publications will help you to include the information that's needed, and when your CV is received by the recruitment team they will be suitably impressed and are more likely to invite you for an interview.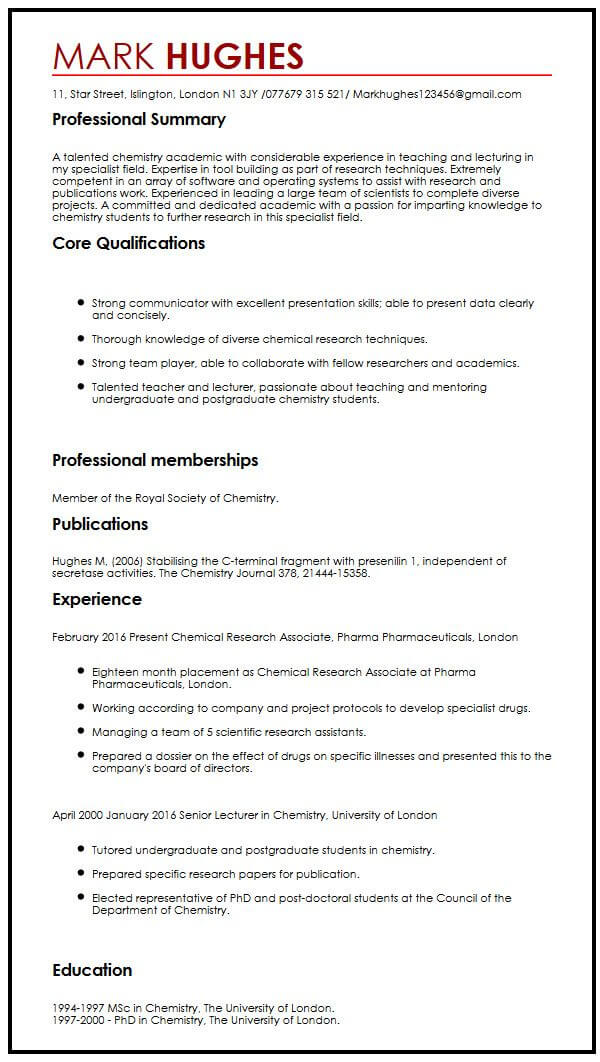 11, Star Street, Islington, London N1 3JY /077679 315 521/ Markhughes123456@gmail.com
Professional Summary
A talented chemistry academic with considerable experience in teaching and lecturing in my specialist field. Expertise in tool building as part of research techniques. Extremely competent in an array of software and operating systems to assist with research and publications work. Experienced in leading a large team of scientists to complete diverse projects. A committed and dedicated academic with a passion for imparting knowledge to chemistry students to further research in this specialist field.
Core Qualifications
Strong communicator with excellent presentation skills; able to present data clearly and concisely.
Thorough knowledge of diverse chemical research techniques.
Strong team player, able to collaborate with fellow researchers and academics.
Talented teacher and lecturer, passionate about teaching and mentoring undergraduate and postgraduate chemistry students.
Professional memberships
Member of the Royal Society of Chemistry.
Publications
Hughes M, (2006)Stabilising the C-terminal fragment with presenilin 1, independent of secretase activities. The Chemistry Journal 378, 21444-15358.
Experience
February 2016PresentChemical Research Associate, Pharma Pharmaceuticals, London
Eighteen month placement as Chemical Research Associate at Pharma Pharmaceuticals, London.
Working according to company and project protocols to develop specialist drugs.
Managing a team of 5 scientific research assistants.
Prepared a dossier on the effect of drugs on specific illnesses and presented this to the company's board of directors.
April 2000January 2016Senior Lecturer in Chemistry, University of London
Tutored undergraduate and postgraduate students in chemistry.
Prepared specific research papers for publication.
Elected representative of PhD and post-doctoral students at the Council of the Department of Chemistry.
Education
1994-1997MSc in Chemistry, The University of London. 1997-2000 - PhD in Chemistry, The University of London.
Conclusion
The CV Example With Publications is part of a large collection of CVs that will help academic jobseekers with the process of applying for jobs. The CV Example With Publications, CV builder and free tools on our site are available for consultation, providing invaluable help and guidance in this area.