CV Sample for a Full-Time Job
A recruiter will take many factors into account when deciding which applicant is best suited for a specific position.Skills, experience and personality naturally go a long way.However, the initial presentation is key.This is the main reason why the ability to offer a well-constructed CV is so very important.When we consider that the job market is now more competitive than ever before, this observation becomes even more relevant.To get an idea of how to present yourself in the best light, please take some time to look at the CV sample for a full-time job that we have put together below.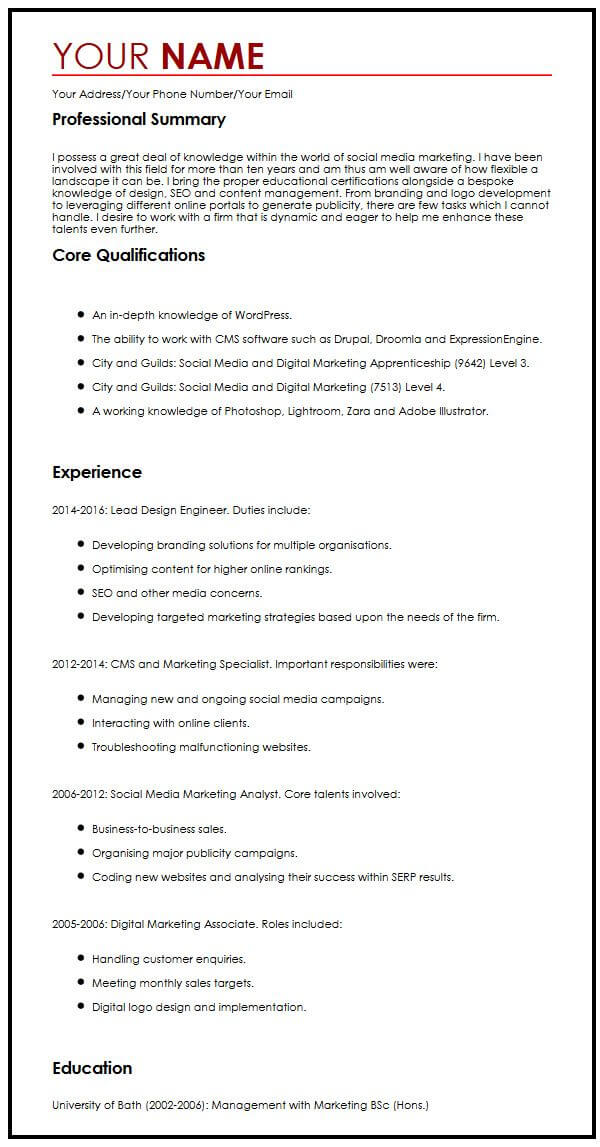 Your Address/Your Phone Number/Your Email
Professional Summary
I possess a great deal of knowledge within the world of social media marketing.I have been involved with this field for more than ten years and am thus am well aware of how flexible a landscape it can be.I bring the proper educational certifications alongside a bespoke knowledge of design, SEO and content management.From branding and logo development to leveraging different online portals to generate publicity, there are few tasks which I cannot handle.I desire to work with a firm that is dynamic and eager to help me enhance these talents even further.
Core Qualifications
An in-depth knowledge of WordPress.
The ability to work with CMS software such as Drupal, Droomla and ExpressionEngine.
City and Guilds: Social Media and Digital Marketing Apprenticeship (9642) Level 3.
City and Guilds: Social Media and Digital Marketing (7513) Level 4.
A working knowledge of Photoshop, Lightroom, Zara and Adobe Illustrator.
Experience
2014-2016: Lead Design Engineer.Duties include:
Developing branding solutions for multiple organisations.
Optimising content for higher online rankings.
SEO and other media concerns.
Developing targeted marketing strategies based upon the needs of the firm.
2012-2014: CMS and Marketing Specialist.Important responsibilities were:
Managing new and ongoing social media campaigns.
Interacting with online clients.
Troubleshooting malfunctioning websites.
2006-2012: Social Media Marketing Analyst.Core talents involved:
Business-to-business sales.
Organising major publicity campaigns.
Coding new websites and analysing their success within SERP results.
2005-2006: Digital Marketing Associate.Roles included:
Handling customer enquiries.
Meeting monthly sales targets.
Digital logo design and implementation.
Education
University of Bath (2002-2006): Management with Marketing BSc (Hons.)
Conclusion
Those who are looking for a full-time position that is rewarding and challenging should make it a point to peruse this CV sample in greater detail.There are numerous other examples throughout this website and each will provide you with the insight and clarity to properly format your unique presentation.