CV sample for Graduate Students
Now is the time to take your first steps towards a new career! Taking the time to find a clear and suitable CV format will ensure that your applications have the best chance of getting noticed. Rather than waste time on getting the layout right and working out what needs to be said, use our free CV sample for graduate students as a guide. Getting noticed is very important and that starts with a strong CV format, tailored to make your information clear, presentable and professional. The CV sample for graduates below is representative of the kind of CV that gets noticed by employers, has no unnecessary clutter and won't even take long to craft. Just add your own details and you're ready to make your mark.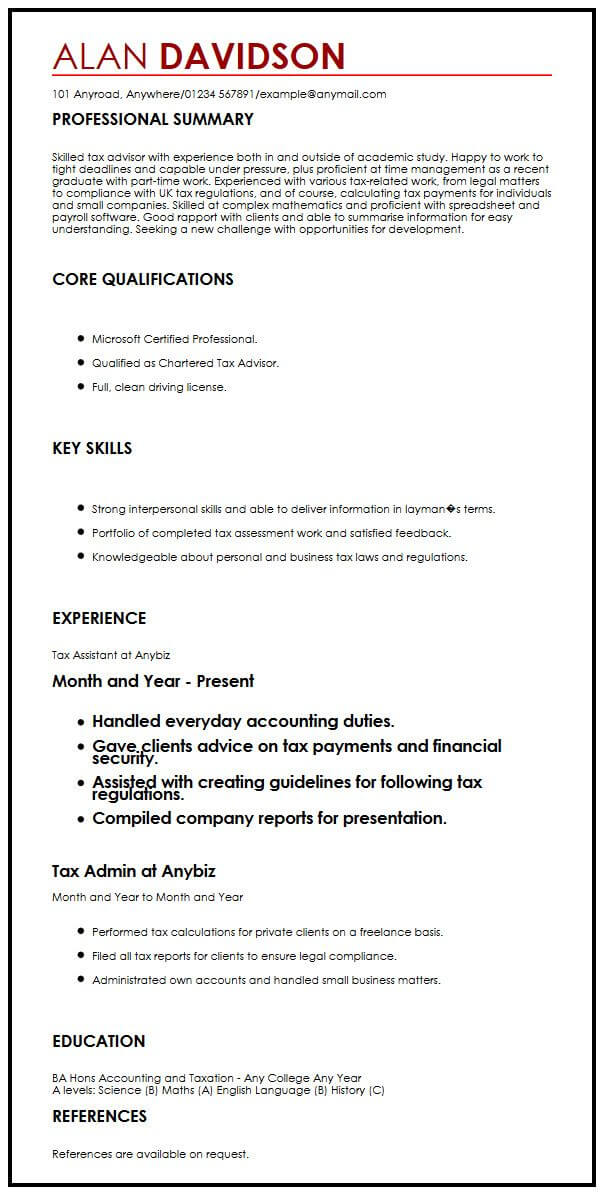 101 Anyroad, Anywhere/01234 567891/example@anymail.com

PROFESSIONAL SUMMARY
Skilled tax advisor with experience both in and outside of academic study. Happy to work to tight deadlines and capable under pressure, plus proficient at time management as a recent graduate with part-time work. Experienced with various tax-related work, from legal matters to compliance with UK tax regulations, and of course, calculating tax payments for individuals and small companies. Skilled at complex mathematics and proficient with spreadsheet and payroll software. Good rapport with clients and able to summarise information for easy understanding. Seeking a new challenge with opportunities for development.