Taking a gap yearbetween finishing university and looking for employment can be a useful way of gaining transferable skills and life experiences. However, it needs to be presented in a positive way to prospective employers as a useful learning experience thatcan be applied to the role you are seeking. Before starting to write your CV, study our free CV Sample with Gap Year for guidance on writing a concise, professional looking CV that outlines all your most valuable qualifications and experience.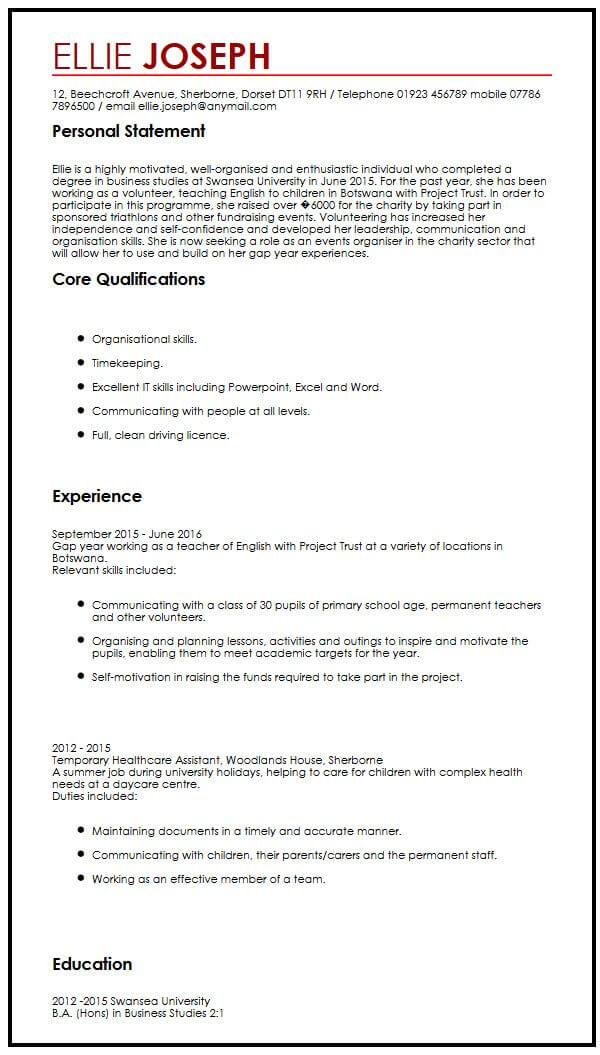 12, Beechcroft Avenue, Sherborne, Dorset DT11 9RH / Telephone 01923 456789 mobile 07786 7896500 / email ellie.joseph@anymail.com
Personal Statement
Ellie is a highly motivated, well-organised and enthusiastic individual who completed a degree in business studies at Swansea University in June 2015. For the past year, she has been working as a volunteer, teaching English to children in Botswana with Project Trust. In order to participate in this programme, she raised over £6000 for the charity by taking part in sponsored triathlons and other fundraisingevents. Volunteering has increased her independence and self-confidence and developed her leadership, communication and organisation skills. She is now seeking a role as an events organiser in the charity sector that will allow her to use and build on her gap year experiences.
Core Qualifications
Organisational skills.
Timekeeping.
Excellent IT skills including Powerpoint, Excel and Word.
Communicating with people at all levels.
Full, clean driving licence.
Experience
September 2015 - June 2016 Gap year working as a teacher of English with Project Trust at a variety of locations in Botswana.Relevant skills included:
Communicating with a class of 30 pupils of primary school age, permanent teachers and other volunteers.
Organising and planning lessons, activities and outings to inspire and motivate the pupils, enabling them to meet academic targets for the year.
Self-motivation in raising the funds required to take part in the project.
2012 - 2015Temporary Healthcare Assistant,Woodlands House, SherborneA summer job during university holidays, helping to care for children with complex health needs at a daycare centre.Duties included:
Maintaining documents in a timely and accurate manner.
Communicating with children, their parents/carers and the permanent staff.
Working as an effective member of a team.