CV Sample With No Job Experience
Writing a CV for the first time can be a daunting task, especially if you have just left school or college and have never been in paid employment. Whatever your situation, our CV Sample With No Job Experience is an example of the type of document that is likely to impress a potential employer. Writing a CV that showcases your most recent and impressive qualifications and skills is the best way of attracting an employer's attention in a competitive market. Our free CV Sample With No Job Experience can help you to create a professional CV to get you that all-important first job.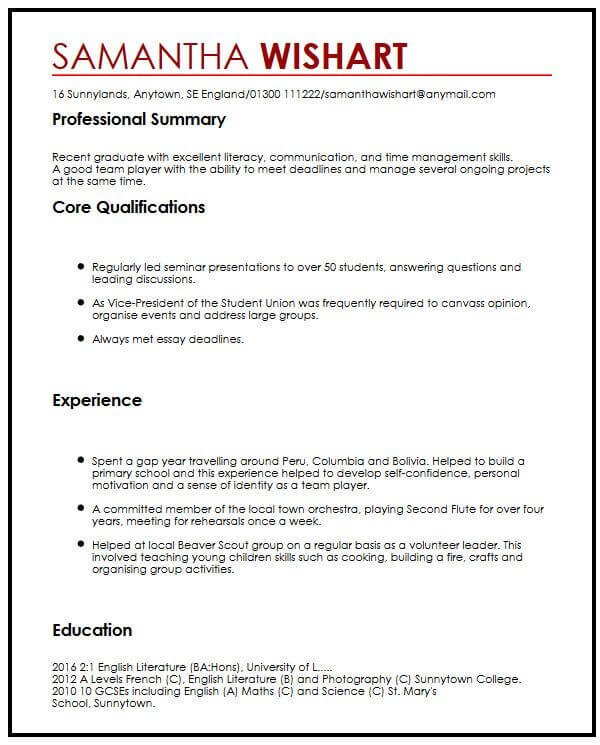 16 Sunnylands, Anytown, SE England/01300 111222/samanthawishart@anymail.com
Professional Summary
Recent graduate with excellent literacy, communication, and time management skills. A good team player with the ability to meet deadlines and manage several ongoing projects at the same time.
Core Qualifications
Regularly led seminar presentations to over 50 students, answering questions and leading discussions.
As Vice-President of the Student Union was frequently required to canvass opinion, organise events and address large groups.
Always met essay deadlines.
Experience
Spent a gap year travelling around Peru, Columbia and Bolivia. Helped to build a primary school and this experience helped to develop self-confidence, personal motivation and a sense of identity as a team player.
A committed member of the local town orchestra, playing Second Flute for over four years, meeting for rehearsals once a week.
Helped at local Beaver Scout group on a regular basis as a volunteer leader. This involved teaching young children skills such as cooking, building a fire, crafts and organising group activities.
Education
20162:1 English Literature (BA:Hons), University of L.....2012A Levels French (C), English Literature (B) and Photography (C) Sunnytown College. 201010 GCSEs including English (A) Maths (C) and Science (C) St. Mary's School, Sunnytown.
Conclusion
This CV Sample With No Job Experience is just one of hundreds of similar free samples that can help you to gain a better understanding of the CV writing process. If you are looking for work, why not take a minute or two, consult the invaluable tools and samples on our website and discover more indispensable tips and tricks? They could lead to your first job.