Customize this CV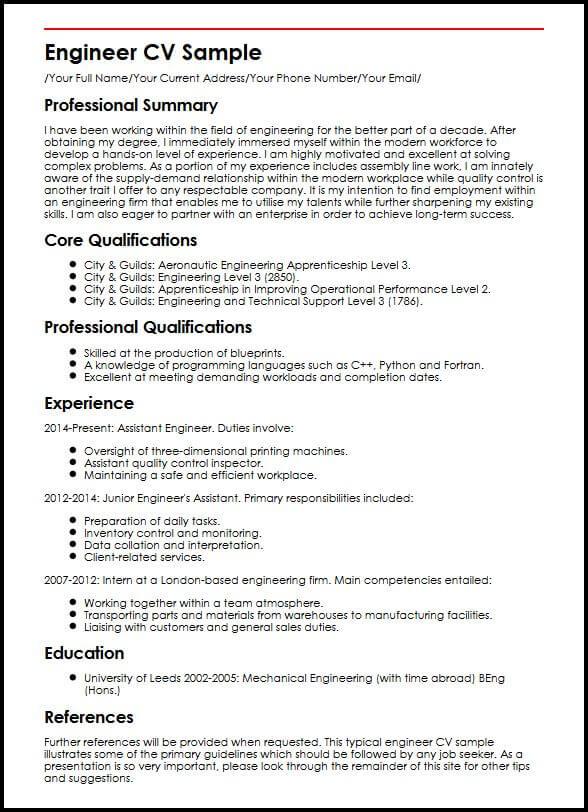 ---
Create This CV
The field of engineering is as diverse as it is evolving at a breakneck speed. As science and techniques continue to evolve, the potential job market will likewise widen to include highly skilled workers. A natural offshoot of this advancement is a workforce partially defined by demanding requirements. In other words, only the most qualified applicants can expect to land a rewarding position. This professional engineer CV sample is meant to serve as a foundation for anyone who is not entirely sure of how to present themselves to a potential employer. Of course, the length and content may differ depending upon your specific skill sets and experience.
Engineer CV Sample
/Your Full Name/Your Current Address/Your Phone Number/Your Email/
Professional Summary
I have been working within the field of engineering for the better part of a decade. After obtaining my degree, I immediately immersed myself within the modern workforce to develop a hands-on level of experience. I am highly motivated and excellent at solving complex problems. As a portion of my experience includes assembly line work, I am innately aware of the supply-demand relationship within the modern workplace while quality control is another trait I offer to any respectable company. It is my intention to find employment within an engineering firm that enables me to utilise my talents while further sharpening my existing skills. I am also eager to partner with an enterprise in order to achieve long-term success.
Core Qualifications
City & Guilds: Aeronautic Engineering Apprenticeship Level 3.
City & Guilds: Engineering Level 3 (2850).
City & Guilds: Apprenticeship in Improving Operational Performance Level 2.
City & Guilds: Engineering and Technical Support Level 3 (1786).
Professional Qualifications
Skilled at the production of blueprints.
A knowledge of programming languages such as C++, Python and Fortran.
Excellent at meeting demanding workloads and completion dates.
Experience
2014-Present: Assistant Engineer. Duties involve:
Oversight of three-dimensional printing machines.
Assistant quality control inspector.
Maintaining a safe and efficient workplace.
2012-2014: Junior Engineer's Assistant. Primary responsibilities included:
Preparation of daily tasks.
Inventory control and monitoring.
Data collation and interpretation.
Client-related services.
2007-2012: Intern at a London-based engineering firm. Main competencies entailed:
Working together within a team atmosphere.
Transporting parts and materials from warehouses to manufacturing facilities.
Liaising with customers and general sales duties.
Education
University of Leeds 2002-2005: Mechanical Engineering (with time abroad) BEng (Hons.)
References
Further references will be provided when requested. This typical engineer CV sample illustrates some of the primary guidelines which should be followed by any job seeker. As a presentation is so very important, please look through the remainder of this site for other tips and suggestions.