Constructing a well-formatted CV is as much of a science as it is an art form.While the content within each of these pieces will naturally differ, there are nonetheless some common tips and tricks, which can come in quite handy before submitting this document for review.Our free CV example is intended to provide the clarity and insight required to create the most appealing presentation possible.When applying for any job within a competitive environment, first impressions are critical to enjoy eventual success.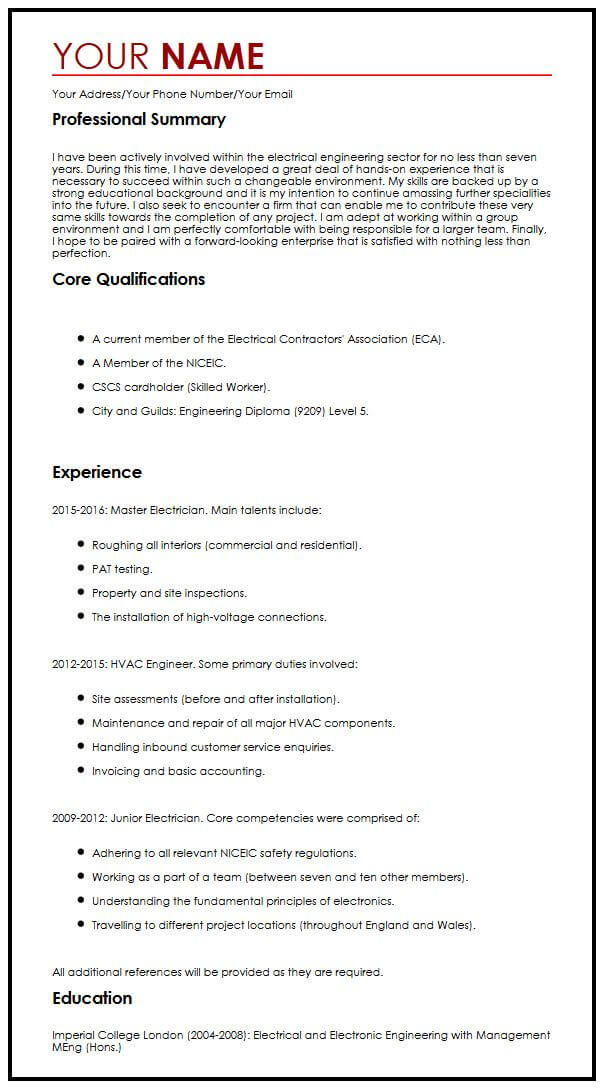 Your Address/Your Phone Number/Your Email
Professional Summary
I have been actively involved within the electrical engineering sector for no less than seven years.During this time, I have developed a great deal of hands-on experience that is necessary to succeed within such a changeable environment.My skills are backed up by a strong educational background and it is my intention to continue amassing further specialities into the future.I also seek to encounter a firm that can enable me to contribute these very same skills towards the completion of any project.I am adept at working within a group environment and I am perfectly comfortable with being responsible for a larger team.Finally, I hope to be paired with a forward-looking enterprise that is satisfied with nothing less than perfection.
Core Qualifications
A current member of the Electrical Contractors' Association (ECA).
A Member of the NICEIC.
CSCS cardholder (Skilled Worker).
City and Guilds: Engineering Diploma (9209) Level 5.
Experience
2015-2016: Master Electrician.Main talents include:
Roughing all interiors (commercial and residential).
PAT testing.
Property and site inspections.
The installation of high-voltage connections.
2012-2015: HVAC Engineer.Some primary duties involved:
Site assessments (before and after installation).
Maintenance and repair of all major HVAC components.
Handling inbound customer service enquiries.
Invoicing and basic accounting.
2009-2012: Junior Electrician.Core competencies were comprised of:
Adhering to all relevant NICEIC safety regulations.
Working as a part of a team (between seven and ten other members).
Understanding the fundamental principles of electronics.
Travelling to different project locations (throughout England and Wales).
All additional references will be provided as they are required.
Education
Imperial College London (2004-2008): Electrical and Electronic Engineering with Management MEng (Hons.)
Conclusion
In this free CV example, we have chosen an individual who wishes to further his or her employment within the electrical engineering sector.However, there are numerous other CV samples available throughout this site.We always encourage readers to browse through additional sections, as many valuable tips and job-seeking suggestions can be encountered with the mere click of a button.