Customize this CV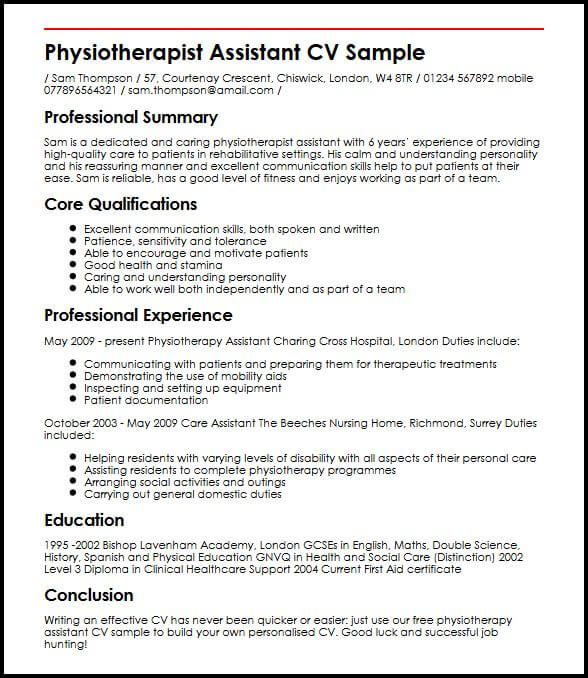 ---
Create This CV
There are many opportunities for physiotherapist assistants, but it can sometimes be difficult to get an interview. To write a tailor-made application that stands out from the competition, read our free physiotherapist assistant CV sample before creating your own resume. It will provide you will valuable guidance on how to outline your most impressive qualifications, skills and experience and will give you hints on the best way to format your CV. The free physiotherapist assistant CV sample below is a good example of the sort of curriculum vitae that will gain a hiring manager's attention for all the right reasons.
Physiotherapist Assistant CV Sample
/ Sam Thompson / 57, Courtenay Crescent, Chiswick, London, W4 8TR / 01234 567892 mobile 077896564321 / sam.thompson@amail.com /
Professional Summary
Sam is a dedicated and caring physiotherapist assistant with 6 years' experience of providing high-quality care to patients in rehabilitative settings. His calm and understanding personality and his reassuring manner and excellent communication skills help to put patients at their ease. Sam is reliable, has a good level of fitness and enjoys working as part of a team.
Core Qualifications
Excellent communication skills, both spoken and written
Patience, sensitivity and tolerance
Able to encourage and motivate patients
Good health and stamina
Caring and understanding personality
Able to work well both independently and as part of a team
Professional Experience
May 2009 – present Physiotherapy Assistant Charing Cross Hospital, London Duties include:
Communicating with patients and preparing them for therapeutic treatments
Demonstrating the use of mobility aids
Inspecting and setting up equipment
Patient documentation
October 2003 – May 2009 Care Assistant The Beeches Nursing Home, Richmond, Surrey Duties included:
Helping residents with varying levels of disability with all aspects of their personal care
Assisting residents to complete physiotherapy programmes
Arranging social activities and outings
Carrying out general domestic duties
Education
1995 -2002 Bishop Lavenham Academy, London GCSEs in English, Maths, Double Science, History, Spanish and Physical Education GNVQ in Health and Social Care (Distinction) 2002 Level 3 Diploma in Clinical Healthcare Support 2004 Current First Aid certificate
Conclusion
Writing an effective CV has never been quicker or easier: just use our free physiotherapy assistant CV sample to build your own personalised CV. Good luck and successful job hunting!