Preparing a CV can be a rather daunting task. Perhaps this is your first time entering into the workforce, or you may be unsure which format is the most accepted by potential employers in different industries. Although the content within this document will naturally differ depending upon your skills, there are still many features which remain the same. This is the primary reason why we have created this universal CV example. The suggestions and categories highlighted below can be included within your own document to ensure you present yourself in the best possible light.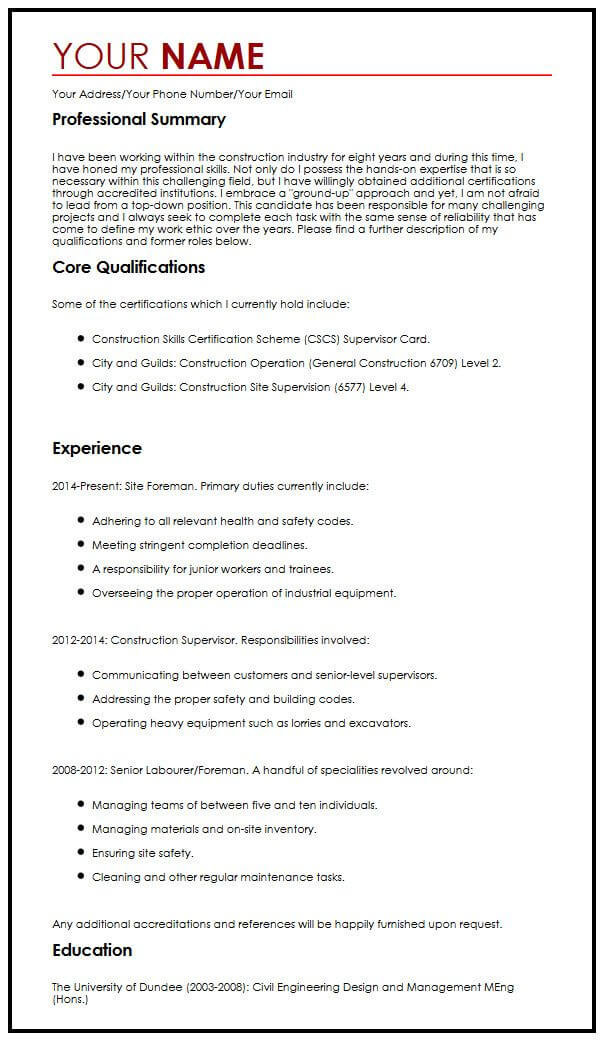 Your Address/Your Phone Number/Your Email
Professional Summary
I have been working within the construction industry for eight years and during this time, I have honed my professional skills. Not only do I possess the hands-on expertise that is so necessary within this challenging field, but I have willingly obtained additional certifications through accredited institutions. I embrace a "ground-up" approach and yet, I am not afraid to lead from a top-down position. This candidate has been responsible for many challenging projects and I always seek to complete each task with the same sense of reliability that has come to define my work ethic over the years. Please find a further description of my qualifications and former roles below.
Core Qualifications
Some of the certifications which I currently hold include:
Construction Skills Certification Scheme (CSCS) Supervisor Card.
City and Guilds: Construction Operation (General Construction 6709) Level 2.
City and Guilds: Construction Site Supervision (6577) Level 4.
Experience
2014-Present: Site Foreman. Primary duties currently include:
Adhering to all relevant health and safety codes.
Meeting stringent completion deadlines.
A responsibility for junior workers and trainees.
Overseeing the proper operation of industrial equipment.
2012-2014: Construction Supervisor. Responsibilities involved:
Communicating between customers and senior-level supervisors.
Addressing the proper safety and building codes.
Operating heavy equipment such as lorries and excavators.
2008-2012: Senior Labourer/Foreman. A handful of specialities revolved around:
Managing teams of between five and ten individuals.
Managing materials and on-site inventory.
Ensuring site safety.
Cleaning and other regular maintenance tasks.
Any additional accreditations and references will be happily furnished upon request.
Education
The University of Dundee (2003-2008): Civil Engineering Design and Management MEng (Hons.)
Conclusion
This universal CV example highlights some of the most important points which must be considered in your own application. Although we have focused upon the construction sector, this very same format can be employed for other job-seeking needs.