Getting a job as a volunteer requires an inspirational CV to show how you meet the criteria for this type of role. The free online volunteer CV sample will help you show exactly how you're the right person for the job by highlighting your knowledge, skills and experience, showing your qualities in the right light. Our volunteer CV sample will stand you in good stead for progressing to the interview stage for the position you're targeting.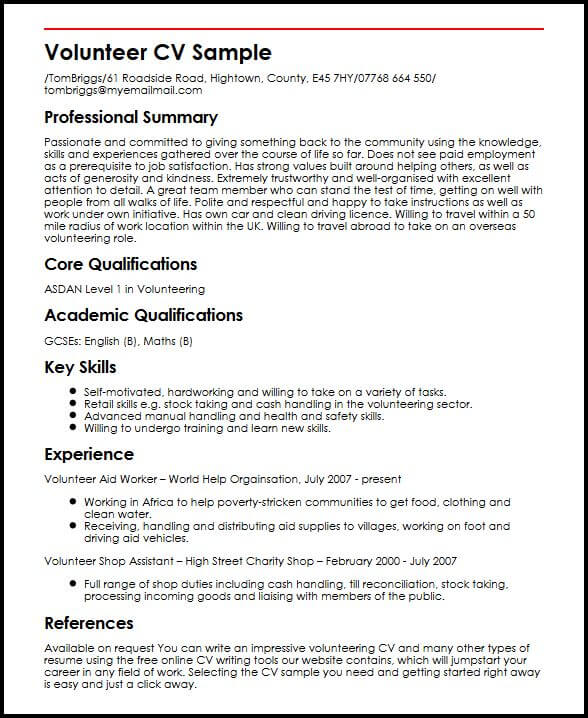 Volunteer CV Sample/TomBriggs/61 Roadside Road, Hightown, County, E45 7HY/07768 664 550/ tombriggs@myemailmail.com
Professional Summary
Passionate and committed to giving something back to the community using the knowledge, skills and experiences gathered over the course of life so far. Does not see paid employment as a prerequisite to job satisfaction. Has strong values built around helping others, as well as acts of generosity and kindness. Extremely trustworthy and well-organised with excellent attention to detail. A great team member who can stand the test of time, getting on well with people from all walks of life. Polite and respectful and happy to take instructions as well as work under own initiative. Has own car and clean driving licence. Willing to travel within a 50 mile radius of work location within the UK. Willing to travel abroad to take on an overseas volunteering role.
Core Qualifications
ASDAN Level 1 in Volunteering
Academic Qualifications
GCSEs: English (B), Maths (B)
Key Skills
Self-motivated, hardworking and willing to take on a variety of tasks.
Retail skills e.g. stock taking and cash handling in the volunteering sector.
Advanced manual handling and health and safety skills.
Willing to undergo training and learn new skills.
Experience
Volunteer Aid Worker | World Help Orgainsation, July 2007 - present
Working in Africa to help poverty-stricken communities to get food, clothing and clean water.
Receiving, handling and distributing aid supplies to villages, working on foot and driving aid vehicles.
Volunteer Shop Assistant | High Street Charity Shop |February 2000 - July 2007
Full range of shop duties including cash handling, till reconciliation, stock taking, processing incoming goods and liaising with members of the public.
References
Available on requestYou can write an impressive volunteering CV and many other types of resume using the free online CV writing tools our website contains, which will jumpstart your career in any field of work. Selecting the CV sample you need and getting started right away is easy and just a click away.