Inbound Call Centre Agent CV Example
Those who are highly motivated and are keen to make an impression within the world of marketing are often interested in becoming an inbound call centre agent.As opposed to outbound services, inbound calls tend to be from qualified customers and therefore, the chances of a lucrative sale are very real.It should therefore be obvious that this field is highly competitive.In order to make an excellent first impression, it is critical to offer up only the most relevant information regarding your skills.Please examine the inbound call centre agent CV sample that is found below.This example will provide you with an excellent guideline to polish your final presentation.
Create This CVSee all templates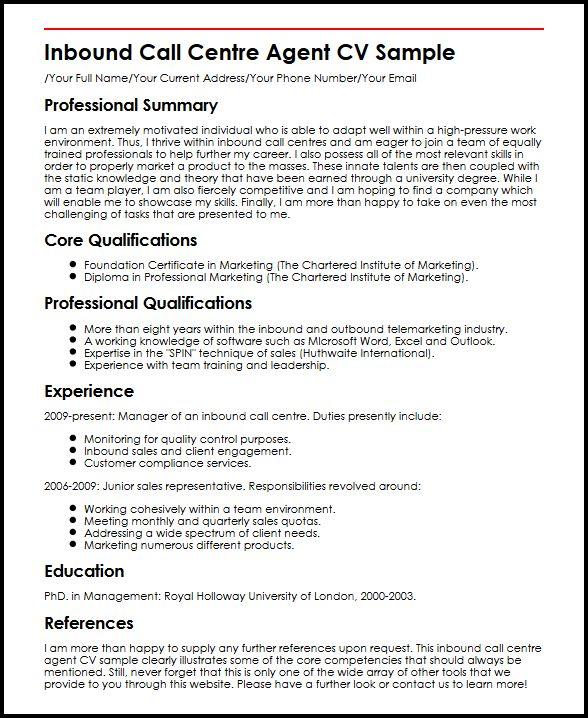 Build a professional CV that gets you hired.
Inbound Call Centre Agent CV Sample/Your Full Name/Your Current Address/Your Phone Number/Your Email
Professional Summary
I am an extremely motivated individual who is able to adapt well within a high-pressure work environment.Thus, I thrive within inbound call centres and am eager to join a team of equally trained professionals to help further my career.I also possess all of the most relevant skills in order to properly market a product to the masses.These innate talents are then coupled with the static knowledge and theory that have been earned through a university degree.While I am a team player, I am also fiercely competitive and I am hoping to find a company which will enable me to showcase my skills.Finally, I am more than happy to take on even the most challenging of tasks that are presented to me.
Core Qualifications
Foundation Certificate in Marketing (The Chartered Institute of Marketing).
Diploma in Professional Marketing (The Chartered Institute of Marketing).
Professional Qualifications
More than eight years within the inbound and outbound telemarketing industry.
A working knowledge of software such as MIcrosoft Word, Excel and Outlook.
Expertise in the "SPIN" technique of sales (Huthwaite International).
Experience with team training and leadership.
Experience
2009-present: Manager of an inbound call centre.Duties presently include:
Monitoring for quality control purposes.
Inbound sales and client engagement.
Customer compliance services.
2006-2009: Junior sales representative.Responsibilities revolved around:
Working cohesively within a team environment.
Meeting monthly and quarterly sales quotas.
Addressing a wide spectrum of client needs.
Marketing numerous different products.
Education
PhD. in Management: Royal Holloway University of London, 2000-2003.
References
I am more than happy to supply any further references upon request.This inbound call centre agent CV sample clearly illustrates some of the core competencies that should always be mentioned.Still, never forget that this is only one of the wide array of other tools that we provide to you through this website.Please have a further look or contact us to learn more!
Related CVs Customer service