Television Producer CV Example
You can kick start your new dream career today by getting a little help with that tricky first step: your CV. Use our free producer CV sample as a framework to get you started, with a sample layout and inspiration for your personal summary. Tailor this to your needs and then you can focus on selling yourself and starting your new role.
Create This CVSee all templates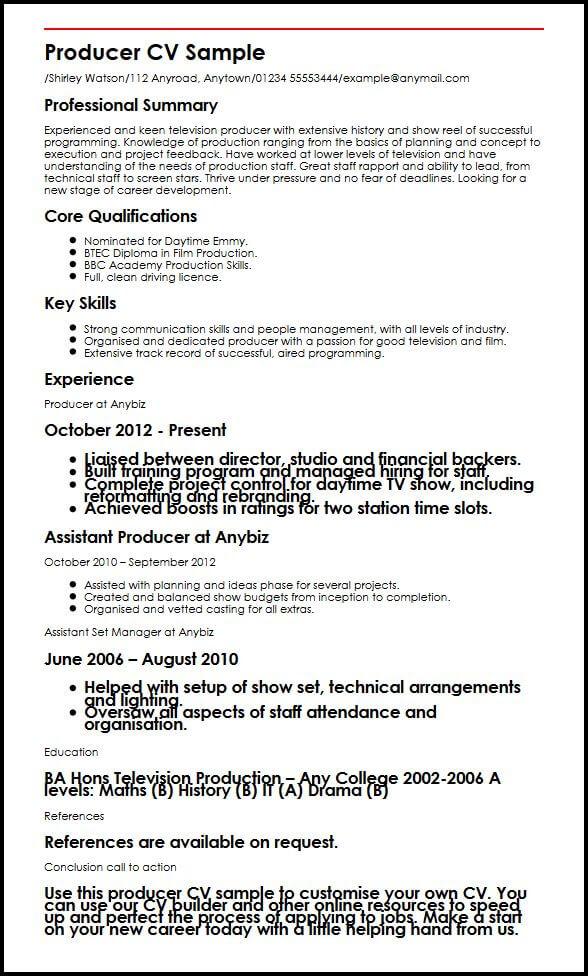 Build a professional CV that gets you hired.
Producer CV Sample/Shirley Watson/112 Anyroad, Anytown/01234 55553444/example@anymail.com
Professional Summary
Experienced and keen television producer with extensive history and show reel of successful programming. Knowledge of production ranging from the basics of planning and concept to execution and project feedback. Have worked at lower levels of television and have understanding of the needs of production staff. Great staff rapport and ability to lead, from technical staff to screen stars. Thrive under pressure and no fear of deadlines. Looking for a new stage of career development.
Core Qualifications
Nominated for Daytime Emmy.
BTEC Diploma in Film Production.
BBC Academy Production Skills.
Full, clean driving licence.
Key Skills
Strong communication skills and people management, with all levels of industry.
Organised and dedicated producer with a passion for good television and film.
Extensive track record of successful, aired programming.
Experience
Producer at Anybiz
October 2012 - Present

Liaised between director, studio and financial backers.
Built training program and managed hiring for staff.
Complete project control for daytime TV show, including reformatting and rebranding.
Achieved boosts in ratings for two station time slots.

Assistant Producer at Anybiz
October 2010 | September 2012
Assisted with planning and ideas phase for several projects.
Created and balanced show budgets from inception to completion.
Organised and vetted casting for all extras.
Assistant Set Manager at Anybiz
June 2006 | August 2010

Helped with setup of show set, technical arrangements and lighting.
Oversaw all aspects of staff attendance and organisation.
Education
BA Hons Television Production | Any College 2002-2006A levels: Maths (B) History (B) IT (A) Drama (B)
References
References are available on request.
Conclusion call to action
Use this producer CV sample to customise your own CV. You can use our CV builder and other online resources to speed up and perfect the process of applying to jobs. Make a start on your new career today with a little helping hand from us.
Related CVs Film television media production