HR Manager CV Example
In order to build your CV from scratch and include details about your maternity leave, you need to create a well-written document that's both specific to the job you're applying for and reflects your main qualifications, skills and experience. Before starting to write your CV, consulting our CV Sample With Maternity Leave will give you an indication of the information you need to add, as well as the format to choose. Our CV Sample With Maternity Leave below is just the type of CV that will get you noticed by the recruiting manager, who is more likely to select you for an interview, giving you the best chance of getting the job you want.

Create This CVSee all templates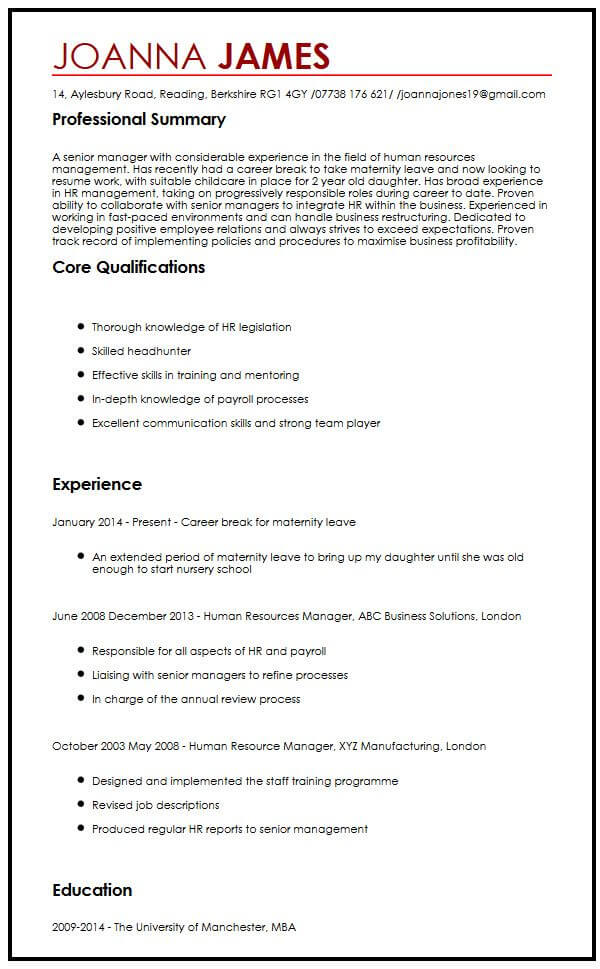 Build a professional CV that gets you hired.
14, Aylesbury Road, Reading, Berkshire RG1 4GY /07738 176 621/ /joannajones19@gmail.com
Professional Summary
A senior manager with considerable experience in the field of human resources management. Has recently had a career break to take maternity leave and now looking to resume work, with suitable childcare in place for 2 year old daughter. Has broad experience in HR management, taking on progressively responsible roles during career to date. Proven ability to collaborate with senior managers to integrate HR within the business. Experienced in working in fast-paced environments and can handle business restructuring. Dedicated to developing positive employee relations and always strives to exceed expectations. Proven track record of implementing policies and procedures to maximise business profitability.
Core Qualifications
Thorough knowledge of HR legislation
Skilled headhunter
Effective skills in training and mentoring
In-depth knowledge of payroll processes
Excellent communication skills and strong team player
Experience
January 2014 - Present - Career break for maternity leave
An extended period of maternity leave to bring up my daughter until she was old enough to start nursery school
June 2008December 2013 - Human Resources Manager, ABC Business Solutions, London
Responsible for all aspects of HR and payroll
Liaising with senior managers to refine processes
In charge of the annual review process
October 2003May 2008 - Human Resource Manager, XYZ Manufacturing, London
Designed and implemented the staff training programme
Revised job descriptions
Produced regular HR reports to senior management
Education
2009-2014 - The University of Manchester, MBA
Conclusion
This CV Sample With Maternity Leave is part of a large collection of samples that provide essential information about how to write your CV. Consulting our free CV builder and useful tools on this site will help you with the difficult CV writing process.