Sales Assistant Manager CV Example
A summer job is an excellent way to gain work experience while earning some money. There are plenty of summer postsavailable but they are not necessarily any easier to acquire than permanent positions. It is important to make sure that your CV for a summer job is relevant to the role you are applying for and that you clearly identify the skills and qualifications you can bring to the job. Before starting to write your CV, it is helpful to study good examples of CVs for seasonal work to gain insight into how to construct your CV in the most effective way. Use our free CV sample for a summer job to write a concise, effective CV that will ensure your application gets the attention of the hiring managers and help you achieve that all-important interview.

Create This CVSee all templates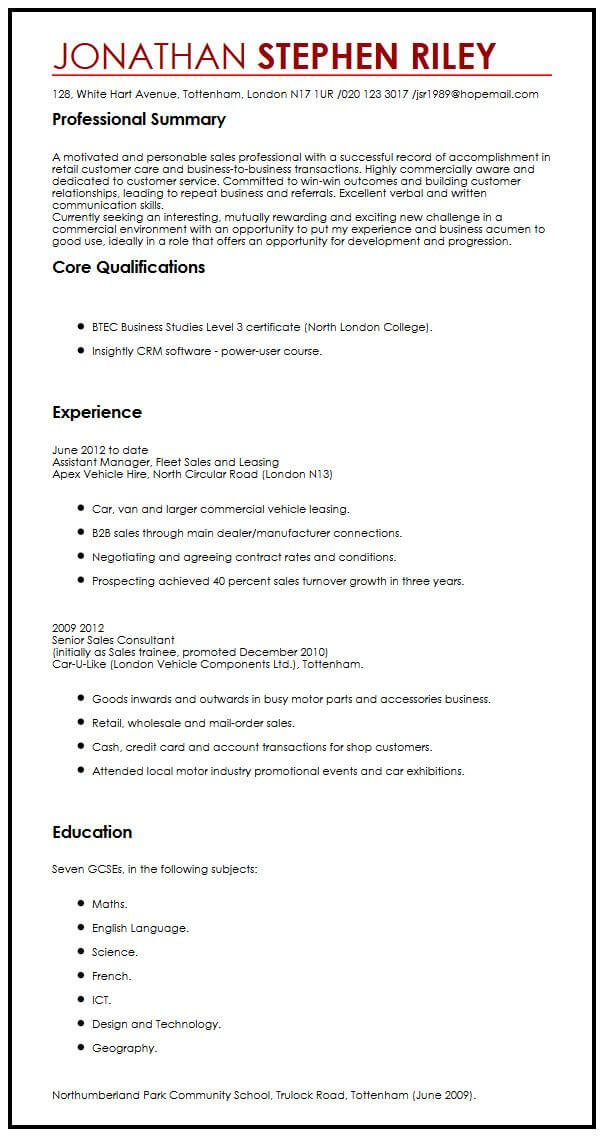 Build a professional CV that gets you hired.
23, River Lane, Middletown, Devon EX8 7YG / Tel 01567 897645 mobile 078677 432900 / email scarlett.reynolds@anymail.com
Professional Summary
Scarlett is an enthusiastic, well-organised and outgoing individual, currently studying for an undergraduate degree in Business Studies at Plymouth University,who is looking for a summer job in a front of house role.
Reliable and good at time management.
Has excellent communications skills with people at all levels.
Has good organisational skills, evidenced through her academic studies and previous summer jobs.
Competent in IT skills and trained in handling cash.
Experience
2012 -2014 Waitress, Cupcake Heaven, Exmouth, DevonRelevant duties included:
Meeting and greeting customers.
Handling cash.
Organising own workload.
General cleaning and tidying.
2014 - 2015Receptionist, The Clifftop Hotel, Exmouth, DevonRelevant duties:
Communicating with guests and staff by telephone, email and by letter.
Handling bookings.
Checking guests in and out of the hotel.
Managing till.
Helping to organise conferences and wedding receptions.