Whether you're creating your first or your tenth Curriculum Vitae (CV), it can feel like a daunting task. That's why we've assembled the ultimate list of professional CV tips to help you develop the perfect CV. They'll guide you through building your CV, whatever stage of your career you're at.
Like many formal documents, the CV follows an exact format, which is the secret to a professional and clear CV that recruiters will love to read. You can learn this format and take advantage of our recruiter-approved, instant templates - making it easier than ever before to create, edit, save, and download multiple CVs.
We'll show you just what to look for, how to become a professional with our CV tips, and how to apply these today. Let's get started!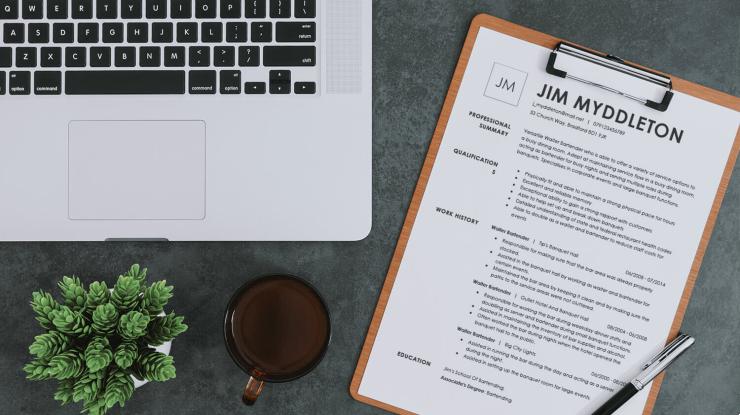 Our top CV tips to help you look your best
How do you present a good CV? Your CV needs to reflect your unique skills, experience, and personality, but it needs to be formatted correctly. You need CV tips and tricks to make you stand out from the rest. Recruiters may have over 100 applicants per role, and they're looking for someone whose CV stands out.
Your CV needs to be right for you, and that's why, depending on your industry, there will be differences in presentation style. We've pulled out some of the best tips and help with CVs that we've come across in our extensive experience working with recruiters and CV building professionals.
Follow reverse chronological order
One of the most overlooked CV tips is to start with your most recent experience!
List your employment history in reverse chronological order (most recent first). It's acceptable to leave out past roles that aren't relevant to your current job application, even if you are entry level.
Adding your positions from old to new will immediately turn recruiters off. With only 6 seconds to skim your CV for the relevant information, if you put this at the end, you're putting yourself at a disadvantage.
Use a professionally designed template
A CV template makes life easier and much faster to get your CV prepared. Good CV tips sometimes miss out this crucial step in professional CV building. A good template will help with CV formatting, showing you exactly where to add what information and generally how much to add.
Using myPerfectCV's templates, you'll instantly get a design and style made for you, instead of trying to do this in word processing software. Using a template saves you time as you can try out different templates with the click of a button and change back again - it's a risk-free way to see what suits you best!
Always focus on the top third of your CV
Recruiters often only scan the top third portion of a CV. So one of our best tips for UK CVs is to focus your efforts here! Use this section wisely and squeeze in as much detail as possible without making your CV look too full. A great personal statement for example, will help with CV impact.
This means:
Making sure you have the correct contact details.
Creating a powerful and impactful personal statement.
Using headers and spacing out your top sections, so they are easily skimmed.
How to order your CV
As well as what to add to a CV, consider what order to include it in. There's a generally accepted order for professional CVs in the UK, which is as follows (from top to bottom):
Personal details
Your name, address, telephone number and email address should be clearly visible at the top of the CV.

Personal statement
A personal statement may also be referred to as a summary section. This is a short, three sentence elevator pitch of your experience designed to entice recruiters to keep reading.

Work experience
The purpose of the employment history or work experience section is to show recruiters the work you've done, for which company, and when.

Within this section you must include your job title, the dates of employment, the name of the company, plus your experience.

Skills
The skills section is one of the most critical areas of a CV as it helps the recruiter see if you're a good match for the role. Think of it as a keywords section where the recruiter will scan for matching skills to the job description.

Education
List your qualifications using a reverse chronological order (most recent first). Include the name of the educational institution (university, college, or school), the type of qualification (degree, A-levels or GCSEs) and the date awarded.

If you have a degree or have more than ten years of work experience, it's not necessary to list university or school grades on your CV.

Hobbies and references
It's not essential to include hobbies and references on a CV, but you can include them if you think they'll impress the recruiter or improve your chances of getting hired.
Don't be afraid of styling your CV
While layout remains more or less fixed, you have creative freedom with the style of your CV. Once you understand what a CV should look like - feel free to have some fun. Using the myPerfectCV builder you can easily adjust font colour, borders, template style, and more.
It is crucial in today's marketplace to be yourself and companies are looking for a diverse range of candidates for all sorts of roles.
Align your content to the left so it's easy to read
One of the deadly sins of CV formatting is to align your CV centrally, justified, or to the right. Alignment like this is difficult for the human eye to read quickly, as we naturally scan text from left to right.
Instead, you should always align your text to the left.
Though it might be tempting to align different sections in different ways, consider the impact on the reader before you do it.
Know the importance of font size and style
Do you know the difference between serif and sans serif typeface?
Whether you do or don't, we've taken the guesswork out of choosing a CV font by choosing fonts that not only look great but that are easy for recruiters to read. This is part of what makes a CV good.
Highly legible fonts like the ones in our CV builder and templates increase the ease with which a recruiter can read your CV and get to the heart of your experience.
Get friendly with white space and margins
Just like fonts, using margins and spacing correctly will help the recruiter to find the most critical sections of your CV quickly.
Don't cram as much onto two pages as possible; make sure you leave ample spaces (at least one line-height) between sections.
The more white space used, the easier it is to skim the CV. The same applies to margins which help to create a uniform look to your CV. Luckily, our templates will handle this for you, so you don't have to worry.
Using bold, italics, and underlining
Making the correct use of bold, italics, and underlining is often overlooked. Our templates automatically create consistent and attractive formatting so you can work on content. Correct use of these additional formatting options is a valuable tip on how to build a successful CV.
The best CVs are those with clearly titled sections. For example, the 'experience' section is bold and in a larger typeface than the body of your CV.
Remember that everything can be overused, so go sparingly, be consistent, and to make it easier: use a template like ours!
Take the hassle out of CV building with our professional templates
Our professionally designed CV templates are the secret ingredient to a perfectly formatted CV. Why go through the stress of formatting using Word, when our sleek templates will do it all for you?
Play with different fonts, colours, and layouts all at the click of a button. Don't like it? Change it back in seconds! Take the hard work out of creating your CV today with myPerfectCV.
Our top CV tips for attention-grabbing content
Tailor your CV to the role you're applying for
If you only do one thing with your CV, tailor it! If you want to present a successful CV you need to know how to create a professional CV - and the secret is in the personalisation! Recruiters are looking for candidates who match the job description. They are looking for particular skills, experience, and often certifications and training.
You might think recruiters will see through your fabulous experience that you're the right person for the position, but they need to see clear evidence that you match their needs. You need to bear this in mind when you are creating your CV - any opportunity to personalise it should be grabbed with two hands.
For example, if the job description is asking for someone proficient in InDesign, with five years' experience in a similar role, you need to make that crystal clear to the recruiter in your CV.
myPerfectCV's builder allows you to create as many copies and versions of your CV as you need, so each can be easily tailored to the specific role you're applying for.
Not sure where to start? On your computer or with a print out, highlight commonly used words in the job description and make a list. Then make sure you add all the listed words in the upper part or first page of your CV for maximum impact.
Use numbers to quantify your experience
No matter your experience level, you should always frame your experience with achievements, using numbers.
Framing means highlighting the impact or value you added to the company rather than just a list of what you did. The old way is to list out your responsibilities, but this is no longer the preferred way of presenting your experience.
By framing your experience with examples of how you improved things for your team, for the company, how you might have driven growth, gained an award, and so on, you give recruiters insight into how you might behave in a new environment. It's a way they can predict how you'll fit into the new company.
Instead of recruiters having to guess how you'll perform, you're demonstrating real successes with measurable examples.
Instead of: "Responsible for several junior writers, their schedules and output."
Say: "Directed daily workflow for three junior writers, outputting over 9,000 words per week."
Instead of: "Prepared clients for hair treatments with the stylist."
Say: "Assisted stylist by greeting and preparing over ten clients per day for hair treatments."
Instead of: "Directed successful and award-winning, digital advertising campaigns."
Say: "Awarded prestigious Cannes Lion for work directing a digital advertising campaign that led to 80% increase in sales for the client."
Use the active voice & action words
One of the biggest mistakes in good CV creation is not using the active voice.
Action words and active voice create straightforward sentences, giving your CV more impact and making it easier to read.
Here are some examples of active and passive voice:
Passive: Targets were hit by using a specialist sales technique.
Active: Employed a specialist sales technique and hit 100% of targets.
Action words like engaged, directed, spearheaded, championed, and led, will help to give energy to your CV.
Try to avoid overused phrases such as 'was responsible for' and 'ensured that'. Replace 'but', with 'and' to make your language more positive.
Consider only including the past ten years of your career
In the past, CVs were lengthy and all-encompassing. Expert CV tips and advice focused on adding as much information as possible. Individuals would list out every position they'd had since school and describe their experience in vast detail. Thankfully, times have changed.
It's now acceptable in the UK to just give up to ten years of the most relevant experience on your CV, even if you have more.
If you do have more experience, you can add a section titled "further experience' and bullet point the titles of the positions. This way, the recruiter sees your earlier experience, but your CV isn't too long for recruiters to skim.
Think about the two 'R's: recent and relevant. Tailoring your CV to the job description will further help you to see what you should and shouldn't include.
For example, suppose you were a receptionist in 2010, but are now a marketing manager applying for a marketing director role. In that case, this experience is neither recent nor relevant, therefore, can be dropped or listed as above.
Always include a personal statement
The personal statement or summary is one of the most essential sections of any CV. Your statement is your elevator pitch; a chance to highlight your achievements and your top skills. It covers what you do, where and for how long, plus any recent accomplishments or training you want to highlight.
With recruiters scanning the top of your CV for the most relevant experience, this section holds the key to keeping their attention and ensuring they read the rest of your CV.
Your statement should be 2-3 sentences in length, written in the present tense. Use action verbs and active voice. It's acceptable to use the first person ("I"), but you may find that the third person sounds slightly more professional.
Here's an example for a sales assistant, using the third person:
'Confident and personable retail sales assistant with over three years of experience increasing sales for major high street brands, including Gap and River Island. Exceeds weekly sales targets by implementing company sales techniques and builds long-lasting customer relationships. Proven skills in personal styling, till management, and end-of-day reconciliation.'
Use keywords from the job description
Recruiters are looking to see how you match the job description. This is their number one aim when skimming CVs.
One of the best tips we've heard of is to run the job description through a word cloud builder to find out which of the keywords appear the most. This way, you can ensure you ramp up these keywords in your CV.
For example, a bricklayer job description might have the keywords of 'bricks', 'mortar', 'construction' and skills such as, 'patience', 'creativity', and 'attention to detail'. In this case, you would want to make sure these keywords are found at the top of your CV in your personal statement and within the experience of each of your roles.
It's a simple, but often overlooked way to improve your CV automatically.
Be conservative with your job experience
Be cautious with the number and length of experience under each job - using long sentences can make it hard work for recruiters.
Remember: your number one goal is to make it easy for recruiters to skim your CV.
We recommend a maximum of eight experience bullet points for recent work experience and around six for older positions. Why? Because the likelihood is you're going to start repeating yourself, and this isn't helpful to the recruiter or for the length of your CV.
For example, if you've held four positions as a receptionist, chances are you answered the phones in all four, so tell the recruiter something unique about each of the roles and the achievements you made while you were there to avoid repetition. How many times a day did you answer the phone? How many people visited the reception? What were other tasks unique to each role?
Keep your CV to 1-2 pages
A concise CV is a well-liked CV; aim for two pages.
Following the rules of recent and relevant, you can avoid repeating experience from your older roles. If you've mentioned a task or skill in one position, try not to repeat it too much. Focusing on job-specific achievements and giving examples is the best way to avoid repetition.
Using spacing and font size, you can often trim down the length, using myPerfectCV, you can change the font, font size, and spacing quickly and easily.
On the flip side of this rule, if you really find you need to go over the page limit, that would be preferred over not being able to read your CV because it's all bunched together.
Make your skills stand out
Your skills are another section of your CV where you can mention those all-important job description keywords.
10-12 essential skills are enough to give the recruiter an overview of what you bring to the table, but you might decide to add more.
We suggest five hard skills (that required training or education) and five soft skills (personal attributes).
If you are a graphic designer:
Hard skills may include:

Adobe Photoshop
Adobe Illustrator
Animation
Lithography
Animation techniques

Soft skills may include:

Attention to detail
Creativity
Organisation
Teamwork
Time management
It's easy to make your skills stand out using a myPerfectCV template, which automatically builds a clear and concise skills section.
Get rid of jargon and acronyms
Many industries use acronyms and their own language (jargon), while it may have an essential place in those environments, try and keep your CV jargon-free.
Anyone should be able to pick up your CV and understand what you did and how.
For example, CTR (click-through rate) is a commonly used acronym in performance marketing, but we recommend typing it out in full so that it's crystal clear to a recruiter (who might not be a specialist in this area).
In retail, technology or food development, a 'new product developer' might be called an 'NPD', but this again is not obvious.
There is one other huge reason why typing out these keywords is so essential: CV scanning software. The majority of recruiters are using an applicant tracking system, often referred to with its acronym: ATS. The software scans through CVs to find the candidates who most closely match the job description, and you guessed it, they are checking those crucial keywords.
If you don't type out these words entirely, there's a chance your CV will be rejected before it even gets to a recruiter or hiring manager.
All CVs from myPerfectCV are compatible with ATS software, giving your CV the best chance of being seen by a recruiter.
Ditch the fluff & sound like a pro
If you want to sound like a professional CV creator, these are the best CV tips we can give you. CVs are unique in that we use shorter, abbreviated, and fragmented sentences. CV professionals cut out the 'fluff' and filler words. Minimising your use of these words sounds more professional and maximises the value of what you do say in the space you have.
Everyday filler words to watch out for are, 'or', 'and', 'the', 'them', 'to', and 'because'.
Instead of: "I managed a team of twelve staff, including senior nurses, for more than five years in the capacity of head nurse."
Say: "Managed team of twelve senior nurses over five years."
In this example, it's not necessary to say you were the head nurse as you will have already mentioned the job title. The above example is good because it includes measurable results and numbers, which will pique a recruiter's interest. Turning the phrase into the third person also helps to make the sentence more concise.
Once you've finished the first draft of your CV, go back and read back all of your experience bullet points. Challenge yourself to reduce every sentence by five words; you will see how much crisper your CV sounds. With our tips from professional CV editors, you can feel confident in your CV - you're following CV tricks and tips from the best!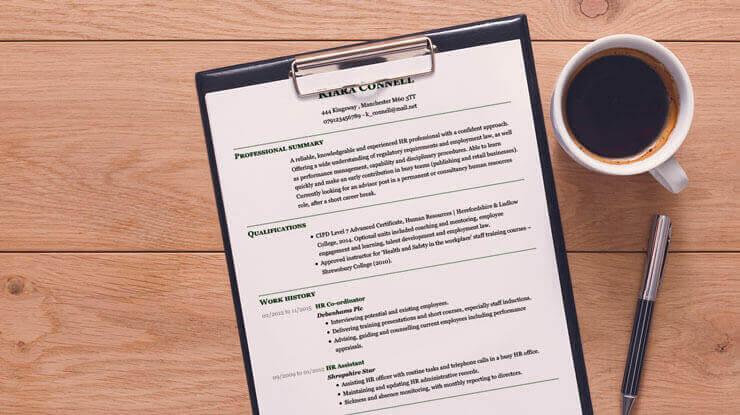 Our top general CV tips for a creating a knock-out CV
Adding career gaps if you're returning after parental leave, or were away travelling
Thanks mainly to new employment laws and more ethical hiring practices, it's not necessary to explain or include career gaps on your CV. However, you may still like to add these.
If you do so, consider the transferable skills learned during these periods. If you were a parent, think of soft skills developed such as 'patience' and 'increased compassion'.
If you were on a gap year, consider adding the skills of 'orientation', 'ability to work autonomously', 'languages gained', and 'cultural awareness'.
It's outdated to see gaps in your CV as a weakness. They are more often an advantage and make you a more well-rounded and exciting candidate.
The career path of individuals today is so different to even just 20 years ago. Don't let career gaps overwhelm you.
Consider asking someone to read over your CV
Don't miss out on this top CV tip to perfect your CV. myPerfectCV has built-in spellcheck, but it's advisable to get an outsider to read over your CV before you send it to a recruiter. They'll spot mistakes you can't and can tell you if anything seems amiss.
Spelling mistakes and grammatical errors can ruin a good first impression, and you don't want to have spent all that time on a CV to find there are mistakes.
Try asking a parent, loved one, friend, or colleague.
Send your CV as a PDF unless asked otherwise
With our software, you can download your CV in a range of formats, including Word, TXT, and PDF.
We highly recommend downloading and sending as a PDF as this ensures your newly-created masterpiece is perfect when recruiters open using other software. PDF 'locks' the formatting and will appear in the best format for all types of computers and browsers.
PDFs from the myPerfectCV builder are also still quickly scanned using ATS software (unlike documents you might create yourself).
Know the difference between hard and soft skills
Soft skills are common personal attributes or qualities. They include things like communication, teamwork, and problem-solving. It's likely that a lot of people will have the same soft skills as you, it's less likely that everyone will have the same hard skills.
Hard skills are gained through qualifications and certificates and are an essential part of the role. For example, a web developer needs to have knowledge and experience of working with HTML to code websites. They tend to be more technical and call attention to areas of specialism.
Both are essential for your CV, but recruiters like to see a balanced mix of both types of skills. The best practice for CV building in the UK is to show a range of skills that are relevant to the role you're going for.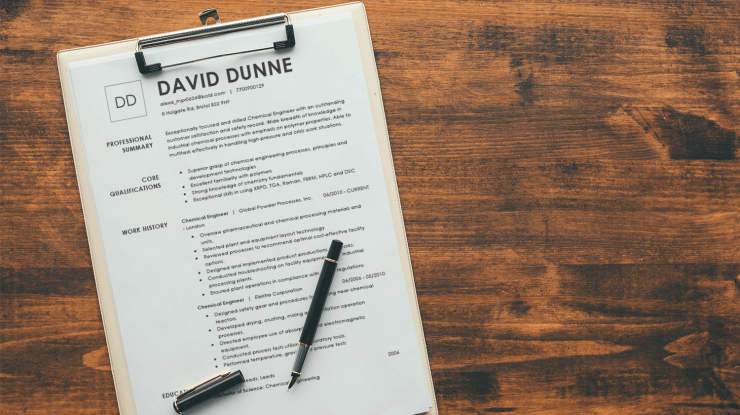 Whatever your next career move, make it perfect with myPerfectCV
We hope our CV help & tips have helped to give you more insight into creating the perfect CV. Whether you're a hairdresser, accountant, or biologist, myPerfectCV can help you develop multiple CVs for your next role application, with ease and in minutes. For more tips and advice specifically on online CV creation, head over to our guide to creating a CV online.
Ready to get started? You're just minutes away from a new CV.