Get hired with our expert CV writing tips
According to Time Magazine, the average recruiter spends just six seconds looking at a CV. If you want employers to spend a little longer on your application, and even move your CV to the top of the pile, you need to get some CV help from the experts.
Top 10 CV examples
Using one CV for every job application will hold you back from moving forward in your career. Recruiters don't want to receive a generic CV, instead, they want to see you've taken the time to tailor your CV to the role.

Browse our example CVs and see how other professionals have followed our CV tips to build a CV that shows a recruiter they're the best person for the role.
5 ultimate CV tips
Here are the top five CV tips we've picked up over the years helping jobseekers like you:
Choose the right template
The CV template you choose will influence how your CV looks. Before selecting a template, think about the type of job you're applying for and the impression you want to make.
Research the employer and the role
Your CV should be customised to the role you're applying for. Take time to read the job description and include real world examples to support your claims.
Keep to the point
The CV template you choose will influence how your CV looks. Before you select a template, take some time to think about the type of job you're applying for and the impression you want to make.
Consider which qualifications to include
You may have gained qualifications from different applications but these won't be of interest to recruiters if they don't relate to the role. Only include details of relevant qualifications and certificates.
Use an active voice
How you phrase your CV is just as important as what you write. A CV is easier to read, plus it's more engaging, if it's written in an active voice e.g. 'Managed a team of 5', instead of 'I was responsible for managing a team of 5'.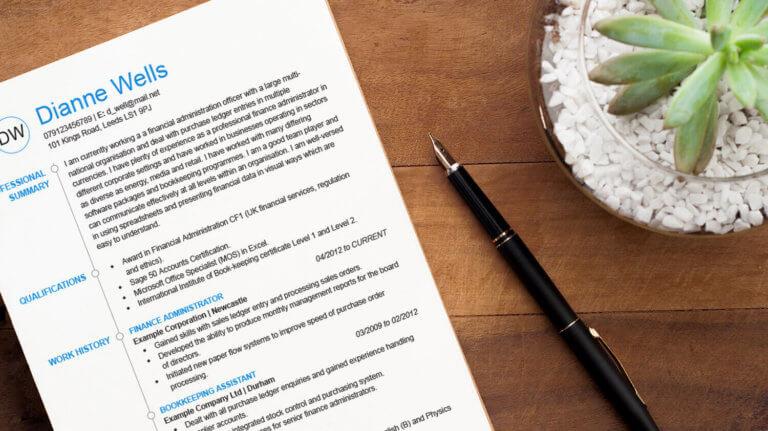 What recruiters look for in a CV
Recruiters view hundreds of CVs each day, so structuring your CV so that it's easy to skim and spot key information will help you get noticed.
Here's a run down of the information recruiters look for in a CV:
Personal details
Your name, address, telephone number and email address should be clearly visible at the top of the CV. Include a telephone number that you are easily contactable on as recruiters can call at any time.
Personal statement
A personal statement is sometimes referred to as a summary section. It needs to be packed with detail so the recruiter will see what value you'll bring and also interesting so they're compelled to read the rest of your CV.
You only have two or three sentences to do it - so you need to be picky about what you include. A recruiter will be looking for details of:
Who you are: Start off with mentioning the sector you work in and how many years experience you have. Also include a brief example of the type of organisations you've worked for and in what capacity.
What you bring to a role: Discuss relevant qualifications or certificates that you hold and detail past responsibilities and achievements.
Career aspirations: Mention the type of role you're looking for and summarise what you'll bring to the role.
Your personal statement will have extra impact if you customise it to the role you're applying for. To do this, carefully read the job description and weave examples into your personal statement that match what the recruiter has mentioned.
Skills
The skills section is one of the most important sections of a CV as it helps the recruiter see if you're a good match for the role.
Here's some tips for choosing skills:
Use keywords that relate to the job description and highlight the ways that your skills fit this.
Be honest and genuine, but exclude cliches like saying you're hardworking or reliable.
Be clear about the relevant skills you have, and use a mixture of soft and hard skills.
Soft skills are personal attributes or qualities. They include things like communication, team work, and problem solving. Hard skills are gained through qualifications and certificates and are an essential part of the role. For example, a web developer needs to have knowledge and experience of working with HTML to code websites.
Once you've settled on the skills you want to include in your CV, build a strong skills section using bullet points and numbered lists so recruiters can easily spot them.
Employment history
The purpose of the employment history section is to show recruiters what work you've done, where you did and when.
Refer back to the job description for the role you're applying for and under each role list responsibilities or achievements that show you have the necessary skills or experience to successfully do the job.
Employment history should be listed in reverse chronological order (most recent first) and it's acceptable to leave out past roles that aren't relevant to the role you're going for.
Education
Qualifications and certificates are important to recruiters and employers so they need to be clearly laid out.
List your qualifications using a reverse chronological order (most recent first). Include the name of the educational institution (university, college, or school), the type of qualification (degree, A Level or GCSE) and the date it was awarded.
If you have a degree or have more than 10 years work experience it's not necessary to list college or school grades on your CV.
Hobbies and references
It's not essential to include hobbies and references on a CV, but you can include them if you think they'll impress the recruiter or improve your chances of getting hired.
CV writing tips from the experts
We've shared with you our secrets for a successful CV. All that's left to do is for you to visit our CV builder to start putting together your own CV that's packed with impressive details.