Our Expert CV Tips Will Get Your CV the Attention it Deserves
According to Time Magazine, the average recruiter spends just six seconds looking at a CV. If you want employers to spend a little longer on your application, and even move your CV to the top of the pile, you need to get some CV help from the experts.
Important CV Advice: How to Know When it's Time for a New CV
CVs are critical to any successful job search. A well-written and well-put together CV will give your application a real boost.
A lot of the time, job hunters use the same CV for every application they submit. Although this makes life easy, it's actually a big mistake. Customising your CV for each role ensures it's always targeted and relevant.
Think about which of your skills and previous jobs are most pertinent to your application, then customise your CV to showcase these and grab recruiters' attention.
Other signs it's time to update your CV include:
Your current CV doesn't include a recent promotion or job change.
You don't have your CV in a digital format.
You've learned new skills or earned new qualifications.
10 Top Tips For a Professional CV
During the last decade we've helped millions of candidates around the world build successful and compelling CVs. Our expert tips, advice, and examples can provide you with invaluable help writing a CV and ensure your next job application does your skills and talent justice.
Here are some of the most important CV tips we've picked up over 10 years of helping jobseekers like you.
Use expert tips and advice on CV writing
Learning how to write a good CV takes time. By using expert tips and advice, you can get vital help with CV writing and learn from people with extensive experience in the area.
Do your research on the employer and role
One of the best CV tips you'll get is to research your employer before writing your application. Doing a little research will help you create a more targeted CV. The more relevant your CV is, the better your chances of getting an interview.
Choose the right CV template
The CV template you choose will influence how your CV looks. Before you select a template, take some time to think about the type of job you're applying for and the impression you want to make.
Keep your CV short and to the point
One thing all experts will tell you when you ask for CV help is to keep your CV short and focused. Your prospective employer just wants to know the highlights, so make sure you get key points across briefly.
Prove your impact
Your CV should outline the impact you'll have on the company. The most effective way to do this is to highlight and quantify your professional achievements. You can do this through giving specific examples of projects you've worked on and how you directly influenced them. This will show how you might have impact in a new position.
Include a Skills section
Busy recruiters may only have time to scan your CV. The Skills section is a great way to appeal to both ATS filters and recruiters. Highlight key skills that are mentioned in the job ad and relevant to the role. Make sure the section is clear, concise, and up to date.
Write a powerful personal statement
As any expert offering you help with a CV will tell you, a powerful personal statement can turn a good CV into a great one. Our easy-to-use CV builder will provide you with help writing CV sections and creating a personal statement that does your experience justice.
Think about ATS and keywords
Applicant Tracking Systems (ATS) scan and evaluate CVs for the presence of certain keywords. Only the highest ranking CVs are then passed onto a human to review. Thinking about keywords and ATS when creating your CV should give you a better chance of beating the bots. Our CV builder will make it easier for you to write your CV and get past the filters.
Use spellcheck
If you only pay attention to one piece of CV advice, let it be this one: spelling matters. Recruiters will discard a CV if it's littered with spelling mistakes and typos. Run a spellcheck every time you update or modify your CV to ensure there are no obvious errors.
Don't forget your cover letter
Although not technically part of your CV, your cover letter is an important part of your job application. A cover letter offers the perfect opportunity to summarise your best achievements and get your personality across.
2 Popular Questions UK Candidates Ask
How can I make my CV effective?
Make your CV effective by filling in all relevant sections, keeping it short, and tailoring the document for each application. Other important techniques include:
Listing jobs, qualifications, and skills so the most relevant stand out.
Using a clearly laid out, professional template.
Keeping the document short and highly focussed.
Using a professional CV builder.
What should you not put on a CV?
Things that you should never put on your CV include:
Anything that's not true, or that is over-embellished.
Work experience that isn't relevant to the application.
Too much personal information, including gender, marital status, and photos.
Irrelevant hobbies.
Out of date or unprofessional contact details.
Large chunks of hard-to-read text.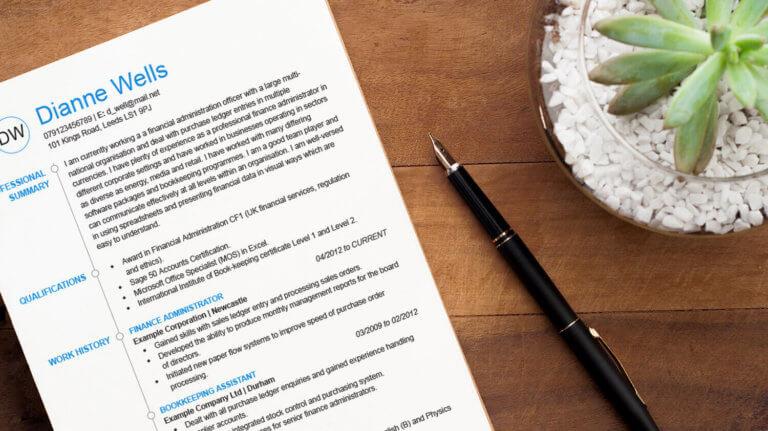 9 Advanced CV Tips
Your CV needs to showcase how you're the best fit for the job as well as meet all of the recruiter's expectations. If you really want to stand out from the crowd, these extra CV tips will help to get your application to land on the top of the pile.
Do extra research into your prospective employer
Try to find out about any current projects the company is working on, its corporate priorities, and the people who work there. This information will help you customise your application and give you plenty to talk about in your interview.
Explain a career gap effectively - or summarise a long career concisely
A recruiter will wonder about gaps in your job history and positions you've held for an extended period of time. Explaining both of these in your CV will leave more time in the interview for discussing your skills and qualifications.
Decide which jobs to include in the Work Experience section
One of the CV tips you'll hear again and again is to be selective about what you include in your Work Experience section. Make sure you select only the most relevant jobs - this keeps your CV focused and helps it to stand out.
Choose which qualifications to include
Your prospective employer just wants to know you have the skills and the ability for the job available. Make sure you only include information that backs up your application and demonstrates what an asset you'll be to the company.
Be strategic about including (or excluding) a Hobbies & Interests section
The Hobbies & Interests section is a tricky one. If you're short on space, a senior candidate, or applying for a corporate role, it's usually not necessary. However, if you have space it can give your application a bit of personality and help you come across as well-rounded.
Include both soft and hard skills
Hard skills are specific abilities that can be taught - and learned – during a career. Soft skills are less easy to define and often include things like communication, patience, and leadership. Including both in your CV will help to give a good impression of what you offer.
Treat your CV & cover letter as a suite of related documents
Although you may well write them at separate times, your CV and cover letter need to be treated as closely related documents. This means they should be in the same font and style and refer to the same material.
Choose which contact details to include
Make sure the contact details you include in your CV are up to date. If your current email address is less than professional it might be a good idea to open a new account with a more formal address.
Use an active tone
The language you use in your CV can be just as important as the information you include. When writing your CV, try to use an active rather than a passive voice. This will help your CV to be more engaging and make it easier to read - two things that will benefit your application.
15 Top UK CV Examples
Over the years we've learned a lot about putting together a strong application. We've used this extensive experience to create a number of high quality example CVs for the most popular positions out there.
Use Our Expert CV Advice & Tips to Kickstart Your Career
According to the ONS there are currently 1.37 million people in the UK looking for work. If you're going to beat them to the finishing post, you need to ensure your CV stands out from the crowd.
Together with our cover letter examples, CV templates, and tips for CV writing, our CV builder will help you put together a perfect CV and strong application. Start building your CV today and get your job search off to the perfect start.