Create, edit, and download a CV anytime, anywhere
Building your CV online with myPerfectCV puts you in charge. You can add to it, tweak it, and share it whenever you want - or create multiple versions for multiple roles. With our online CV builder, you can access your CV for edits and downloads – or just build a new one from scratch, wherever and whenever you like.
Do it on your desktop, laptop or even your phone – and do it with ease. With top-notch templates and professionally written content at your fingertips 24/7, nothing is stopping you from showcasing all your skills and experience.
Top UK online CV examples
With over a decade's experience in the industry, we're ready to help you build a great CV online.
Sales assistant online CV example

Our professional CV templates and pre-written content will help you to sell yourself as the very best candidate. We'll strike the right tone, while also highlighting your impressive sales achievements.

1/5

Project manager online CV example

We'll help you to build a CV that showcases your skills, as well as the projects you managed. Our pre-written content and professionally designed templates will give your CV the extra polish to get recruiters interested.

2/5

Chef online CV example

Your CV gives prospective employers a flavour of what you can do. Choose pre-written content to show your career progression and skill base, and you'll be on your way to an interview in no time.

3/5

Waitress online CV example

We'll help you to highlight your strengths and achievements so future employers understand what a great waitress you really are. Our professionally written content strikes the right tone: confident, but not arrogant.

4/5

Teaching assistant online CV example

You're used to helping others learn, now let us help you! Choose a template, then focus on highlighting your key skills and how you helped students to achieve great results. We'll make the process painless.

5/5
Why create a CV online?
Building your CV online gives you the power to build, edit, and download your CV anywhere with an internet connection - at home, at work, or on the go. Best of all, you're not tied to one device. Edit and access your CV online from your phone or tablet as well as your laptop or PC.
More advantages of creating your CV online include:
Log in to your account anywhere - no need for USB drives.
No need for special software - just use your browser!
Save time by using professional, pre-written content tailored to your role.
Easily change the design of your CV with our slick templates.
Update your CV and download in a click of a few buttons.
But that's not all. With your CV stored online, it's fully secured and backed up. There's no chance of losing it if your device crashes or dies – and no problem if you can't find your USB stick. So, you can focus on taking the next step in your career with no setbacks or delays.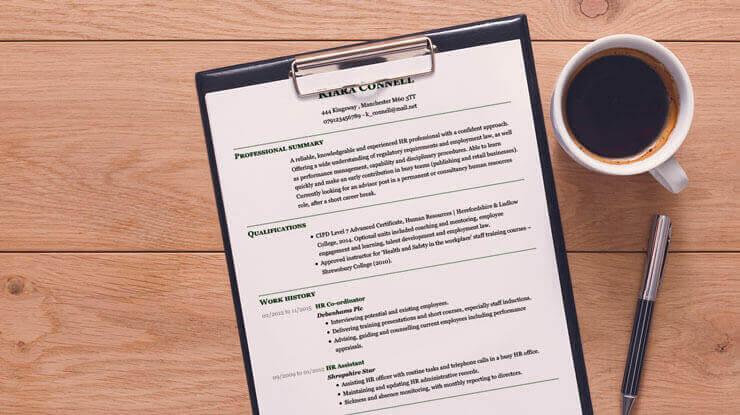 How to make a CV online
Creating a CV online with myPerfectCV couldn't be easier. Get inspiration on the go with CV examples for any industry, role, or experience level. Read through tried-and-tested tips with online CV writing guides. Then brush up on your skills section with help from the experts.
Once you're ready, you can start writing your CV online wherever and whenever you feel like it. Save your progress and log in at your leisure to add to your CV. You can even make multiple versions for different roles, and download in a variety of formats like Word and PDF to suit recruiters' requirements.
Frequently asked questions about online CVs with myPerfectCV
Do I need to have a specific browser?
myPerfectCV is compatible with popular browsers like Safari, Chrome, Windows, and many more.
Do I need an internet connection?
Yes, that's all you need (and a mobile, tablet, or computer of course!).
Can I save halfway through and come back to my CV another time?
Absolutely, with myPerfectCV you can start as many CVs as you like and finish editing them in a few hours, or a few weeks.
How do I use myPerfectCV's pre-written content?
Let us guide you through our selection of expert-written job title content in the CV builder - all you have to do is enter your job title and select the content that best fits. View experience bullet points, summary statements, and skills: all professionally written to help you present yourself in the best light.
How many CVs can I save?
There are no limits to the number of CVs you create and save.
How long is my CV stored for?
Your CVs are safely stored, ready to edit and download until you cancel your account.
Start creating your online CV today
Take the hassle and delays out of CV writing with myPerfectCV. Our online CV builder gives you everything you need, in the format you need it.
Choose from professionally designed templates then add pre-written content, including skills and responsibilities, tailored to each role.