Build your best CV online
Our online CV maker is designed to help you write the best CV online to impress employers. Our tools, templates, and step-by-step advice focus on all the skills and relevant experience you should include when creating your CV online.
Top UK online CV examples
With over a decade's experience in the industry, we know what a great CV looks like. Here are some top UK examples that we've handpicked for you.
4 great reasons to create a CV online
With 75.8% of the UK's population currently employed, finding a job is not always easy. Creating a CV online is a great way to begin. Follow our tips and advice to decide what information to include.
It's easy
Using an online CV maker is easy – especially with step-by-step help and tips. In some cases (as with our online CV builder) you even get pre-written text samples to help.
While you obviously need to tweak this text to ensure your CV is specific to the role you're applying for, it's definitely easier than coming up with ideas from scratch.
It's quick
It's not only easy to use an online CV maker but it's also quick. With multiple templates to choose you'll have no problem finding the right one for you.
Creating your own CV without help means deciding on a structure, fonts, and section headings. Our readymade templates are pre-designed so you can focus on the most important part - the content.
It's convenient
Creating your CV online means you don't have to worry about losing your flash drive or device. If it's not saved to a specific device, you can easily go back and update it at any time - even via your mobile while on the go.
It's professional
One of the toughest things about creating a CV from scratch is making it look professional. With millions of CVs online already, a CV builder is a great way to skip this hurdle.
Professional templates allow you to adopt a pre-written style, meaning you don't have to worry about using the wrong tone of voice or language.
Top questions about online CVs
How do I create a good CV online?
The way to create a good CV online is to start with tips and advice that help you stand out. With just 4% of UK over 16s unemployed in 2018, this might seem intimidating. However, you can get an easier start with our CV maker online:
Search CV examples to find one that matches your preferred role.
Compare the CV templates that suit your role, and find one that that you like.
Amend the template to incorporate your own past experiences and achievements.
Check for spelling and grammar before you download it.
How do I write a good CV?
Write a good CV by choosing the right CV template to guide you. Then start writing your CV. Ensure that you:
Include the most relevant skills first (transferrable or otherwise).
Keep your CV under two pages.
Cover all the responsibilities included in the job description.
Use positive, upbeat language.
Understand how to write a cover letter (to accompany your CV).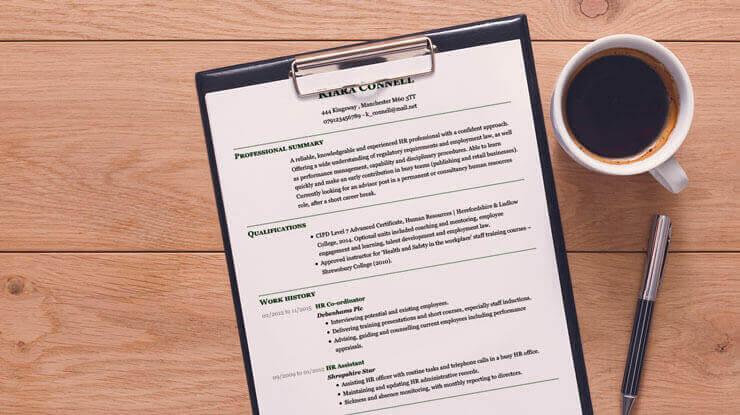 10 top tips on how to build a CV online
While building a CV online can be challenging at first, it can be quick and easy with the right tools. Use the following tips to help you communicate a strong personal brand in your CV.
Look at other CV examples
Look at a variety of online CV examples to get an idea of the end result you want to achieve. Be sure to compare several so you can get a broad view of what works for you, and what doesn't.
Choose a great CV builder
Choose the right CV builder for you. Check to see if you can test the CV maker online for free before you pay. A good builder will have tips included and all the pre-written sections you need for your CV.
Pick a template
Once you've chosen your preferred builder, pick a CV template. The right template gives you a structure to follow. It will also provide the look and feel you want.
Read the job description
Use the job description to write a list of things you want to focus on in your CV. Include keywords in the content. List any relevant skills or achievements that make you a great fit for the role.
Write your CV
Think carefully about all the sections you need to amend. These will include the personal statement, skills, past experience, and if appropriate, hobbies and interests.
Take advantage of expert tips
Make sure you use the builder to its full ability. For instance, take advantage of any tips, advice, or extras that it has to offer, like pre-written text.
Take a short break
Once you've written your CV, save it and take a break. Have a cup of tea and stretch your legs a little - getting a little distance will help you to see it with fresh eyes.
Review your CV
You'll need to review your CV and make any necessary edits. Try to read it from the point of view of an employer. Why should they hire you over somebody else?
Spellcheck your CV
It might sound obvious, but always check your CV for spelling and grammar errors. Silly mistakes don't look good to recruiters or prospective employers, and could cost you the interview.
Download and print your CV
10 professional online CV templates
Our online CV templates offer you a professional look and structure for your CV. This means you can trust that you're using a tried and tested template, and focus on customising the content.
Get started
When applying for a job, you want a great application that not only looks professional but will impress employers.
Building CVs can be hard. But our online CV builder makes creating CVs and cover letters quick and easy.
Using our online CV maker you'll have all the tips, advice, and even pre-written text you need to help you get the interview you want.
Start using our online CV maker today.