Sample UK CVs That Will Get You Hired
When you're applying for a job you need a CV that will stand out and get you that all-important interview. Using CV samples is a great way to kick start your career search, but there are so many sample CVs available it can be difficult to know where to start. Here's everything you need to know about sample CVs to help give your UK job search a boost.
40 Most Popular UK CV Samples
We've been helping jobseekers for over a decade and have seen tens of thousands of CVs. Get a sense of best practice and find some inspiration with our UK sample CVs.
2 Top Questions About CVs
What should you include in a CV?
When you write a CV or use a sample of a CV you need to make sure it includes:
Personal information: Your name, contact details, and LinkedIn profile (if you have one).
Personal statement: An introduction customised for each job application.
Work experience: A list of previous jobs in reverse chronological order.
CV skills: A snapshot of relevant skills applicable to the job.
Education: Relevant education, qualifications, and certificates.
How can I make my CV stand out?
There are several ways you can make your CV stand out, including:
A personal statement written specifically for each role.
Personalise your CV for each new role to highlight the most relevant experience and skills.
Use a CV sample to help make it more professional.
Write a cover letter that highlights key strengths outlined in your CV.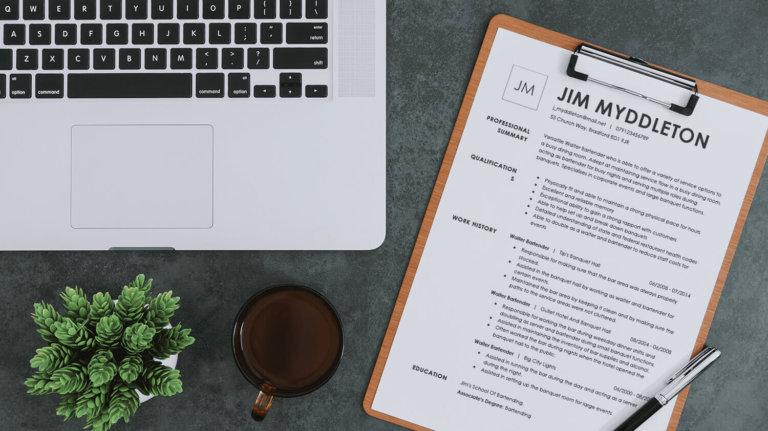 10 Common Mistakes to Avoid When Using CV Samples
Using a CV sample is an excellent way to improve your chances of getting noticed by recruiters, but only if they are used wisely. Avoid going off-track by avoiding these mistakes.
Not personalising the experience section to showcase your strengths
It's important to review your experience section and adjust it for every single application. Our sample UK CVs will help you highlight relevant experience and focus recruiters' attention on your suitability for the role.
Forgetting to work with the most important keywords that you find in the job ad
Keywords demonstrate your relevance and get picked up by Applicant Tracking Software (ATS). ATS can reject up to 75% of CVs before they even get to a human. Include the keywords and increase your chances of making the shortlist.
Falling in love with the look of a CV sample that isn't appropriate
A good-looking CV sample may be tempting, but only choose it if it makes sense for the job or industry you're in. Luckily we have plenty of sample CVs that look good and are appropriate for a range of roles and industries.
Forgetting to update your personal details
Don't make it hard for recruiters to contact you! Remember to update your personal details, ensuring that you include a current phone number and addresses.
Thinking that you need a long CV because a CV sample is long
The standard length of a CV is 1-2 A4 pages, but there's nothing wrong with having a single page CV. Don't pad the content - focus on keeping it short and skimmable. After all, recruiters will spend no more than 90 seconds reading your CV.
Trying to fit lots of information in so that the CV is very cramped
While many candidates want to tell their life stories in their CV, recruiters don't appreciate it. Resist the urge to list every single minor duty, project, or skill. Instead focus on the most important information that makes you right for the role.
The good news is that our sample CVs will help you avoid this common mistake. All you need to do is visit our CV builder to get started.
Copying large sections word for word
A sample CV is a guide, not a document to be copied word for word. It's okay to use parts of the existing text, but resist the urge to copy large sections. Even if you're happy with the CV sample text, remember to tweak it to suit your own personal style.
Ignoring everything you see in CV samples and doing something entirely different
If you went to a dance class you would follow the instructor's advice and learn the steps. The same goes when you using a CV sample. We have the expertise to help you create a standout CV - all you need to do is follow the steps.
Making up hobbies or skills you don't have because you see them in a CV sample
Our CV samples include example hobbies and skills, but just as examples. Personalise your own CV by adding in skills and hobbies that you have, and that show you're a great fit for the role.
Using negative words and language that puts recruiters off
Make CV Samples Work for You
Beyond listing your experience and education, a good CV needs to be tailored for the specific job and industry you're applying for and needs to highlight your strengths. By proxy that means that a good CV sample should help you do that.
There are so many CV samples available it can be difficult to know where to start. Chances are you won't find one that is absolutely spot-on, but this guide will help you find a good range of CV samples for inspiration. You can then use our CV builder to create your own custom CV. Get started now or get some expert tips and advice.