CV Example with Career Objectives
Although we are all aware that a CV must contain pertinent information such as past experience, qualifications and academic achievements, there are some other additions that can make a lasting impression upon any recruiter. Clearly stating your goals and intentions will help to reinforce your work ethic while providing a clear "road map" with regard to what you expect out of a company. The CV example with career objectives that we have illustrated below is a mere template. We have taken the broad field of economics as a sample in this case. You will be able to modify its contents to reflect your profession and your employment aims.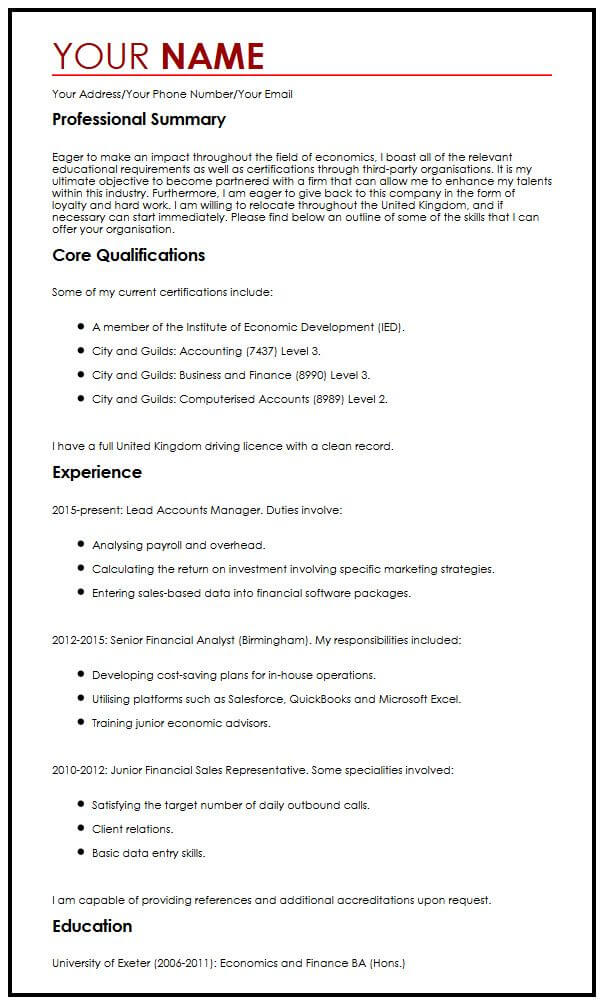 Your Address/Your Phone Number/Your Email
Professional Summary
Eager to make an impact throughout the field of economics, I boast all of the relevant educational requirements as well as certifications through third-party organisations. It is my ultimate objective to become partnered with a firm that can allow me to enhance my talents within this industry. Furthermore, I am eager to give back to this company in the form of loyalty and hard work. I am willing to relocate throughout the United Kingdom, and if necessary can start immediately.Please find below an outline of some of the skills that I can offer your organisation.
Core Qualifications
Some of my current certifications include:
A member of the Institute of Economic Development (IED).
City and Guilds: Accounting (7437) Level 3.
City and Guilds: Business and Finance (8990) Level 3.
City and Guilds: Computerised Accounts (8989) Level 2.
I have a full United Kingdom driving licence with a clean record.
Experience
2015-present: Lead Accounts Manager.Duties involve:
Analysing payroll and overhead.
Calculating the return on investment involving specific marketing strategies.
Entering sales-based data into financial software packages.
2012-2015: Senior Financial Analyst (Birmingham).My responsibilities included:
Developing cost-saving plans for in-house operations.
Utilising platforms such as Salesforce, QuickBooks and Microsoft Excel.
Training junior economic advisors.
2010-2012: Junior Financial Sales Representative.Some specialities involved:
Satisfying the target number of daily outbound calls.
Client relations.
Basic data entry skills.
I am capable of providing references and additional accreditations upon request.
Education
University of Exeter (2006-2011): Economics and Finance BA (Hons.)
Conclusion
We can now see the benefits of this CV example with career objectives.Not only are you able to list your discrete skills, but you can simultaneously convey your desire to succeed.This page is one of countless others that focus on the job-seeking process.Please examine our website in greater detail to access other valuable tips and professional suggestions.