If you want to write a great British CV, you need to build a document that targets the job you're interested in and shows off your qualifications, skills and achievements at their best. Before you write your own unique CV, looking at the British CV Sample here will give you an idea of the type of information to put into your document and how to format it. If you create your own CV along the lines of the British CV Sample below, you're highly likely to impress the recruiting manager and be invited to the job interviews.

Create This CVSee all templates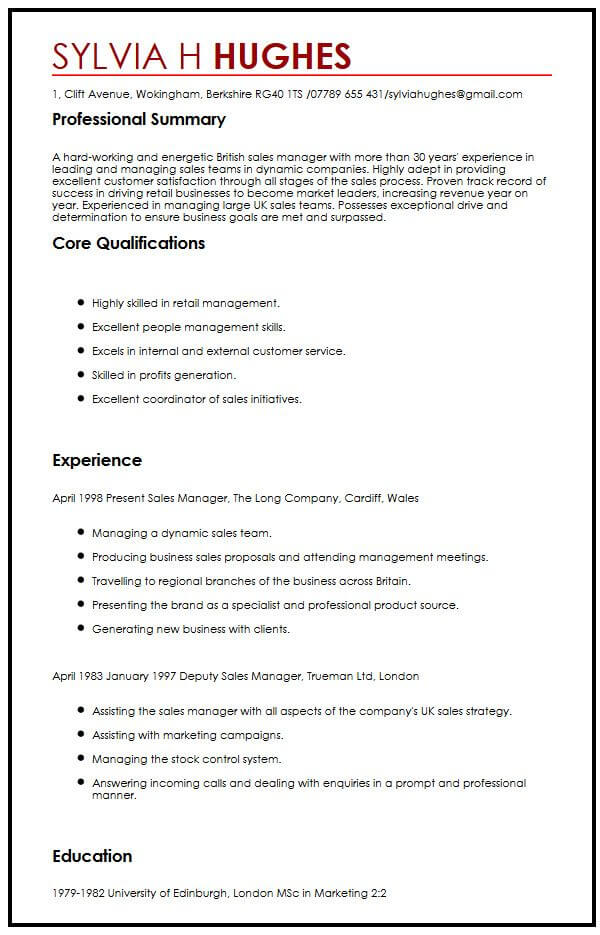 Build a professional CV that gets you hired.
1, Clift Avenue, Wokingham, Berkshire RG40 1TS /07789 655 431/sylviahughes@gmail.com
Professional Summary
A hard-working and energetic British sales manager with more than 30 years' experience in leading and managing sales teams in dynamic companies. Highly adept in providing excellent customer satisfaction through all stages of the sales process. Proven track record of success in driving retail businesses to become market leaders, increasing revenue year on year. Experienced in managing large UK sales teams. Possesses exceptional drive and determination to ensure business goals are met and surpassed.
Core Qualifications
Highly skilled in retail management.
Excellent people management skills.
Excels in internal and external customer service.
Skilled in profits generation.
Excellent coordinator of sales initiatives.
Experience
April 1998PresentSales Manager, The Long Company, Cardiff, Wales
Managing a dynamic sales team.
Producing business sales proposals and attending management meetings.
Travelling to regional branches of the business across Britain.
Presenting the brand as a specialist and professional product source.
Generating new business with clients.
April 1983January 1997Deputy Sales Manager, Trueman Ltd, London
Assisting the sales manager with all aspects of the company's UK sales strategy.
Assisting with marketing campaigns.
Managing the stock control system.
Answering incoming calls and dealing with enquiries in a prompt and professional manner.
Education
1979-1982University of Edinburgh, LondonMSc in Marketing 2:2
Conclusion
You'll find that the British CV Sample is just one of multiple CV examples that provide you with an insight into writing a great CV. Using the CV builder and other tools on this site will provide you with invaluable help when applying for jobs.