Make Your Skills Stand Out 
Putting the strongest possible CV in front of an employer means effectively highlighting your CV skills. On average, recruiters spend just 6 seconds looking at each CV they receive. Luckily, our online CV builder is a quick and easy way to help your CV to stand out from the crowd.
10 Key CV Skills That UK Employers Want
Every jobseeker has different skills. 'Hard skills' are usually defined as specific measurable competencies. 'Soft skills' include things like communication and teamwork. Employers are looking for a mix of both in top candidates.
Communication
Demonstrate that you can express yourself clearly and concisely. Show how you get ideas across and can persuade colleagues to support your projects.
Willingness to learn
It's important to be open to new ideas, and willingness to learn new skills at work is key. Show you're both open-minded and keep up-to-date with the most current skills for your role.
Managing deadlines
Working well to tight deadlines and knowing which tasks to prioritise is very important. Help employers understand how well you multitask and work to even the tightest of deadlines.
Time management
Good time management means knowing how much time you should spend on a particular task. Ensure that you spend enough time on important jobs, rather than spending hours on less important things.
Computer skills
Employers expect a basic level of computer literacy in most roles, and significant expertise if you're applying for a job in IT. Include the names of software packages or suites where you can.
Decision making
When presented with difficult choices, you need to know how to quickly pick one that's right for the business. Think of ways you can demonstrate this in your CV.
Conflict resolution
Consider situations where you've defused arguments or managed conflicting perspectives. Using the skills you've learned in the past will help you resolve other conflicts in the future.
Being a self-starter
Employers want to onboard you in a new role, but they don't want to have to micromanage you. Help them to see you're a self-starter who doesn't need babysitting on the job.
Adaptability
It's important to be able to adapt at work. The ability to change your approach based on successes or failures is a CV skill that all employers value.
Leadership
Leadership doesn't necessarily mean managing a team - it can also mean showing initiative and taking charge. Consider how you've taken control of projects or situations in the past.
8 Top Tips to Build a Strong Skills Section
Even the most qualified jobseekers find it hard to build a strong CV skills section. It's not always easy knowing which key skills for a CV are worth including. The following tips will help you quickly master this part of a job application.
Check the job ad
Scan the job ad to discover which CV skills are the most important. Key skills for a CV are often included on the job ad in a bulleted list, making it easy to pick them out.
Brainstorm
Draw a mind map to help you decide which additional skills are likely to support your application. This should include your hard skills as well as complementary soft skills.
Review other CVs
Review examples of other CVs to get additional ideas for what to include. These also include skills that may be helpful.
Choose a template
Choose from a wide selection of professional looking CV templates to help display your skills as clearly as possible. Look at CV examples to ensure you've chosen a template style suitable for the job you're applying for.
Reference skills elsewhere
As you write your CV key skills, consider ways of referencing skills in other CV sections. For instance, the hobbies and interests section of your CV isn't just a way to tell employers about your extra-curricular activities. It's a great place to show off your skills too.
Take a break
After building your CV key skills section, take a break. Make a cup of tea, stretch your legs, and then review it with fresh eyes.
Get help
Get a second opinion from someone you trust - do you have key skills you aren't sharing? Key skills for CV sections often include traits we take for granted. A friend will be more objective at pointing these out.
Spellcheck
Use spellcheck when reviewing your CV. Print your CV and read it out loud. Automatic spellcheck is good for picking up obvious mistakes but isn't infallible. Reading your CV aloud will help you spot errors that spellcheck might miss.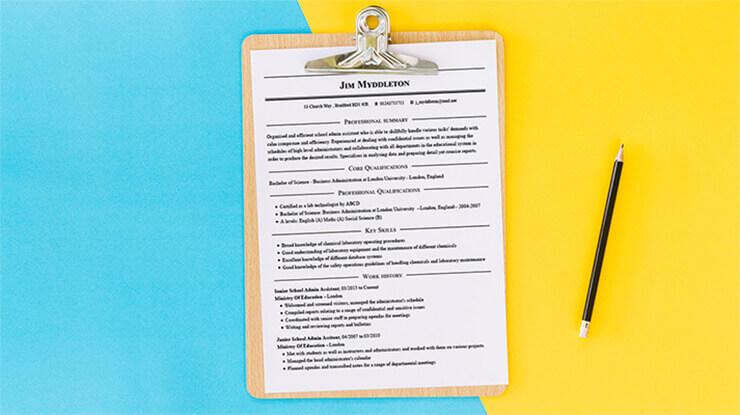 Top CV Skills Questions
Including the right skills on your CV is becoming more important as industries evolve and ATS systems filter out applications. Here are two of the most popular CV Skills questions below.
What Skills Should I Write On My CV?
The skills you should include in your CV are the ones that you genuinely possess and are relevant to the role you've applied for. Common skills might include:
Software or hardware you know how to use: important for many roles such as office jobs or accounting positions.
Qualifications: important for showing that you can commit to a goal and for demonstrating specialist expertise.
Transferable skills: perhaps you've led a team before or juggled multiple projects? These are key skills for CVs, especially if you're applying for a job that falls outside your existing area of expertise.
What Are Important Skills?
The following are all key skills for a CV:
Computer technology: think about software programs you have used like Microsoft Office, Slack, Adobe Creative Suite, or project management tools. If a company uses these tools it means you will be easier to onboard because you already have experience with them.
Communication skills: This could include copywriting, public speaking, training others, or the ability to speak a foreign language.
Marketing: Think about specific marketing channels you have worked on. This could be search engine optimisation (SEO), Google Analytics, social media, or WordPress.
Certificates or qualifications: These achievements provide proof of knowledge - be sure to include GCSEs, A-levels, BTECs or university degrees.
Financial skills: budgeting, accounting, and experience with financial management software are all valuable additions to CVs
Best UK CV Skills Examples
To stand out in a crowded marketplace, take a look at what your peers are showcasing in CV examples.
Skills to Include in Your CV
It's important to incorporate the right skills for a CV. But it can also be hard to know which ones to list.
Many recruiters now use Applicant Tracking Systems. These search job applications for the most important keywords and remove those that lack them and seem less relevant.
Effective use of keywords in your CV skills section will improve your chances of getting past the tracking system. This means your CV is more likely to seen by a pair of human eyes.
There are two main things to consider:
Show That You Have Relevant Skills
Making it clear that you have relevant skills (as outlined in the job description) is vital.
Firstly, identify what the job involves. For example, if you're applying for a HR position, the employer may be seeking good people skills. Likewise, for a caregiving role you'll need relevant qualifications.
Key skills are usually listed at the top of the job description. To stand out, consider what else you can offer that other applicants can't. For instance, do you have experience in a similar role? Perhaps in a past job you overcame a challenge that now makes you a particularly compelling candidate.
Showcase Both Hard and Soft Skills
When you apply for a job, try to showcase a fair balance of hard and soft skills. Counter your hard skills (like email marketing) with soft skills (like negotiation). It's important to get this right, as a good mix of both is desirable.
While job ads are likely to list required qualifications and technical expertise, you'll have to make an educated guess about which soft skills are needed. For instance, if the ad is for a job in complaints in a call centre, conflict management expertise would good to include.
Create Your CV Today
Now you have a solid grasp of which skills are important for your CV. And you understand how vital it is to include the right skills in order to get through applicant tracking system filters, impress recruiters, and land an interview.
Our online CV builder makes creating a CV quick and easy. It includes multiple CV and cover letter templates, example text, and step-by-step tips to make your CV as effective as possible.
Sign up and use our online CV builder today.