Unlock the benefits of a great skill section on your CV!
On average, recruiters spend just 6 seconds looking at each CV they receive. That means you have a small amount of time to grab their attention. One of the best ways to do that is to write a strong skills section that:
Shows you understand what's expected of you in the role.
Highlights any transferable skills you have.
Highlights any specialist skills you have
A killer skills section will also help your CV pass through any Applicant Tracking System (ATS) filters. Some businesses use an ATS to automatically scan applicants' CVs to find ones that contain specific words.
But when it comes to the skills section, it can be tricky to know where to start. That's why our CV builder suggests skills related to the role you're applying for.
Soft skills: What are they and how do you use them?
As you build your CV, you'll notice that some skills speak to your personality traits and some are more related to training or learned on the job. These are called hard and soft skills.
You should include a mix of both soft and hard skills to show recruiters the breadth of your capabilities. Ensuring that these relate to the job advert is the only real "secret" to creating a great skills section - as recruiters scan your skills section for keywords.
The skills on your CV give recruiters an instant overview or highlight reel of your capabilities.
What is a soft skill?
Soft skills h can be classed as personality traits: aspects of your personality and work style that come naturally, such as a positive attitude, solid work ethic, or friendly demeanour.
These are usually the most transferable skills and can apply to many of the same career sectors and roles. There are many soft skills, and they can be broken down into sub-categories such as communication, relationship building, or interpersonal skills.
Why are soft skills so important?
Soft skills give recruiters an indication of how you'll work in specific environments and with certain people. If you are a project manager in a close-knit team, for example, it will be key that you are a strong team player, and recruiters will be looking for indications of this in your CV skills section.
Soft skills can make all the difference between an average candidate and a great one. In today's competitive jobs market, hard skills and specialist knowledge may sometimes not be enough to set you apart from other potential employees.
Soft skills are linked to a person's character, and it takes a conscious effort and commitment to improving this skill set. These are the abilities that will enable you to progress your career to its full potential.
Don't underestimate the need to highlight your softer skills. If you are in a technical role such as a software developer, hard skills like coding will be essential; however, recruiters will want to know that you can handle interpersonal relationships, or solve problems. Soft skills still come into play and give a rounded view of you as a person.
Soft skills may include:
Integrity
Dependability
Communication
Teamwork
Problem-solving
Research
Creativity
Work ethic
Adaptability
Conflict resolution
Flexibility
Leadership
Hard skills: What are they and how do you use them?
Hard skills are learned on the job, or through training and education. They're more likely to be technical, specific, and intricate. Hard skills are less transferable because they're often particular to the job, for example, a dentist performing fillings. Filling a tooth cavity is a particular skill requiring specialist training (and we're glad it does!).
Hairdressing is another excellent example that entails many unique special skills that require regular training. Hair colouring is a task many hairdressers perform and demands "on the job" training or in an educational environment.
Why are hard skills so essential?
Hard skills tell recruiters which specialist skills you have that relate to the job. Recruiters use hard skills to identify if you are the right match for the job, and they tend to be less "nice to have" and more vital for performing a specific role. Often, the position will feature a particular skill in the title.
For example, a software developer advertisement states the job requires a Ruby on Rails specialist developer, the recruiter is going to be looking for this specialist coding skill and experience throughout your CV. We'll touch on this more later, but it's critical that your skills tally up with the job description, so you stand the absolute best chance of securing an interview.
If you have hard skills, it's important to illustrate these in your skills section, in your personal statement, and again within the experience sections of each job. We've mentioned before - skills act as a keyword checklist for ATS (CV scanning software) - so make your skills section as the top list of your most unique and essential skills.
Hard skills may include:
Typing speeds
SEO or SEM marketing
Bookkeeping
Coding, i.e. Java or Ruby on Rails
Foreign languages
IT skills
Data analysis
An industry-specific certification, i.e. PRINCE2
How to create an attention-grabbing CV skills section
Be aware of skill buzzwords
Certain workplace buzzwords appear over the years, depending on in-demand jobs and the growth of specific industries.
One word you might have heard a lot lately is "agile".
Agility relates to both the practice of agile project management which is a way of building technology in short sprints (a hard skill). Still, agility in its pure form relates to flexibility, in that you can quickly adjust and flex (a soft skill).
These words are fantastic and relevant for many job hunters, but we recommend using buzzwords sparingly - as the chances are if you're using them - someone else is too. Consider choosing another skill that better suits either the role or you as a person.
Choose skills based on the job description
We recommend using skills that are related to the job description first and foremost. Why? Because these are the skills that the recruiter is looking for. The job advert should be utterly dissected before you apply for a role. Search the ad for all the skills and core capabilities that the recruiter has listed and work these into your CV skills.
These will also be the skills recruiters are punching into their searches on CV search software, if you don't input these keywords, you won't be shown in search results- meaning you might be missing excellent opportunities.
Use between 10 - 12 skills
We suggest using between 10 - 12 skills in total and splitting them between soft and hard skills. If the job is incredibly technical, increase the hard skills as the recruiter is most likely looking for a direct match with specialist skills.
Don't just list skills
Whatever you do, don't list 30 hard skills that have come directly from a job description, this looks bananas, and doesn't tell the recruiter anything about you as a person. You can work more challenging skills in other areas of your CV.
Popular soft skills
Soft skills are a CV's bread and butter. You can run the risk of sounding the same as every other candidate, so to avoid this, we've provided some synonyms so you can stand out!
Customer service
Leadership
Motivation
Work ethic
Time management
Teamwork
Detail orientated
Solution-focused
Critical thinking
Relationship building
Rapport building
Empathy
Communication
Self-motivation
Responsibility
Problem-solving
Decisiveness
Ability to work under pressure
Skills for the top 10 most frequently searched jobs in the UK
We've taken a look at the skills sections in the top 10 most searched jobs in the UK, created using myPerfectCV's CV builder. Each of these examples uses content that is available to select for your CV.
Using the job description or advert to find the right skills
The quickest way to create a skills section that is spot on is to take the keywords from the job description, of course - this is IF you do have these skills. If you don't have these skills, don't use them, telling lies on your CV is one sure-fire way to get off on the wrong foot.
First of all, read through the advert and find the keywords - these are clues for you to include in your CV. We've highlighted them in the text below so you can see.
This is a real example of a section from a receptionist job advert:
Strong IT skills accompanied by exceptional communication skills, whether in person, via phone or in writing are essential for this role, as are strong organisational, time management and attention to detail skills.
You will also be comfortable working with confidential data/information; however, we also offer a fantastic induction, learning and development opportunities so we welcome candidates from a variety of different experiences.
Based on this ad, we'd suggest adding the following skills:
Customer-orientated
Efficient multitasker
Transcription and dictation
Database administration
55wpm typing speed ( It's easy to take a quick test online if you're not sure of this number!)
Open and clear communicator
Meticulous and organised
Multitasking and prioritisation
MS Office proficiency
It's easy to find and add skills in the myPerfectCV skill builder. In the below image, you can see on the left, the skills and the right the selection of "receptionist" as the target job title.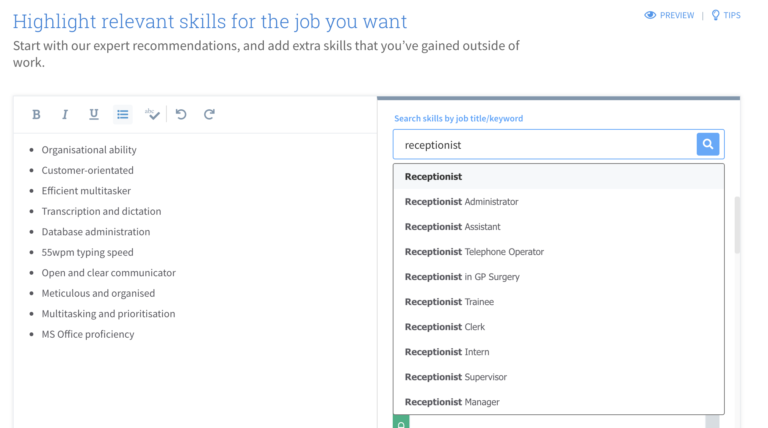 In this image below, you can see the choice of skills on the right-hand side; it's simple to select skills for your CV. when selected they populate on the left-hand side. There you can edit and personalise the skills to fit the job description and your personality more.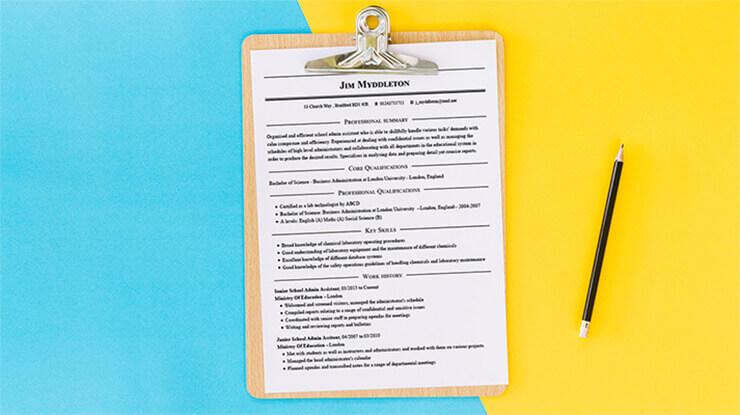 Types of skills employers look for regardless of the role
How many skills do I need to include in my CV?
We'd suggest 10-12 skills in total (always presented as bullet points) and a mix of both hard and soft skills to give the employer a rounded view of who you are as a person and your technical abilities.
Are there common skills that are great for any resume?
Yes - many transferable skills will be standard across many different jobs; there tend to be more transferable soft skills than hard. Skill areas that will have a strong cross over include:
Ambition
Creativity
Empathy
Leadership
Teamwork
What are the best skills to put on a CV?
The best skills to put on a CV vary by job role, career level, education, and other factors. The skills most important for a dentist will differ from those of a chef. Before you apply for a role, take time to review the skills that are most valuable to the company and tailor your CV based on which of your personal or technical skills to meet their needs.
What if I don't have any technical skills?
Junior or entry-level candidates will naturally have less demanding skills simply because they haven't yet had the training or education required. That is fine - we all have to start somewhere.
Instead of hard or technical skills, review the company and look over their values - often in the "about us" section of a company's website. Company values are a great place to find out what soft skills are essential to them.
Values could include things such as emotional intelligence, kindness, community, and respect. Many companies hire by their values, so ticking these boxes in your skills section will put you in good stead.
Do technical employers care about soft skills?
In short - absolutely! Soft skills show a vital part of your personality, enabling you to lead, to work with others, to care out outcomes, to respect the work you're doing and how you'll fair when times and good and times are bad.
Soft skills are those that make you human. It's imperative to show that you understand how soft skills make you a good candidate for the company - cultural fit is as important as technical skills which can be taught. Technical employers need to get the job done, but they need to have it done by a team who also get along, work positively, and have a great work ethic.
How else can I incorporate skills into my CV?
It's easy and effective to weave skills into your experience, for example, if you are a machinist, you can mention the type of machines that you are proficient within a particular role under your work history section.
Weaving your skills into the body of your CV is a great way to show context and also the impact that skill has in your roles.
Start creating your best skills section today!
Let's recap what we've learned - soft skills are personality traits that make you a great worker and include skills like work ethic, organisation, communication, collaboration, and leadership.
Hard skills are abilities you learn through training, education, or on the job. Hard skills are things like coding, social media management, and data analysis.
Employers are looking for a combo of hard skills vs. soft skills on your CV. Find the ones they value most in the job advert and use a mix of both hard and soft skills.
Don't forget that your skills section is a keyword section and helps you get through ATS software. Never just list skills on a CV, back them up with measurable achievements in your work history bullet points.
Take the hassle and delays out of CV skills with myPerfectCV. Our skills builder gives you prompts and suggested skills depending on your job title. Creating a CV skills section is easy, we want you to be successful with your job application, and our CV builder is your perfect partner.
Get your skills noticed!