CV Template in English
Is English your second language?Perhaps you are simply unfamiliar with how a CV should be properly formatted.In either of these cases, it is critical to appreciate the fundamentals of this document.An impressive presentation can and will have a massive impact upon your chances of landing a rewarding job.This principle applies to those who may be entering into the workforce for the first time, as well as to anyone who seeks a different position.So, let us take a look at the basic layout and content of a CV example in English.

Create This CVSee all templates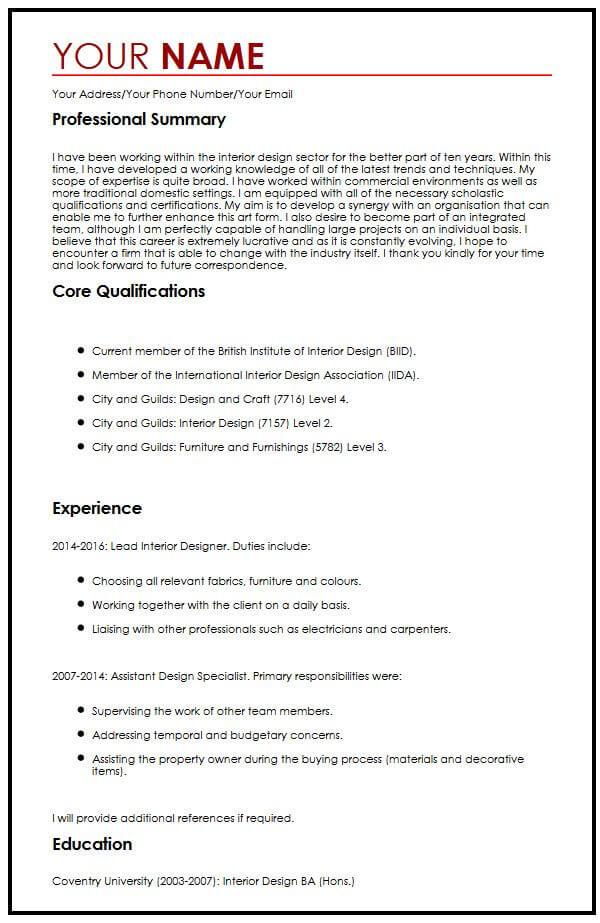 Build a professional CV that gets you hired.
Your Address/Your Phone Number/Your Email
Professional Summary
I have been working within the interior design sector for the better part of ten years.Within this time, I have developed a working knowledge of all of the latest trends and techniques.My scope of expertise is quite broad.I have worked within commercial environments as well as more traditional domestic settings.I am equipped with all of the necessary scholastic qualifications and certifications.My aim is to develop a synergy with an organisation that can enable me to further enhance this art form.I also desire to become part of an integrated team, although I am perfectly capable of handling large projects on an individual basis.I believe that this career is extremely lucrative and as it is constantly evolving, I hope to encounter a firm that is able to change with the industry itself.I thank you kindly for your time and look forward to future correspondence.
Core Qualifications
Current member of the British Institute of Interior Design (BIID).
Member of the International Interior Design Association (IIDA).
City and Guilds: Design and Craft (7716) Level 4.
City and Guilds: Interior Design (7157) Level 2.
City and Guilds: Furniture and Furnishings (5782) Level 3.
Experience
2014-2016: Lead Interior Designer.Duties include:
Choosing all relevant fabrics, furniture and colours.
Working together with the client on a daily basis.
Liaising with other professionals such as electricians and carpenters.
2007-2014: Assistant Design Specialist.Primary responsibilities were:
Supervising the work of other team members.
Addressing temporal and budgetary concerns.
Assisting the property owner during the buying process (materials and decorative items).
I will provide additional references if required.
Education
Coventry University (2003-2007): Interior Design BA (Hons.)
Conclusion
So, we can see that this CV example in English adequately describes the history, the skills and the desires of the applicant.We would like to point out that this is only one of the numerous additional CV samples that can be accessed by examining the different pages within this website.