Our customers have been hired by: *
Whether you're an overseas student or an experienced professional who's settled in another country, English CVs are a must for a wide range of roles in the UK, US and other English-speaking nations.
Needless to say, writing a CV in English can seem daunting if you're not used to it. Thankfully, myPerfectCV is here to help. We've put together a choice of English CV templates, tips, and answers to the most frequently asked questions to help you along the way.
Once you're ready, you can use our quick and easy English CV maker to create your own CV in English – with a Word download, PDF, or a choice of other file types.
Download a template for an English CV
English CV models by job title and industry
Our templates for English CVs can be used to apply for jobs in various sectors – with a diverse range of experience levels. Take a look at some examples of our English CVs.
Top tips for your English CV
Include your proficiency or fluency level

Alternatively, you can self-assess and describe your own fluency, such as:

Focus on your specialism

Spoken by almost a billion non-native speakers, English is by far the most popular second language in the world. That makes competition fierce for English-speaking roles. With that in mind, you'll need to make sure your English CV is tailored to the role you're applying for. A project manager CV in English should be vastly different to one for a marketing assistant, for example. Be sure to include plenty of key skills from the job description to increase your chances of passing an ATS check too.

Stay concise

It can be tempting to use long, descriptive sentences on your CV, especially if you want to showcase your proficiency in English. However, remember that recruiters typically have hundreds of CVs to read through for each vacancy. You can increase your chances of success by making your work experience, skills, and other details clear and concise. Use bullet points so they can be skim-read, and keep the more complex or descriptive details for your interview.

Use the right variety of English

It's also worth noting some differences in vocabulary that might arise on your CV. While many UK applicants have graduated from "university", those in the US will have graduated from "college".
FAQs about CVs in English
How make a CV for a job in UK English
The best approach for an English CV is to keep things simple. While you might think complex terms and jargon will impress recruiters, plain English is the best way forward. After you've made your CV, get an English-speaking friend or relative to read through and check for any odd phraseology and grammatical issues, along with typos and general errors. Using a pre-made English CV template will provide the right layout and structure to make things easier.
What is the correct format for a CV in English?
English CVs come in a range of formats. In the UK, the most common is the reverse-chronological, which focuses on experience with your most recent job first. There's also the skills-based (or skill CV) in English, ideal for students or those without specific industry experience. Alternatively, for US jobs, an English resume format is preferred, which provides a brief overview of your experience and background.
How to write a CV in English for students
If you're an overseas student in an English-speaking country, chances are you'll need to write your CV in English. The CV itself should comprise your personal statement, work history, skills, and education. Try to highlight transferable skills from any previous roles, including communication, teamwork, and punctuality. Alternatively, with a skill CV in English, you can focus on qualities you've developed during your studies, such as computer literacy, meeting deadlines, and critical thinking.
Is it CV or resume in English?
The distinction between CV and resume depends on which country you're in. In the UK, Ireland and New Zealand, CV is the correct term. Resume is used primarily in the US, where it refers to a broader, more concise overview of your working or education background. Finally, there are some English-speaking countries like India, Australia, and South Africa, where CV and resume are used interchangeable to refer to the same document – which can use the format of either a CV or resume too.
What is the full form of CV in English?
The CV full form in English is curriculum vitae. It comes from Latin, meaning "course of life". In contrast, the term resume comes from the French "résumé" meaning "summary". This gives a bit more context on the difference between the two documents, with CVs going into more detail, while resumes summarise an applicant's background.
Dos and don'ts of English CVs
Do
Do use an English CV template Using an CV template for your English CV allows you to focus on what you write, rather than having to worry about the layout and structure. Templates come pre-designed in a suitable format, with sections for your work history, skills, personal statement, and education, plus additional areas of your professional background if you're writing an English resume.
Do get help from a native speaker If you're writing a CV with English as your second language, it's good practice to find someone with English as their first language to check things over. If English isn't your mother tongue, it's difficult to know that certain phrases or sentence structures sound odd. Getting a friend or relative to help will root these out and make sure your CV reads well for recruiters.
Don't
Don't rely on a translator Whether it's Google translate or more advanced software, translation tools are never completely accurate. As such, they should not be relied on for your CV. While they might provide a rough idea of what you want to say, and some of the right words, the small errors will be enough for recruiters to put down your CV and move onto the next one, which brings us onto…
Don't forget the cover letter Writing a cover letter to accompany your English CV is a great way to sell yourself to recruiters and highlight why you think you're a great fit for the job. Research company values and explain how you align with them, then pick out specific qualifications, skills, and experiences from your CV and describe how they make you a good fit for the job.
Try our English

CV maker
From experienced project managers to ambitious entry-level applicants, English CVs are a must to take the next step in your career. Thanks to myPerfectCV, you won't have to say "pardon my French" when you're writing your own.
We aim to make it easier for you to create a CV in English. Word downloads, a choice of professional templates, and pre-written content that's tailored to your job and sector – you'll find it all on our innovative CV builder.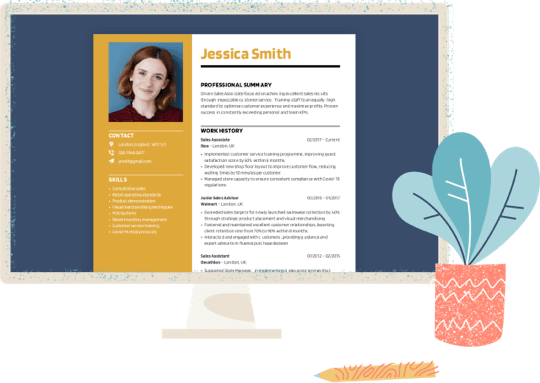 *The names and logos of the companies referred to above are all trademarks of their respective holders. Unless specifically stated otherwise, such references are not intended to imply any affiliation or association with myperfectCV.