Writing a winning cover letter, made easy
Knowing how to write a cover letter is a skill that a lot of us don't have, so don't be intimidated if you don't know where to start. We're here to help you write a perfect cover letter: what to say, when to say it, and all without sounding pushy or fake.
With our help you'll build a cover letter that won't just make a great first impression on recruiters - it'll also help you to get the job you want.
The typical structure of a UK cover letter
Before you start writing your cover letter, it's helpful to understand more about the structure of a standard UK cover letter. Here's our quick guide to the sections to include on your cover letter:
First paragraph: What job are you applying for and where did you find it?
This is about context. Helping the recruiter immediately understand where you've come from and which job you're are applying for.
Second paragraph: Give an overview of your relevant experience
Quickly sum up why you're right for this job. Talk about your overall relevant experience and passion for the company or role specifically. For example, if you're applying for an admin job with a publishing company you could say:
"I have over five years' experience in administration within the publishing industry, meaning I have first-hand insight into the publishing process."
Third paragraph: Pick your top specific achievement
It can be tempting to list every single achievement, but instead you need to choose one relevant achievement to highlight. Ask yourself: what have I done that would impress a recruiter? For example:
"In my current role, I'm responsible for a team of five and have increased productivity by 15% in just one year."
Fourth paragraph: Reiterate why you'd be a great fit
Demonstrate your passion and come across as keen to be hired for the role at hand. But beware: being too enthusiastic can come across as insincere. Make sure you're being genuine here.
Fifth paragraph: Express enthusiasm about an interview
It's professional to be up-front and express enthusiasm about your desire to proceed to an interview. Recruiters will appreciate that you're a serious candidate, not a time-waster.
Closing
There are various ways you can close a cover letter, depending on the formality level and whether or not you've addressed the person by name. If you addressed the letter to a specific person, sign off "yours sincerely", and if you addressed generically like "dear sir or madam", use "yours faithfully".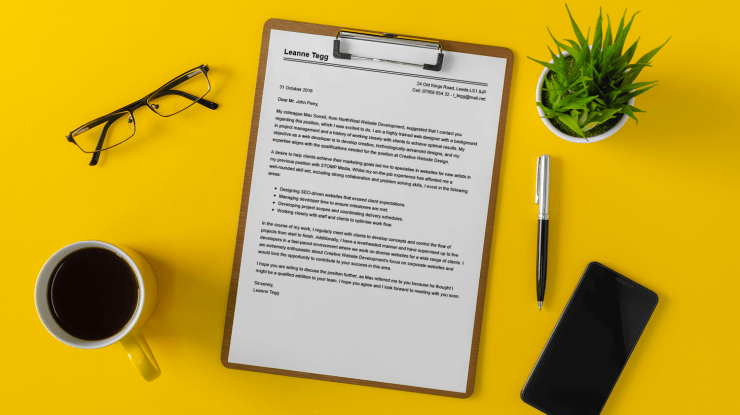 Top tips for writing a top-notch cover letter
Take a look at example cover letters for some inspiration
We know it can be tough starting anything from scratch, so take a look at some of our cover letter examples to get inspired. From marketing to engineering cover letters, we're sure to have one that fits the role you're applying for.
Use a template appropriate for the role
Even if the content on your cover letter is perfect, a badly designed cover letter can do more harm than good. Use a cover letter template built for your role to not only make it quicker and easier to create, but to make sure your cover letter looks great, too.
Research the company you're applying to work at
A company's website and the job ad itself can give you great insight into how to write your cover letter. Take note of:
The tone and language - is it professional and logical, or creative?
The length of the paragraphs and sentences - is it short and to the point, or wordy?
The job application instructions - what have they specifically asked for?
You can then mirror this style in your cover letter to make sure it's appropriate and will resonate with the company you're applying for a role with.
Include the right keywords
Including the right keywords in your cover letter makes it easy for employers to scan it for specific words and phrases related to the role they're recruiting for. It also helps your application pass through Applicant Tracking System (ATS) filters—a function that automatically scans applications to find certain words.
To make sure your cover letter includes the right keywords, take a look at the job description. Then, use them, but use them sparingly. It might be tempting to repeat them as often as possible, but that will get picked up by a filter, so make sure it sounds natural.
Read it back and spell check it
Before you send off your application, make sure you carefully read back through your cover letter (and your CV), checking for spelling, grammar and punctuation. If you use our cover letter builder, there's a handy spell-check button that will check these for you.
Pair it with a winning CV
How successful UK candidates write cover letters
With over a decade's experience helping UK candidates to build well-written cover letters, we know what works. Check out our hand-picked selection of top cover letter examples and get inspired.
Start writing your perfect cover letter
Whether you're writing a cover letter for the first time, or you want to refine your approach, our cover letter builder makes it quick and easy. You'll understand what tone to use and how to write about your achievements and experience effectively.