Europass CV Format
A Europass CV will open doors within the European Union, giving you a choice of countries in which to live and work. The first step in your job search is to produce a CV in the correct format, clearly listing your qualifications and employment history. This makes it easy for employers to assess your skills and experience. Before you begin composing your own CV, take a look at an example document to get an idea of the required style, layout, and content. The CV sample below is a great starting point for creating job applications that shine.

Create This CVSee all templates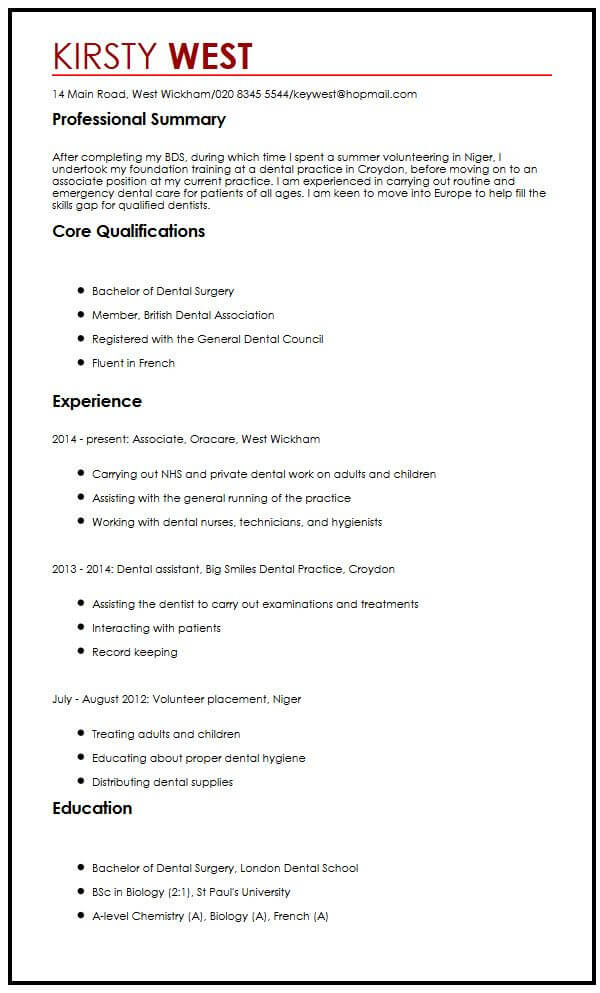 Build a professional CV that gets you hired.
14 Main Road, West Wickham/020 8345 5544/keywest@hopmail.com
Professional Summary
After completing my BDS, during which time I spent a summer volunteering in Niger, I undertook my foundation training at a dental practice in Croydon, before moving on to an associate position at my current practice. I am experienced in carrying out routine and emergency dental care for patients of all ages. I am keen to move into Europe to help fill the skills gap for qualified dentists.