Chronological CV Format
A CV needs to contain numerous details.Past experience, pertinent skills, education and employment desires are all absolutely necessary.However, there is a certain chronology involved.This format will make it much easier for the recruiter to appreciate what the candidate has to offer.Unfortunately, there are times when this can be slightly confusing to those who may not have applied for many positions in the past.The aim of this chronological CV sample is to highlight which areas should be mentioned and how they need to be ordered.Please take some time to scrutinise this example in more detail to fully understand how such a document is typically prepared.

Create This CVSee all templates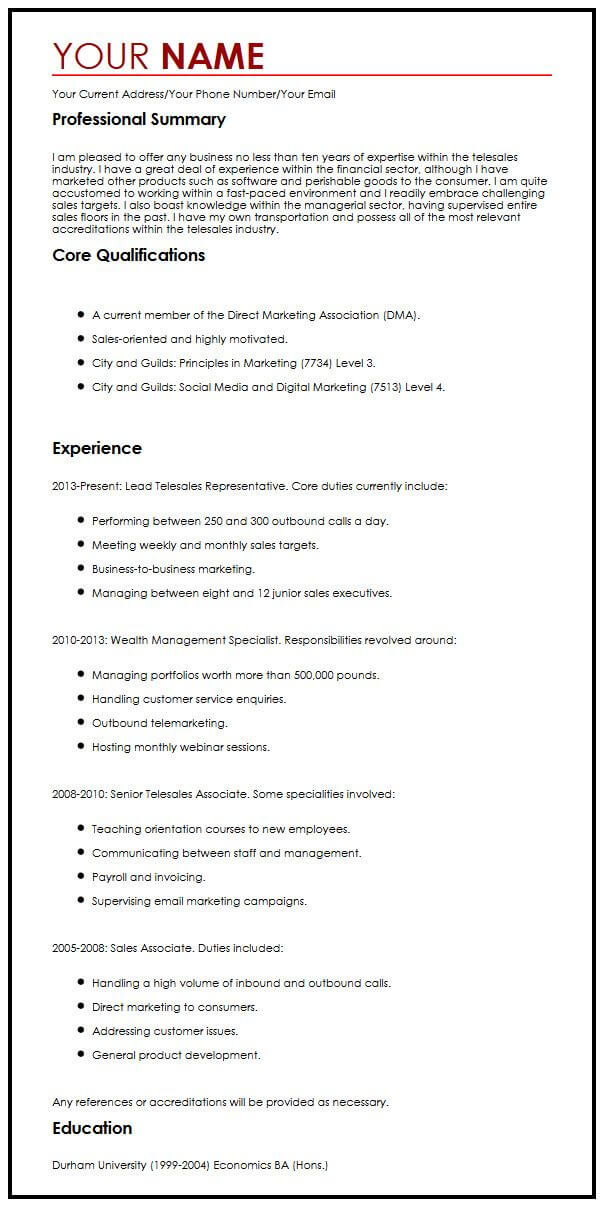 Build a professional CV that gets you hired.
Your Current Address/Your Phone Number/Your Email
Professional Summary
I am pleased to offer any business no less than ten years of expertise within the telesales industry.I have a great deal of experience within the financial sector, although I have marketed other products such as software and perishable goods to the consumer.I am quite accustomed to working within a fast-paced environment and I readily embrace challenging sales targets.I also boast knowledge within the managerial sector, having supervised entire sales floors in the past.I have my own transportation and possess all of the most relevant accreditations within the telesales industry.
Core Qualifications
A current member of the Direct Marketing Association (DMA).
Sales-oriented and highly motivated.
City and Guilds: Principles in Marketing (7734) Level 3.
City and Guilds: Social Media and Digital Marketing (7513) Level 4.
Experience
2013-Present: Lead Telesales Representative.Core duties currently include:
Performing between 250 and 300 outbound calls a day.
Meeting weekly and monthly sales targets.
Business-to-business marketing.
Managing between eight and 12 junior sales executives.
2010-2013: Wealth Management Specialist.Responsibilities revolved around:
Managing portfolios worth more than 500,000 pounds.
Handling customer service enquiries.
Outbound telemarketing.
Hosting monthly webinar sessions.
2008-2010: Senior Telesales Associate.Some specialities involved:
Teaching orientation courses to new employees.
Communicating between staff and management.
Payroll and invoicing.
Supervising email marketing campaigns.
2005-2008: Sales Associate.Duties included:
Handling a high volume of inbound and outbound calls.
Direct marketing to consumers.
Addressing customer issues.
General product development.
Any references or accreditations will be provided as necessary.
Education
Durham University (1999-2004) Economics BA (Hons.)
Conclusion
This chronological CV sample should have made the order and the structure of a typical application quite clear.Please feel free to look through the remainder of this website for additional CV examples, as well as a selection of useful tips and tricks.