Our customers have been hired by: *
What is a CV format?
CV format is kind of like the blueprint for your CV. Both the way a CV looks and how the information in it is laid out make up the format of your CV. There are currently two main formats recognised in the UK: the chronological (or rather reverse chronological) format, which is the most commonly used and requested by recruiters, and the skills-based format, which is the CV format recommended for those who do not have any work experience yet.
Read on to learn more about these CV formats and see practical CV examples featuring them. You will also learn how to format and write your CV, whether on your own or with the help of our CV maker. In addition, we will provide you with CV templates to make the formatting of your document a piece of cake!
UK CV formats
There are many different CV templates and formats used worldwide. The differences in CV formats result from the fact that recruiters in some countries will only want to see basic information about your employment, while others will want to see a lot of detail and references.
There are some standards in the UK that make the two main formats, reverse chronological and skills-based, come out on top.
We're going to outline these two UK CV formats, with their pros and cons, so you can learn about them and choose your favourite.
1
Reverse chronological CV format
Our favourite format! A reverse chronological CV is one of the most common CV formats worldwide, because it's easy for recruiters to quickly scan and absorb information.
Even if you've never written a CV before, you're likely to be familiar with a reverse chronological CV format or even have seen it in some of our CV examples. In the UK, recruiters accept this format as standard, and it's easy to create, but that's not to say you shouldn't consider others — as they could be more suitable for your situation and experience level.
Key features of a reverse chronological CV Format
A reverse chronological CV format uses a layout that lists your work experience in order of date, with the most recent position at the top. That should be on your front page if your CV is more than one page in length. Typically, your CV layout also includes a personal statement or a profile summary before your list of work experiences.
Following your work experience are education, training, skills, and hobbies.
Benefits of a reverse chronological CV
The reverse chronological CV layout is well known and almost expected by UK employers and recruiters. Because of this, it's well understood and easily read. Recruiters will not have trouble scanning this type of CV layout, as sections will vary minimally from CV to CV.
Another benefit is showing off an impressive career trajectory. If you've excelled and risen through the ranks, this type of CV layout highlights your progression. Additionally, as the most recent experience is presented at the top, employers get a sense of who you are today, not who you were 15 years ago. It's a current snapshot of you as a working professional.
Is a reverse chronological CV right for you?
Best for: Everyone! We would recommend a reverse chronological CV format as your first choice in most cases, as it suits the majority of candidates.
CV Layout tips for specific situations
Entry level candidates: reverse chronological is a good CV format, as long as you make the most of any volunteer positions or internships you've had. We recommend beefing up your skills section, and also adding a little more length to your personal statement to give the hiring manager a better insight into who you are.
Career-changers: focus on tailoring the content of your CV so what you showcase is relevant to your new career path. Remove roles that don't include transferable skills or experience. Use keywords from your new career field to help your new skills stand out, and explain why you're the right person for the job in your personal statement and cover letter.
2
Skills-based CV format
The skills-based CV format, also known as a functional CV, highlights your skills and tells the potential employer what you can already do to perform your duties in a new role. This CV is less common in the UK than the reverse chronological CV.
This CV format can work for candidates who are very new to the workforce and have minimal work experience. It might work for you if you are a school leaver or if you have been out of work for many years. Although, use it wisely, as this type of CV can also send a message that you don't have any experience at all, when that may not be the case.
Key features of a skills-based CV
The layout of skills-based CV is a bit different to the reverse chronological one. The top section of this CV contains your name and contact details. Underneath, you put a personal statement, and then your CV skills go to the section where work experience would typically sit.
The format focuses on key skill groups with tasks you can perform within each of those skill groups.
For example, under 'communication', you could say that you excelled in answering the phone and taking messages, that you are trained in the use of Office 365, and that you love meeting new people and building rapport.
Is a skills-based CV right for you?
Best for: Entry level candidates, those who are changing their career or people who are rejoining the workforce after a long absence.
Why this CV format is not the best choice for many candidates: Experienced recruiters advise not to use a skill-based CV layout unless you have no other choice, because it's much harder for an employer to get a sense of who you are, and what you've achieved. It leaves a lot of questions, which the recruiter may not have time to ask.
How to format your CV with our CV maker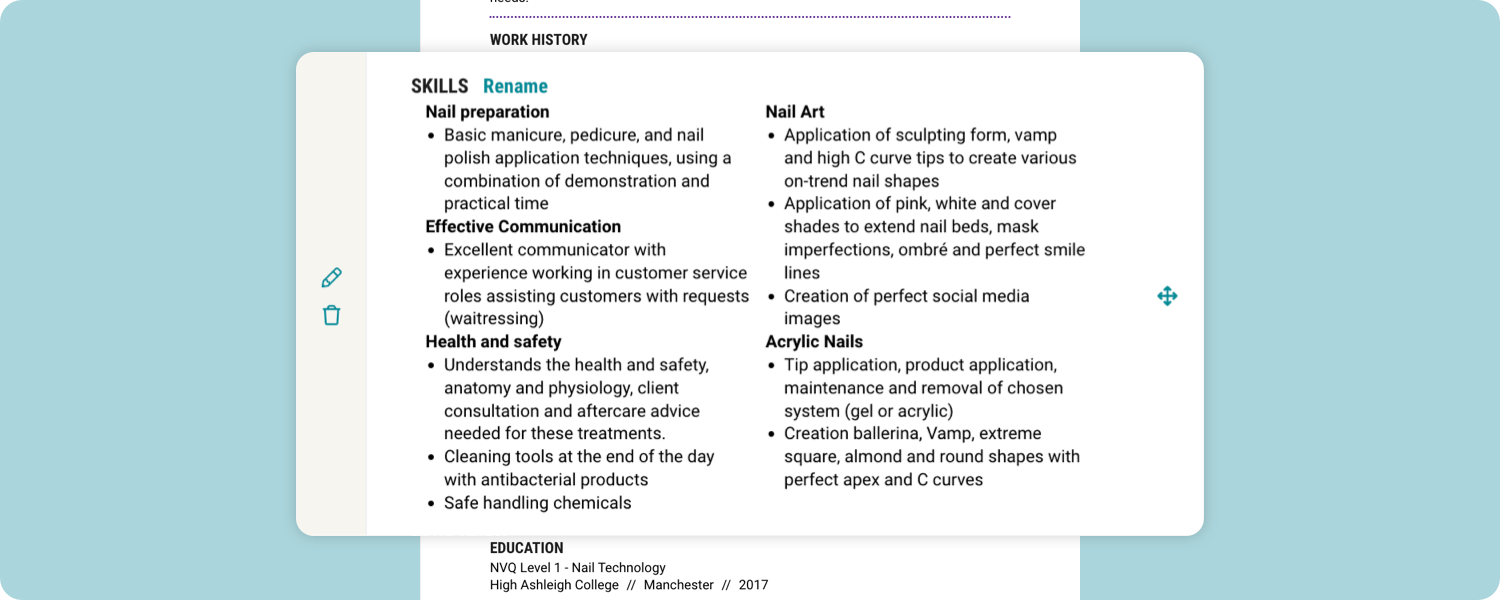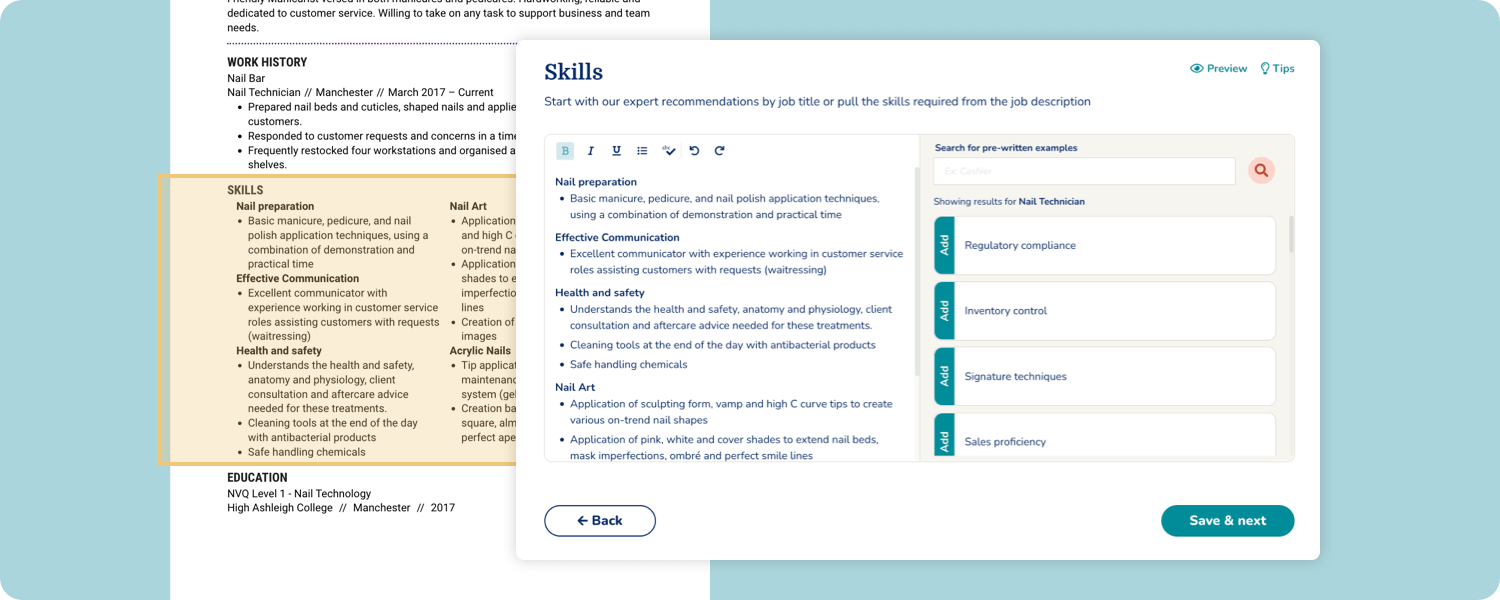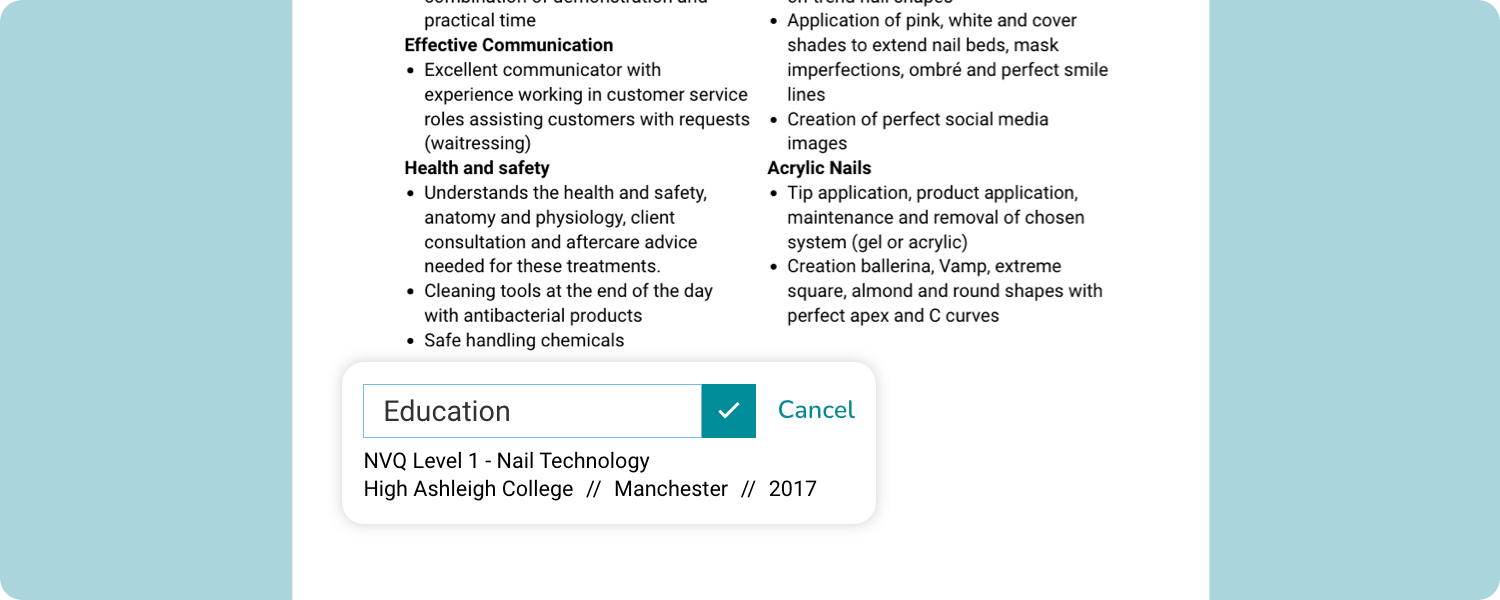 How to format and structure a CV
Fill in your contact details, make sure your name is in large, clear font
Write a short personal statement, 4 sentences are quite enough
Continue with your employment history. Include your position, place of employment and dates. Additionally, you can list the duties you performed.
Add information about your educational background. Include the institution, degree and date of completion.
Use a standard font, preferably size 11 or 12 for content and 14 for headings
Make sure your CV fits on one page
Frequently Asked Questions about CV format
What is the best CV format 2023?
The best CV format in 2023 is the reverse chronological CV format. It contains all the relevant elements for the UK CV standards and, on top of this, allows you to present your development and career path in a logical and easy-to-understand way. It provides a quick and clear overview of your professional situation.
What format should a CV be in?
If you are applying for your first job ever and have absolutely no previous experience, but you have a lot of drive as well as good skills that might come in handy in the job, you can use a skills-based (functional) CV, ideally in a one-page format.
In any other case, your UK CV should be in a reverse chronological format.
Both one and two-page CVs are acceptable.
How to format an academic CV?
Your academic CV can be a few to dozens of pages long. Here's how to format an academic CV properly:
state your name at the top of the page
continue with your contact details
then include your personal statement. Keep it short, 5 sentences maximum.
time for the education section. Include what type of education you received and what degrees you earned. If you graduated with honours - be sure to mention this. List your education in reverse chronological order.
next, list your teaching experience and/or professional appointments. Include the institution and faculty, dates of employment and duties - also in reverse chronological order.
list all publications of which you are the author or co-author, in the same way as you would record them in a bibliography
indicate the grants and fellowships you have been awarded.
next step, list all awards and honours you have received for your academic work.
then list any invited talks. List where you spoke, when and on what topic.
specify all conferences you have attended, giving the title, location and date. State whether you were a listener or an active contributor.
mention your research experience. List any research projects you have been involved in and specify your role in them.
then list your skills and languages. Specify the level of your language skills.
finally - references. Include the name, contact details and your relation to the person giving the reference.
How to format a CV in word?
Formatting a CV in word is very simple.
Open Microsoft Word and access the templates.
Select the Curriculum Vitae template
Enter your name and contact details
Write a short personal statement right underneath the contact details
Then list your employment history, starting with the most recent
List the skills relevant to the role
State your educational background, also in reverse chronological order.
And you're done!