How cover letter examples can help you
A strong cover letter is the difference between standing out and missing out. Without it, all the effort you've put into your CV could go to waste. Our example cover letters give you an insight into what recruiters are looking for, making it much easier to create an effective cover letter. From introducing yourself and your background to highlighting relevant experience and skills for the role.
Our most popular cover letter examples
Receptionist cover letter

As a receptionist, it's important your cover letter highlights your customer service skills and friendly demeanour. Provide examples of the types of receptionist roles you've had and be sure to paint a vivid picture.

1/9

Cover letter for sales assistant

Sales roles demand a high level of determination and tenacity. Show off your sales excellence by outlining your previous successes and the transferable skills that you offer.

2/9

Administrator cover letter

Being an administrator means you have immaculate presentation and attention to detail. Show off these skills and your experiences by using one of our simple cover letter templates.

3/9

Cover letter for retail assistant

Retail is a fast-paced and energetic environment. Show off your outstanding customer service skills and illustrate your experience the right way with our cover letter examples.

4/9

Cover letter for administrative assistant

As an administrative assistant, you'll be no stranger to organisation, clear communication and teamwork. Showcase your skills and experience in a more descriptive way with our cover letter examples.

5/9

Manager cover letter

See our excellent cover letter example for managers. Paint a broader picture of your experience by including specific examples of how you've excelled in management.

6/9

Teacher cover letter example

As a teacher, you've already got the qualifications, but your cover letter will help you to explain your style and achievements in more detail. Learn how with our teacher cover letter example.

7/9

Account manager cover letter

Show your new employer how you excel in account management with our effective cover letter examples. Describe in detail why you are the best candidate for the role.

8/9

Recruiter cover letter

Present your knack for recruitment by showing you know the drill! See our cover letter example to see how you can best describe your achievements in placing candidates and hitting targets.

9/9
Commonly asked cover letter questions
How can I explain career gaps in my cover letter?
A good cover letter is a perfect way to explain any gaps on your CV that could otherwise put recruiters off. Be honest and positive, explain that you were taking time to reconsider your career or focus on what you learnt in your time away from work.
How can I sell my limited experience?
Everybody starts somewhere. Sell yourself by showcasing transferable skills gained during your education or through your hobbies, and emphasise a willingness to learn and adapt.
Should I write a cover letter for each role?
Yes! Writing a cover letter for each job application allows you to tailor your experience to fit each role. It will enable you to focus on specific requirements of the job and how your knowledge and skills are the perfect fit.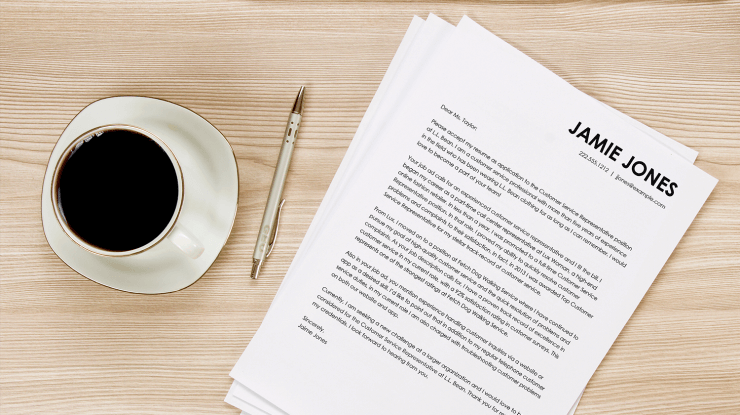 What do recruiters look for in a cover letter?
While your CV shows your past experience and skills developed to date, your cover letter offers a stronger sense of who you are. It gives an overview of what recruiters can expect to find in the accompanying CV, touching on how your experience and skills make you a good fit.
Recruiters are looking for:
Your unique selling points - what makes you the perfect choice for the role.
Quantified examples of your success - not another list of responsibilities.
Your motivations for applying for this specific role.
How you will add value to the position and company.
Proof that you have researched and understand the role and the company.
Your cover letter and CV should complement each other and work together as a suite. With hundreds of applications to look through, recruiters are looking for a candidate that meets their expectations and stands out. The CV can tick the first box, but it's up to the cover letter to set you apart.
Build your perfect cover letter
Want to put the icing on the cake of your job application? myPerfectCV's cover letter builder can help. With pre-designed templates and an array of cover letter samples, you can write an effective covering letter that shows you're the perfect candidate.