Making a First Impression That Counts
So, your CV is ready to go but, wait – they're asking for a cover letter.
Do you really need to bother with writing one?
The answer is: Yes!
When done right, a good cover letter can be the powerful, making recruiters sit up and take notice. But without a strong cover letter, all the energy you've put into perfecting your CV punches could go to waste. Your cover letter should highlight the hard-hitting evidence of why you're right for the job.
On the other hand, a badly-written, or completely absent cover letter, can be the Achilles' Heel of an otherwise-promising job application. It has the power to make your future employer reach eagerly for your CV or discard it into the nearest wastepaper bin.
Once you understand its importance, the prospect of creating the perfect cover letter can be a challenging prospect.
Our cover letter examples are designed to assist you in writing cover letters that will help you stand out, grab an employer's attention, and get you through the door for an interview.
Get Started With Cover Letter Examples
If you're struggling to know where to start, or simply need some guidance on what to include in your cover letter, seeing relevant examples from within your industry is an excellent way to give yourself a head start.
Use these as a source of inspiration to get your creative juices flowing and start thinking about how you can add your own distinctive voice in your covering letter.
Common Questions From UK Job Applicants
1.
What is a cover letter?
A cover letter:
Accompanies your CV and is your future employer's first introduction to you.
Is attached to your application as a separate document.
Acts as a summary of what the reader can expect from your CV and job application.
Is a one-page statement designed to grab the reader's attention and make them want to read on.
"All of us need to understand the importance of branding. We are CEOs of our own companies: Me Inc. To be in business today, our most important job is to be head marketer for the brand called You. – Tom Peters in Fast Company"
2.
Why is a cover letter necessary?
A cover letter is necessary because for these key reasons:
It conveys your interest in the job
It summarises what's in your CV
To appeal to the employer and make them compelled to find out more
To differentiate yourself from other candidates
It communicates your own personal brand and shows the recruiter your individuality.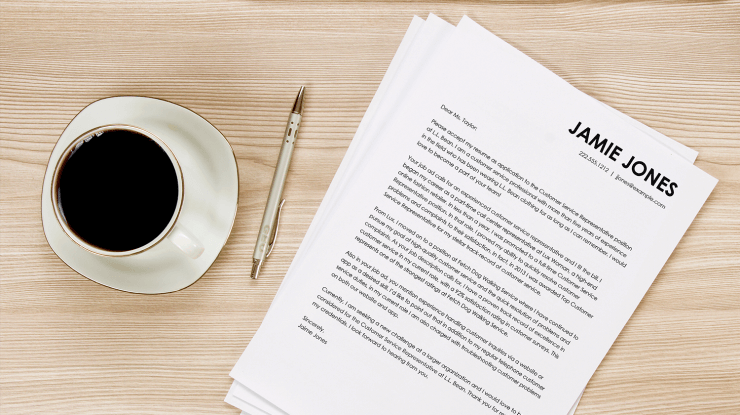 Top Cover Letter Tips
Here are some top tips when it comes to cover letter writing:
Include your name, address, and full contact details at the top of your cover letter, including links to your online portfolio.

Use a font that is simple and clear to read – stick to the classics such as Times New Roman, Arial or Helvetica, and make sure you use the same font throughout.

Use the recruiter or hiring manager's name (if you know it). Research shows there is a powerful response in the brain when someone hears their own name. In fact, it's most people's favourite word, so this is a guaranteed way to get a recruiter's attention up front!

Tailor each cover you write. Unfortunately, there are no short-cuts when it comes to cover letters. If you're applying for multiple jobs, take the time and energy to craft each letter individually, it will show the recruiter you're taking the opportunity seriously. Our cover letter builder makes it easy to do this.

Consider your tone – ideally the language you use in your cover letter should be professional but approachable. Our cover letter examples will give you an idea of the appropriate kind of tone for your cover letter.
What is a Recruiter Looking for in My Cover Letter?
With hundreds of CVs to look through, and often limited time to fill a role, recruiters need to be disciplined and manage their time closely.
It's a tough selection process to get through, and what's more recruiters have certain ideas about what they're looking for.
These include:
A strong, starting statement about who you are and why you'll be great at this job
An overview of what they can expect to find in your accompanying CV
One or two key skills or achievements that prove you'll be successful at this job
Information that shows you have researched the company and you understand what is required in the role.
The Importance of Creating the Perfect Cover Letter
If you're in the process of looking for a job or seriously considering the next step in your career, you'll know it is often a fiercely competitive process.
No matter how ideally qualified you think you may be for a role, the chances are there are several other people out there, just as qualified, and just as determined.
Here are some of the facts:
In an environment of such growth, it's more essential than ever to find a way to stand out from the crowd.
How Cover Letter Examples Can Help You
Now you've realised its importance – it's time to get started on your cover. But so far, all that's happening is your cursor blinking at you and suddenly tidying your bedroom, clipping your fingernails or well, pretty much anything, seems to be taking precedent over the task at hand.
In short, you have absolutely no idea where to start.
Who do you address the letter to?
What's the right tone of voice?
What should you include?
How do you create something that is both professional and memorable?
Viewing our library of cover letter examples is the perfect place to start. Our cover letter examples will help answer your questions and provide the inspiration you need to start building your own.
Overcome your writer's block
Our cover letter examples, across a huge range of job industries, are designed to give you the guidance you need to start building a memorable yet concise cover letter.
Our cover letter examples will:
Show you the ideal template, format and layout
Give you information on what to include and what recruiters will expect to see
Show you what your peers (and possible job competitors!) are writing in their cover letters
Help you take the first steps towards building your perfect cover letter "How to write a cover letter page".
Where Can You Find Great UK Cover Letter Examples?
If a great cover letter is something that's eluding you, don't worry. Our library of cover letter examples includes current UK industry roles and will help get you started on the path to cover letter success.
Building a great cover letter will give every job application you send a solid foundation and position you as a confident, capable and enthusiastic candidate to any employer.
It has the power to immediately set you apart from the crowd, giving the recruiter a vital snapshot not only of your skills and experience, but of your personality and the individual qualities you can bring to their team or organisation.
Our cover letter examples and advice on cover letter templates to help show you how to write a cover letter. They'll provide you with inspiration on the kind of language to use to get noticed, as well as ideas for content and layout.
Then use our quick and easy online cover letter builder tool to create a masterpiece that will have recruiters jumping for joy.