One Page CV Format
Brevity is the soul of wit, and this expression is just as true in terms of writing your CV.In other words, it is often better to construct this document so that is no longer than a single page.Although it can be challenging, there are some excellent tips and tricks to provide you with the insight that you require before submitting this summary to an employer.The one page CV sample that we have created is meant to provide you with a general outline to follow.Of course, you can change the profession as you see fit.

Create This CVSee all templates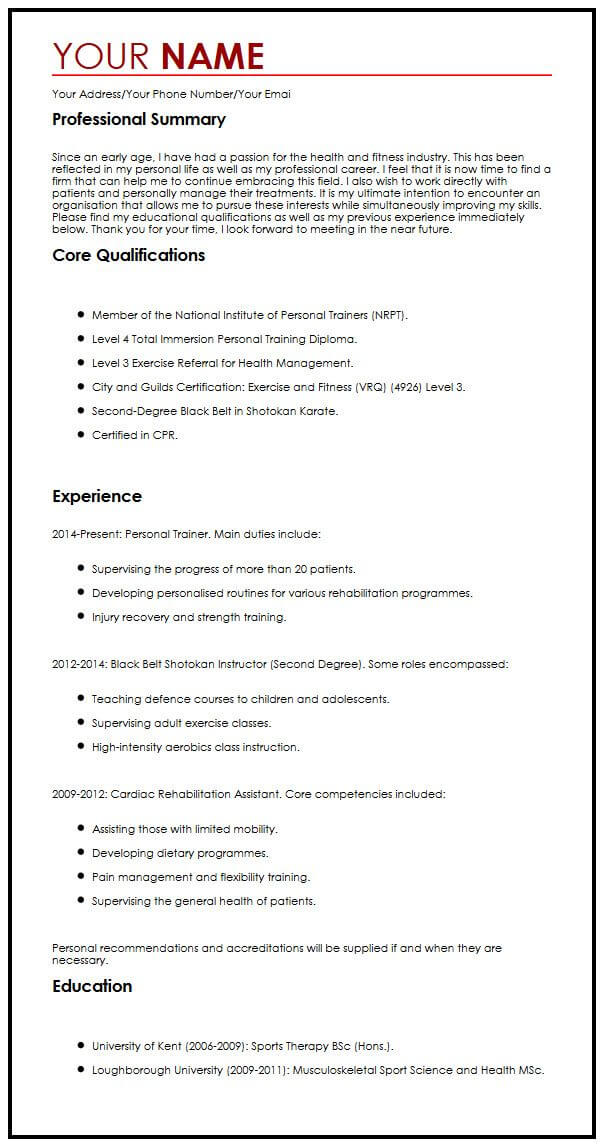 Build a professional CV that gets you hired.
Your Address/Your Phone Number/Your Emai
Professional Summary
Since an early age, I have had a passion for the health and fitness industry.This has been reflected in my personal life as well as my professional career.I feel that it is now time to find a firm that can help me to continue embracing this field.I also wish to work directly with patients and personally manage their treatments.It is my ultimate intention to encounter an organisation that allows me to pursue these interests while simultaneously improving my skills.Please find my educational qualifications as well as my previous experience immediately below.Thank you for your time, I look forward to meeting in the near future.
Core Qualifications
Member of the National Institute of Personal Trainers (NRPT).
Level 4 Total Immersion Personal Training Diploma.
Level 3 Exercise Referral for Health Management.
City and Guilds Certification: Exercise and Fitness (VRQ) (4926) Level 3.
Second-Degree Black Belt in Shotokan Karate.
Certified in CPR.
Experience
2014-Present: Personal Trainer.Main duties include:
Supervising the progress of more than 20 patients.
Developing personalised routines for various rehabilitation programmes.
Injury recovery and strength training.
2012-2014: Black Belt Shotokan Instructor (Second Degree).Some roles encompassed:
Teaching defence courses to children and adolescents.
Supervising adult exercise classes.
High-intensity aerobics class instruction.
2009-2012: Cardiac Rehabilitation Assistant.Core competencies included:
Assisting those with limited mobility.
Developing dietary programmes.
Pain management and flexibility training.
Supervising the general health of patients.
Personal recommendations and accreditations will be supplied if and when they are necessary.
Education
University of Kent (2006-2009): Sports Therapy BSc (Hons.).
Loughborough University (2009-2011): Musculoskeletal Sport Science and Health MSc.
Conclusion
From what we have just seen above, creating a single-page CV is indeed possible by following some simple guidelines.This one page CV sample represents just a small portion of what this website has to offer.We always encourage our visitors to have a further look around in order to learn countless other unique tips and tricks.