Find the right cover letter template for your role
If you want to get that all-important interview, then a strong cover letter is key. It needs to look good, be well structured, and be appropriate for the role you're applying for.
Our cover letter templates make it quick and easy for you to build a cover letter that'll make your application stand out for all the right reasons.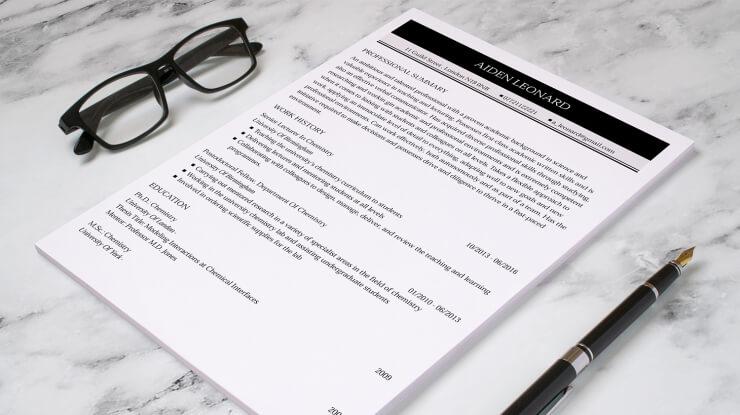 The UK's top cover letter templates by job title
Whatever job you're applying for, we have a cover letter template that will help you get started.
Retail cover letter template

Whether you're taking your first step into retail or applying for a managerial position, our cover letter template will help you include a customer-focused spin that will get recruiters' attention.

1/12

Customer service cover letter template

Our template will help you impress an employer with a well-written, personable cover letter that highlights your relevant work experience.

2/12

Graduate cover letter template

Fresh out of university you need to stand out from the competition. Our graduate cover letter template will help showcase your talent and make a good impression.

3/12

Admin cover letter template

Accuracy and professionalism are imperative in an admin cover letter. Our template will help you create an impressive cover letter that instantly wins over recruiters.

4/12

Teacher cover letter template

This template will help you achieve the right balance between being personable and authoritative. These qualities will demonstrate that you're the perfect fit for the job.

5/12

IT cover letter template

We have a range of IT templates that will help you focus on the specific area of IT that you specialise in. Showcase your strengths, whether they're Java, PHP, C++ or C#.

6/12

Receptionist cover letter template

Being good with people is important, but you also need to be able to multitask. We'll help you go beyond the obvious, including relevant work experience and skills to give you the edge.

7/12

Engineering cover letter template

Our engineering cover letter template gives you insight into what makes a great cover letter, from achievements to skills that will help you stand out.

8/12

Marketing cover letter template

There are many marketing career pathways, and our template offers you a guide that can be applied to many of them. Customise it to work for the specific position you've applied for.

9/12

Construction cover letter template

The construction industry has its own unique culture and recruitment approach. Whatever role you're applying for, our template will help engage the interest of construction recruiters.

10/12

Chef cover letter template

You may be great at cooking but you also need to demonstrate other skills. Our Chef cover letter template helps you to balance creativity and managerial skills.

11/12

Recruitment consultant cover letter template

Recruiters have high expectations of each other. Start off on the right foot with our cover letter template, carefully customising it to match the role you've applied for.

12/12
Why use a cover letter template?
Top cover letter templates by design
Choosing the right template for you
Job hunting can be frustrating and overwhelming, and it's easy to feel burned out by the process. A cover letter template gives you a strong structure and helps to inspire you to customise your letter for the specific role you're applying for. But how do you choose the right template?
Look at what people in similar roles are doing
A great place to start when picking a cover letter template is to take a look at what your peers are doing. To help you out, we've included plenty of
cover letter examples
on this page to give you a bit of inspiration, too.
Research the companies you're applying for
At an interview, you need to mirror the level of formality of your prospective employer. The same rule applies when you're choosing a cover letter template. If you're applying for a job in a global corporate, pick a more formal template. For a role at a startup, use a less formal cover letter template.
Build your cover letter and see how the content looks in various templates
With our
cover letter builder
, it's super easy to write your cover letter first then play around with different designs. Make sure you settle on a design that feels right to you, but also for the kind of role you're applying for.
Get started
To get started all you need to do is go to our cover letter builder and start browsing. You might also want to check out our cover letter examples or boost your chances of getting the job with our guide on how to write a cover letter.