Healthcare assistant CV example
To secure a job as a healthcare assistant you'll need an impressive and well-written CV using our healthcare assistant CV sample as a basis. A good CV will show just how you fit the bill for the job, including your specific qualifications and your skills and accomplishments in the health care field. By taking a look at the healthcare assistant CV sample here, you'll know just what to write and the format to use. Our layout is the ideal way to make a great impression on the recruitment team or individual manager at the company you're applying to work in, so you'll get to the interview stage.
Create This CVSee all templates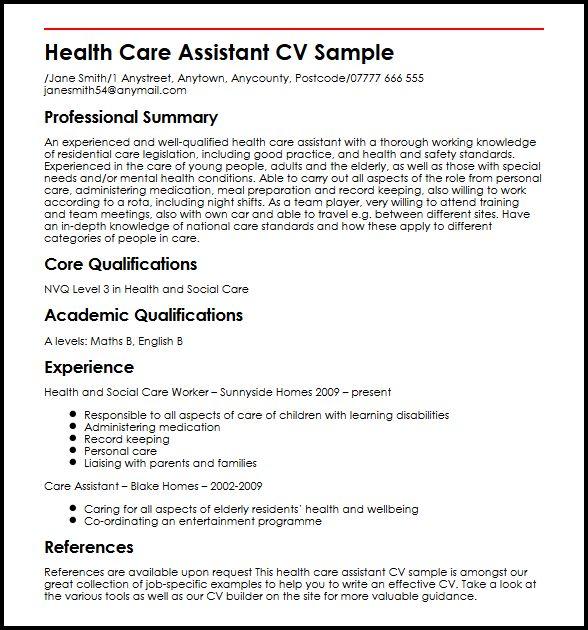 Build a professional CV that gets you hired.
Healthcare assistant CV sample/Jane Smith/1 Anystreet, Anytown, Anycounty, Postcode/07777 666 555 janesmith54@anymail.com
Professional Summary
An experienced and well-qualified health care assistant with a thorough working knowledge of residential care legislation, including good practice, and health and safety standards. Experienced in the care of young people, adults and the elderly, as well as those with special needs and/or mental health conditions. Able to carry out all aspects of the role from personal care, administering medication, meal preparation and record keeping, also willing to work according to a rota, including night shifts. As a team player, very willing to attend training and team meetings, also with own car and able to travel e.g. between different sites. Have in-depth knowledge of national care standards and how these apply to different categories of people in care.
Core Qualifications
NVQ Level 3 in Health and Social Care
Academic Qualifications
A levels: Maths B, English B
Experience
Health and Social Care Worker | Sunnyside Homes 2009 | present
Responsible to all aspects of care of children with learning disabilities
Administering medication
Record keeping
Personal care
Liaising with parents and families
Care Assistant | Blake Homes | 2002-2009
Caring for all aspects of elderly residents' health and wellbeing
Co-ordinating an entertainment programme
References
References are available upon requestThis health care assistant CV sample is amongst our great collection of job-specific examples to help you to write an effective CV. Take a look at the various tools as well as our CV builder on the site for more valuable guidance.
Related CVs Healthcare CV Examples