Optometrist Assistant CV Example
In today's job market, it can be hard to find a job even in a rarely-filled position for which you are eminently qualified. When this happens, it's quite useful to rebuild your curriculum vitae. Optometrist assistants of all levels have experience and accomplishments that should be noted by prospective employers. To best establish what you might have and link it to what a prospective employer is looking for, it can help to refer to other CVs. This can be where our optometrist assistant CV sample, below, comes into play.
Create This CVSee all templates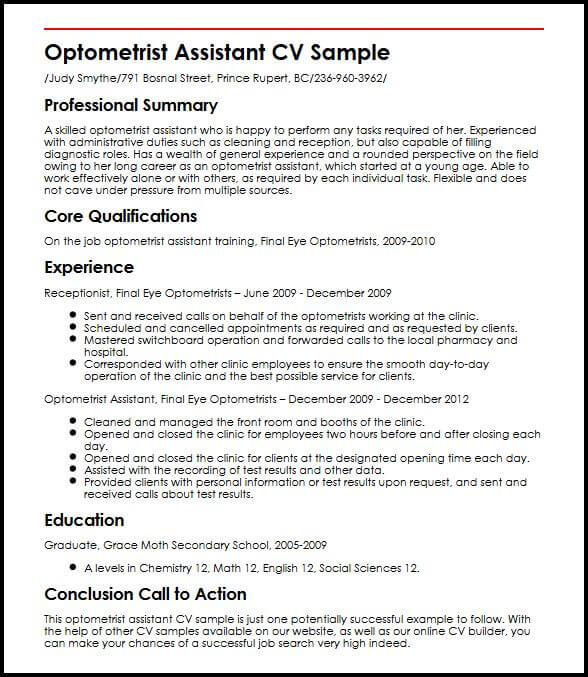 Build a professional CV that gets you hired.
Optometrist Assistant CV Sample/Judy Smythe/791 Bosnal Street, Prince Rupert, BC/236-960-3962/
Professional Summary
A skilled optometrist assistant who is happy to perform any tasks required of her. Experienced with administrative duties such as cleaning and reception, but also capable of filling diagnostic roles. Has a wealth of general experience and a rounded perspective on the field owing to her long career as an optometrist assistant, which started at a young age. Able to work effectively alone or with others, as required by each individual task. Flexible and does not cave under pressure from multiple sources.
Core Qualifications
On the job optometrist assistant training, Final Eye Optometrists, 2009-2010
Experience
Receptionist, Final Eye Optometrists | June 2009 - December 2009
Sent and received calls on behalf of the optometrists working at the clinic.
Scheduled and cancelled appointments as required and as requested by clients.
Mastered switchboard operation and forwarded calls to the local pharmacy and hospital.
Corresponded with other clinic employees to ensure the smooth day-to-day operation of the clinic and the best possible service for clients.
Optometrist Assistant, Final Eye Optometrists | December 2009 - December 2012
Cleaned and managed the front room and booths of the clinic.
Opened and closed the clinic for employees two hours before and after closing each day.
Opened and closed the clinic for clients at the designated opening time each day.
Assisted with the recording of test results and other data.
Provided clients with personal information or test results upon request, and sent and received calls about test results.
Education
Graduate, Grace Moth Secondary School, 2005-2009
A levels in Chemistry 12, Math 12, English 12, Social Sciences 12.
Conclusion Call to Action
This optometrist assistant CV sample is just one potentially successful example to follow. With the help of other CV samples available on our website, as well as our online CV builder, you can make your chances of a successful job search very high indeed.
Related CVs Healthcare CV Examples