It is critical that a CV appears to be creative in terms of its content and presentation.However, there are some portions such as one's work experience and skills that must remain rather straightforward.Let us therefore take a look at an excellent creative CV example.By the end of this article, it should be clear how to format this document, as well as some of the qualities that should be mentioned.We will be illustrating a theoretical catering application.Naturally, the content of your CV will vary in accordance with your skills and field of expertise.

Create This CVSee all templates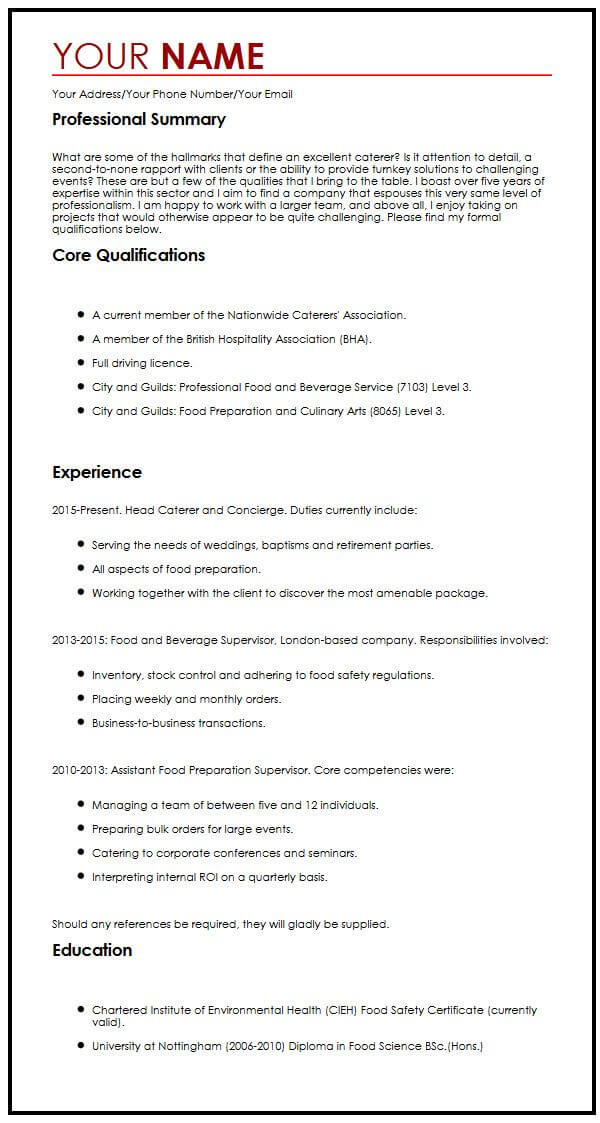 Build a professional CV that gets you hired.
Your Address/Your Phone Number/Your Email
Professional Summary
What are some of the hallmarks that define an excellent caterer?Is it attention to detail, a second-to-none rapport with clients or the ability to provide turnkey solutions to challenging events?These are but a few of the qualities that I bring to the table.I boast over five years of expertise within this sector and I aim to find a company that espouses this very same level of professionalism.I am happy to work with a larger team, and above all, I enjoy taking on projects that would otherwise appear to be quite challenging.Please find my formal qualifications below.
Core Qualifications
A current member of the Nationwide Caterers' Association.
A member of the British Hospitality Association (BHA).
Full driving licence.
City and Guilds: Professional Food and Beverage Service (7103) Level 3.
City and Guilds: Food Preparation and Culinary Arts (8065) Level 3.
Experience
2015-Present.Head Caterer and Concierge.Duties currently include:
Serving the needs of weddings, baptisms and retirement parties.
All aspects of food preparation.
Working together with the client to discover the most amenable package.
2013-2015: Food and Beverage Supervisor, London-based company.Responsibilities involved:
Inventory, stock control and adhering to food safety regulations.
Placing weekly and monthly orders.
Business-to-business transactions.
2010-2013: Assistant Food Preparation Supervisor.Core competencies were:
Managing a team of between five and 12 individuals.
Preparing bulk orders for large events.
Catering to corporate conferences and seminars.
Interpreting internal ROI on a quarterly basis.
Should any references be required, they will gladly be supplied.
Education
Chartered Institute of Environmental Health (CIEH) Food Safety Certificate (currently valid).
University at Nottingham (2006-2010) Diploma in Food Science BSc.(Hons.)
Conclusion
This creative CV example is intended to highlight the fact that motivational content can be included alongside skills and relevant qualifications.This is only one of the many CV samples that can be found on this website.Please have a further look at your convenience if you have any additional questions.