Our customers have been hired by: *
Selecting the right creative CV template starts you out on the best footing towards your dream creative job. Whether it's a graphic design, photography, or social media marketing, having a CV that showcases your creative talents as well as your experience, key skills and education, can make you stand out from the crowd. A great creative CV template also ensures that your CV will be read as intended, with a variety of formatting options available.
Ready to create your dream creative CV? Browse myPerfectCV's collection of tailored creative CV templates for your job role, and then build your perfect CV.
Download a creative CV template online
Creative CV templates by job title and industry
Looking for ideas for your creative CV design and layout? Take a look at some of the example CVs that have been creative using our creative templates.
Modern creative CV template ideas and tips
Choose an effective creative CV template format

Finding the best creative CV format for you will depend on the type of creative CV you send out and the company you are sending it to. Generally, it is best to have your CV in multiple formats, including Word and PDF. If the company is using ATS software to filter applications, you will need a creative CV in Word. If your creative CV design requires complex formatting, then a PDF might be a more suitable format to ensure your creative CV will appear correctly when opened in different programs or devices.

Select the right creative CV layout template

The perfect creative CV layout template will vary depending on your chosen company or industry. In some cases, such as for a creative marketing CV, the best layout might be similar to a traditional CV, with sections for your work and academic history, personal statement, and skills. A creative CV layout template of this kind will show your creativity through a bolder choice of colours, or a focus on your writing skills. However, if you're in the graphic design or photography fields, for example, you may want to allot space to include images of your creative projects.

Find the best creative CV design templates for your company

Different industries have different requirements for their creative CVs. Whilst all our creative CV templates are tailored to create a professional effect for your application, some suit certain industries over others. A bright, colourful creative CV design would be more suitable for an animation job than for a copywriter at a pharmaceutical company, which might require a CV with subtler colours and a clearer structure.

Utilise a creative CV generator

Don't waste time handcrafting a CV, when you could take out the hassle with a creative CV generator like the one on our CV builder. Utilise a stylish creative CV template online to find the right one to showcase your skills. Ensure that you continue to use reverse chronology to make your work experience loud and clear to employers. Stick to the original creative CV design as much as possible, because any alteration could make it hard to read or prevent it from being ATS-friendly.
FAQs about creative CV templates
What is a creative CV and do I need one?
Creative CVs step away from the design of traditional CVs to showcase your skills, whether that's enabling you to write about your skills in a more evocative way through a creative writing CV, or simply adding a more design-based header at the top. Creative CVs are useful to help you stand out in competitive creative industries, and if you work in these industries, a creative CV can make a world of difference. They are not mandatory however, and in some cases, a professional CV may be more suitable.
How to write a creative CV
Ultimately, creative CV templates are about making your creativity stand out. Your words can help you do just that. If you're a creative writer or marketer especially, a creative writing CV template gives you the space to shine. Show employers what you can do with words in your personal statement, and even your experience and skills.
How to make a creative CV template
Especially if you're a graphic designer or photographer, you might want to show the details of your CV in a unique way. That could be allowing your designs to take centre stage, with the finer details in the background. Or you could add different elements to your creative CV template online. For example, rather than transferrable skills, you might prefer to include a selection of different art styles you have mastered.
Why are creative CVs important?
Creative industries are notoriously hard to get into, and it's difficult to create a traditional CV that makes you stand out. Creative CV templates reflect your talents in a way that traditional ones can't. When you use a creative CV creator, you can show that you have a bit more flair and imagination to fit the recruiter's brief.
How to tailor the creative CV generator to you
As well as considering the requirements of your position and industry, you might choose to develop your CV further by including a photo for a personal touch, or by choosing a design to suit the type of art or content you create. Sleek designs suit professionals while something more fun might suit a children's illustrator.
Dos and don'ts for the best creative CV online
Do
Do tailor to your industry. When it comes to creative CV templates, one size doesn't always fit all. It's best to tailor your creative CV to your industry. Research the company you want to apply to. Do they have specifications for the kinds of CVs they accept? You could also reach out to former and current employees on LinkedIn to ask about the kind of creative CV template they used for their application.
Do include relevant info in your creative CV. As well as your creative content and experience, be sure to include the more traditional details of a CV where needed. For example, it might be important for employers to know that you're experienced with certain types of tool or software. Graphic designers might need to specify their experience with software like Photoshop, GIMP, or Canva, as well as traditional techniques. Try to keep details of your experiences, skills and qualifications concise and clear, using bullet points where possible. Limit yourself to two pages to avoid recruiters losing interest in your creative CV. Look at creative CV examples for inspiration.
Don't
Don't go for style over substance. Whilst creative CV samples are naturally more fun, it's important not to get carried away with a creative CV generator. Stay focused on the reason you're creating this CV – to take the next step in your career. That means writing in your CV about your qualifications and experience, so the recruiters know you have the practical experience it takes to do the job, as well as the creative talent.
Don't ignore formatting requirements. Always double check the CV requirements of the job you apply to. Many recruiters use ATS software that searches for relevant keywords to pinpoint the most suitable candidates. Your creative CV should be in Word format to align with this. If your design requires a specific layout or design, you should save it as a PDF to ensure that the formatting is not altered depending on the software used to access it.
Show off your talents with our

creative CV generator
Choose from our impressive selection of simple creative CV templates to save time, so you can focus on getting in all the important creative details of your career. Whatever layout or design you need, you'll find hundreds of beautiful options on myPerfectCV. Need a choice of formats for your application? All our creative CV templates are downloadable in a variety of formats, including Word and PDF.
If you're lost for words, our simple creative CV builder makes it easy to find exactly what you want to say. Select from pre-written content tailored to your chosen industry and job role. You can then develop this into your dream creative CV to wow recruiters with your talents and score that interview.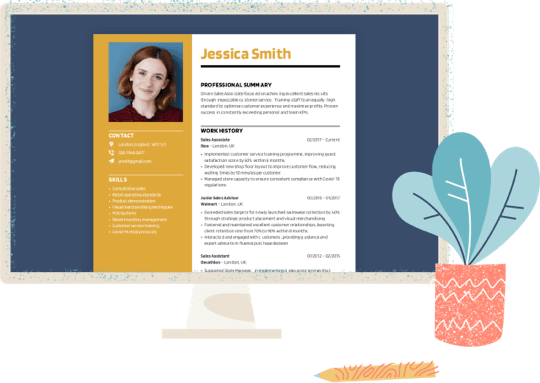 *The names and logos of the companies referred to above are all trademarks of their respective holders. Unless specifically stated otherwise, such references are not intended to imply any affiliation or association with myperfectCV.