Hairdresser Assistant CV Example
Writing an effective CV that will help you to sell yourself to potential employers in the most effective way is an important strategy when looking for a new job. Using our free hairdresser apprentice CV sample will give you valuable insights into how to present your most impressive qualifications, experience and key skills: you will learn how to format your resume and the essential information you should include. The free hairdresser CV sample below isan excellent template that will help you construct a CVtailored to the post you are seeking;a well-written career resume will help you stand out from the competition andgain the attention of the hiring manager.
Create This CVSee all templates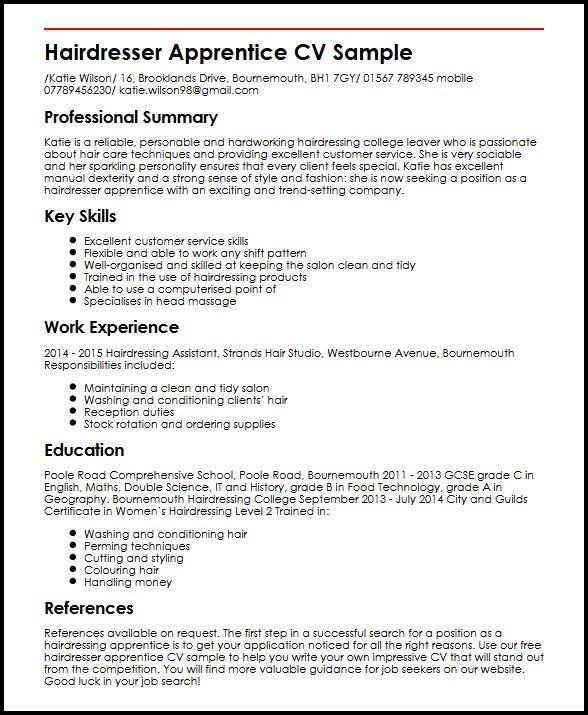 Build a professional CV that gets you hired.
Hairdresser Apprentice CV Sample/Katie Wilson/ 16, Brooklands Drive, Bournemouth, Bh2 7GY/ 01567 789345 mobile 07789456230/ katie.wilson98@gmail.com
Professional Summary
Katie is a reliable, personable and hardworking hairdressing college leaver who is passionate about hair care techniques and providing excellent customer service. She is verysociable and her sparkling personality ensures that every client feels special.Katie has excellent manual dexterity anda strong sense of style and fashion: she is now seeking a position as a hairdresser apprentice with an exciting and trend-setting company.
Key Skills
Excellent customer service skills
Flexible and able to work any shift pattern
Well-organised and skilled at keeping the salon clean and tidy
Trained in the use of hairdressing products
Able to use a computerised point of
Specialises in head massage
Work Experience
2014 - 2015Hairdressing Assistant, Strands Hair Studio, Westbourne Avenue, BournemouthResponsibilities included:
Maintaining a clean and tidy salon
Washing and conditioning clients' hair
Reception duties
Stock rotation and ordering supplies
Education
Poole Road Comprehensive School, Poole Road, Bournemouth2011 - 2013 GCSE grade Cin English, Maths, Double Science, IT and History, grade B in Food Technology, grade A in Geography.Bournemouth Hairdressing College September2013 - July2014City and Guilds Certificate in Women's HairdressingLevel 2Trained in:
Washing and conditioning hair
Perming techniques
Cutting and styling
Colouring hair
Handling money
References
References available on request.The first step in a successful search for aposition as a hairdressing apprentice is to get your application noticed for all the right reasons.Use our free hairdresser apprentice CV sample to help youwrite your own impressive CV that will stand out from the competition. You will find more valuable guidance for job seekers on our website. Good luck in your job search!
Related CVs Beauty Therapy CV Examples