Beauty Advisor CV Example
The road to your new dream job starts with crafting the ideal CV, to show employers that you're serious and a good choice. Getting this right can be tricky, so feel free to use our free beauty advisor CV sample to start the process. From here, you can write a strong CV with a smart, eye-catching layout that will kick start your new career.
Create This CVSee all templates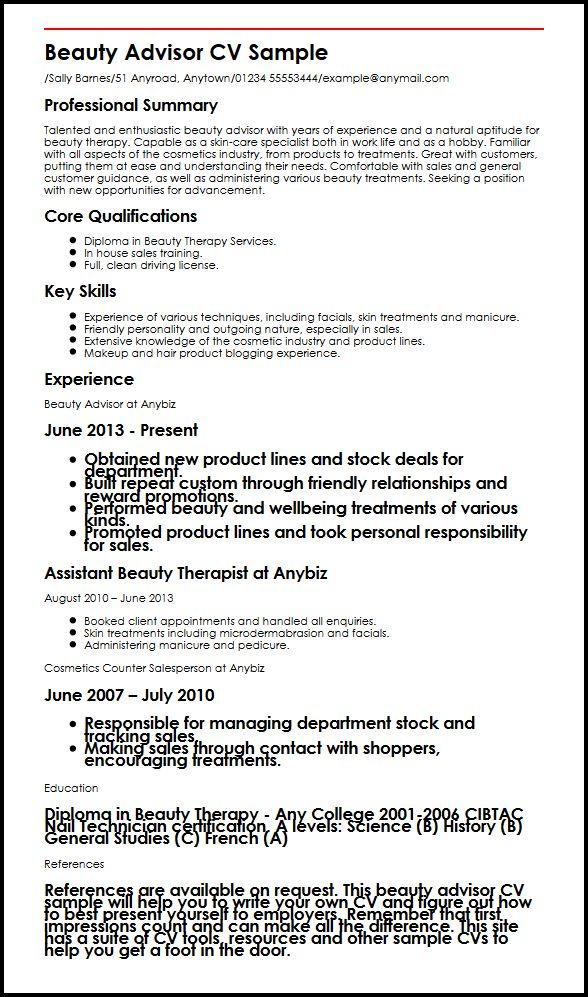 Build a professional CV that gets you hired.
Beauty Advisor CV Sample/Sally Barnes/51 Anyroad, Anytown/01234 55553444/example@anymail.com
Professional Summary
Talented and enthusiastic beauty advisor with years of experience and a natural aptitude for beauty therapy. Capable as a skin-care specialist both in work life and as a hobby. Familiar with all aspects of the cosmetics industry, from products to treatments. Great with customers, putting them at ease and understanding their needs. Comfortable with sales and general customer guidance, as well as administering various beauty treatments. Seeking a position with new opportunities for advancement.
Core Qualifications
Diploma in Beauty Therapy Services.
In house sales training.
Full, clean driving license.
Key Skills
Experience of various techniques, including facials, skin treatments and manicure.
Friendly personality and outgoing nature, especially in sales.
Extensive knowledge of the cosmetic industry and product lines.
Makeup and hair product blogging experience.
Experience
Beauty Advisor at Anybiz
June 2013 - Present

Obtained new product lines and stock deals for department.
Built repeat custom through friendly relationships and reward promotions.
Performed beauty and wellbeing treatments of various kinds.
Promoted product lines and took personal responsibility for sales.

Assistant Beauty Therapist at Anybiz
August 2010 | June 2013
Booked client appointments and handled all enquiries.
Skin treatments including microdermabrasion and facials.
Administering manicure and pedicure.
Cosmetics Counter Salesperson at Anybiz
June 2007 | July 2010

Responsible for managing department stock and tracking sales.
Making sales through contact with shoppers, encouraging treatments.
Education
Diploma in Beauty Therapy - Any College 2001-2006CIBTAC Nail Technician certification.A levels: Science (B) History (B) General Studies (C) French (A)
References
References are available on request.This beauty advisor CV sample will help you to write your own CV and figure out how to best present yourself to employers. Remember that first impressions count and can make all the difference. This site has a suite of CV tools, resources and other sample CVs to help you get a foot in the door.
Related CVs Beauty Therapy CV Examples