Microsoft Word is one of the most popular formats for writing, downloading and sending CVs - with good reason too. We're here to help you make your CV shine with Word templates, top tips to get the most out of your Word CV, and answers to all of your burning questions.
Top Word CV templates to download
Writing a professional CV from scratch isn't easy. Deciding on the right skills, experience and structure can be overwhelming. That's before you've considered Applicant Tracking Systems (ATS) which scan CVs to flag them as a top match for recruiters.
Thankfully our Microsoft Word CV templates are here to help. Professionally designed and tailored to ATS software, our UK Word CV templates have been helping talented people like you build CVs they're proud of for over a decade. Browse our top CV templates in Word documents by format and job title to inspire your next application:
Microsoft Word CV examples
Whether it's creative and modern or clean and simple, our Word CV templates come in a wide range of styles and formats. That makes them the perfect fit for a vast array of UK job roles, from doctors and pharmacists to architects, software engineers, and receptionists.
Take a look at some of our professional CV examples below:
FAQs for Microsoft Word CV templates
How to make a CV in Word
The easiest way to make a CV with Microsoft is by accessing Word's pre-made templates. Open a new document, click on 'more templates' then select 'Resumes and Cover Letters'. This is the same for UK users, despite resume being a US term!
You can then choose from a range of professional Word templates and personalise them with your own details, skills, and experience – including a brief personal statement to introduce and summarise your background, qualifications, and personal qualities.
Do you send a CV in Word or PDF?
PDF and Word documents are the two most popular formats for downloading and sending your CV. To decide between the two, you should firstly check whether the recruiter or employer specifies a file type on the job listing or application form.
If you're still left to choose between PDF and Word, consider how the CV is being submitted. If it's being sent through a company website or online portal, it's most probably going to be scanned by an ATS. Word CV templates are much better in this respect.
On the other hand, if it's being sent directly to a recruiter or manager, PDF might be the better option. Word CV documents can be affected by formatting if a company is using an old version of Microsoft Word, or an alternative like Open Office. By downloading your CV as a PDF, you can make sure it appears as intended.
How to insert picture in a Word CV
Some of the best CV templates in Word come pre-designed with a space for your own photo. To customise it, simply right click on the image, select 'fill' and choose 'picture'. You can then select the right file from your computer and insert it, before cropping and positioning it correctly.
Alternatively, if you're adding a photo to the basic CV template on Word, you'll need to click insert on the top menu, choose a picture and then position it appropriately. CV photos should be placed on the top third of the page, ideally in the top right or left corner. Doing so allows plenty of room for the main body of the CV.
How to Design a CV in MS Word
To design a CV in Microsoft (MS) word, you should start with a blank CV template. From here, you can add your own personal statement, experience section, skills, and education or qualifications.
You can then customise the colours and fonts used. However, it's best to stick with one simple font such as Arial, Helvetica, or Cambria to keep things professional and easy to read. You should also avoid too many font sizes, with the 'rule of three' generally the best advice.
Similarly, keep all text black for easy readability, adding one different colour (or two different shades of another colour) for sub-headings, paragraph borders, or margins.
Why should I use Word CV templates?
The professional Word templates on our CV builder have a number of advantages over designing a CV on word. First and foremost, they're easier to format and customise than Microsoft Word templates, with pre-written text tailored to a wide range of sectors and job roles.
We also have a better variety of formats and styles, so you can always find one that's the perfect fit for you and your background. Above all else, our Word templates are designed for UK recruiters, with everything they need in concise bullet-point lists. Then when you download your completed CV template in Word, it's compatible with every version of the software.
What are the best tips for your Microsoft Word CV?
Here are some of our best tips when working with a Microsoft Word CV template:
Follow a reverse chronological order to put your most recent, relevant experience at the top of your work history section.
Use bullet points for your work history and skills to keep things concise and to the point.
Tailor your application to the job description and person specification, including any keywords that may be required to pass an ATS.
Include relevant sub-headings for each section of your Word CV so recruiters can skim to find the information they need with ease.
Can a Word CV template help me pass an ATS?
For every role a recruiter posts, they typically receive over 250 CVs in response. If recruiters manually sorted through all these CVs, they wouldn't have time for anything else. So, to make it easier to select the most suitable applications they use an ATS (Applicant Tracking System).
By comparing your CV to the job description, an ATS scores your application based on your suitability for the role. The recruiter will then contact the candidates identified as a 'top match'. If your CV isn't formatted in a way that an ATS recognises or if it is missing important details, there's a high possibility it will be filtered out, meaning you miss out on a role - that's where Word CV templates come into play.
We've designed our Word CV templates to be ATS compatible by carefully selecting appropriate fonts, incorporating headings and spaces to make the CV easy to scan, and using bullet and numbered lists to highlight key skills and qualifications. So, yes, a Word CV template can help you get over that first hurdle!
Step up your career with a

Word CV template
Browse our selection of the best Word CV templates and head on over to our CV builder to start building your own personalised CV in a few easy steps.
Choose a professionally designed CV template
Add expertly written, tried-and-tested phrases
Download your CV and Apply!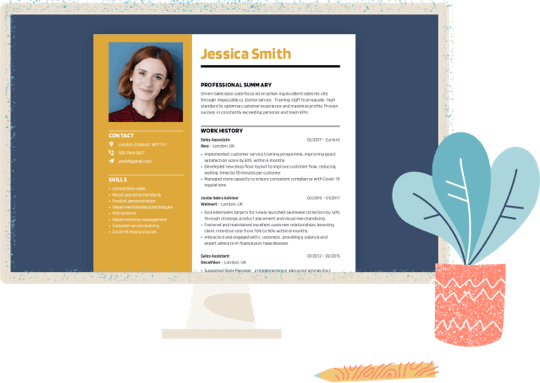 *The names and logos of the companies referred to above are all trademarks of their respective holders. Unless specifically stated otherwise, such references are not intended to imply any affiliation or association with myperfectCV.