Deputy Manager CV Example
There are many roles which could define the title of deputy manager.From the restaurant industry to a position within an engineering firm, the duties involved are as diverse as the job sector itself.Although there is no doubt that experience breeds success, it is still a fact that a properly formatted curriculum is critical to make a lasting impression during the employment-seeking process.The deputy manager CV sample found below has already be utilised by countless applicants who may not have been completely aware of how such a document should be formatted.Please spend some time and take a closer look at what a typical CV should contain.
Create This CVSee all templates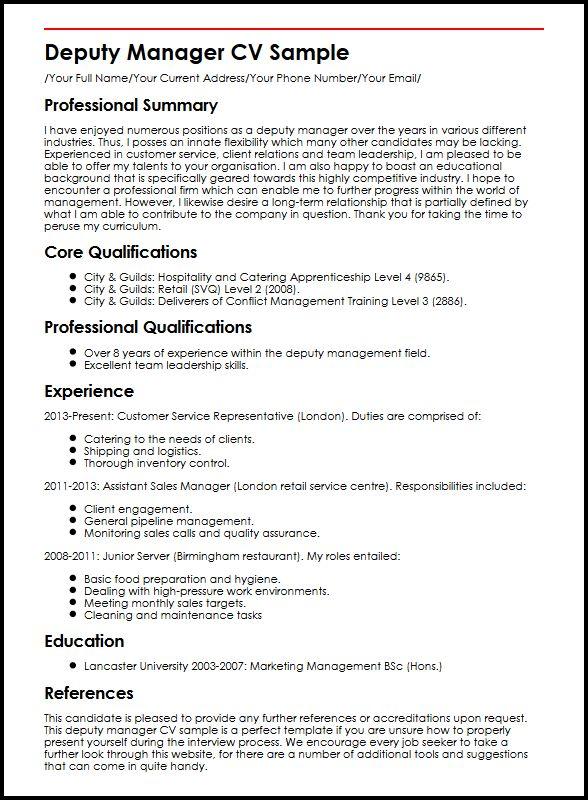 Build a professional CV that gets you hired.
Deputy Manager CV Sample/Your Full Name/Your Current Address/Your Phone Number/Your Email/
Professional Summary
I have enjoyed numerous positions as a deputy manager over the years in various different industries.Thus, I posses an innate flexibility which many other candidates may be lacking.Experienced in customer service, client relations and team leadership, I am pleased to be able to offer my talents to your organisation.I am also happy to boast an educational background that is specifically geared towards this highly competitive industry.I hope to encounter a professional firm which can enable me to further progress within the world of management.However, I likewise desire a long-term relationship that is partially defined by what I am able to contribute to the company in question.Thank you for taking the time to peruse my curriculum.
Core Qualifications
City & Guilds: Hospitality and Catering Apprenticeship Level 4 (9865).
City & Guilds: Retail (SVQ) Level 2 (2008).
City & Guilds: Deliverers of Conflict Management Training Level 3 (2886).
Professional Qualifications
Over 8 years of experience within the deputy management field.
Excellent team leadership skills.
Experience
2013-Present: Customer Service Representative (London).Duties are comprised of:
Catering to the needs of clients.
Shipping and logistics.
Thorough inventory control.
2011-2013: Assistant Sales Manager (London retail service centre).Responsibilities included:
Client engagement.
General pipeline management.
Monitoring sales calls and quality assurance.
2008-2011: Junior Server (Birmingham restaurant).My roles entailed:
Basic food preparation and hygiene.
Dealing with high-pressure work environments.
Meeting monthly sales targets.
Cleaning and maintenance tasks
Education
Lancaster University 2003-2007: Marketing Management BSc (Hons.)
References
This candidate is pleased to provide any further references or accreditations upon request.This deputy manager CV sample is a perfect template if you are unsure how to properly present yourself during the interview process.We encourage every job seeker to take a further look through this website, for there are a number of additional tools and suggestions that can come in quite handy.