Project Support Officer CV Example
Making sure your dream career gets off to the great start you need by perfecting your CV. Use our free project support officer CV sample as a framework to get you started, with a sample layout and inspiration for your personal summary. Once you have this customised, you'll be able to sell yourself with ease and skill.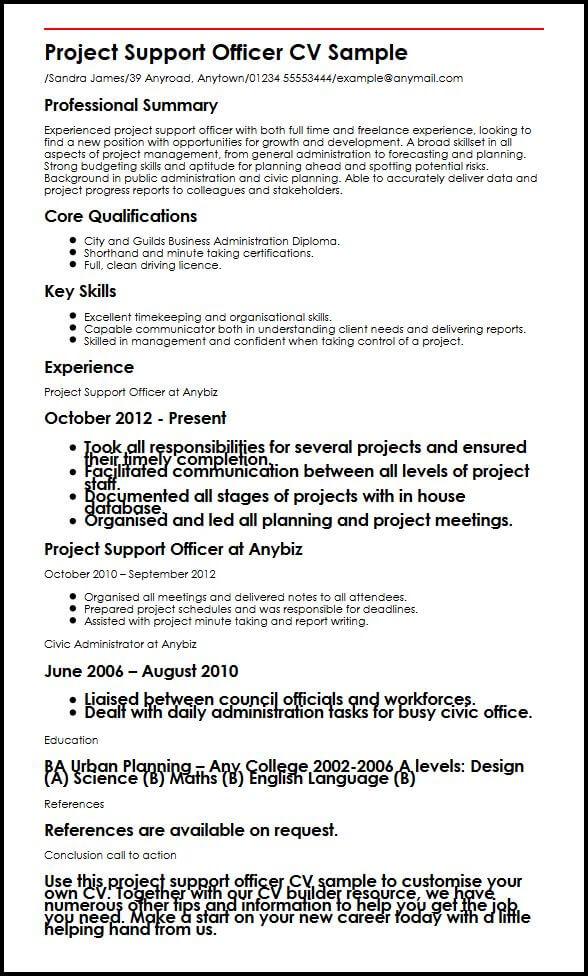 Our professional CV builder is designed to build the most powerful CV and save you time.
Project Support Officer CV Sample/Sandra James/39 Anyroad, Anytown/01234 55553444/example@anymail.com
Professional Summary
Experienced project support officer with both full time and freelance experience, looking to find a new position with opportunities for growth and development. A broad skillset in all aspects of project management, from general administration to forecasting and planning. Strong budgeting skills and aptitude for planning ahead and spotting potential risks. Background in public administration and civic planning. Able to accurately deliver data and project progress reports to colleagues and stakeholders.
Core Qualifications
City and Guilds Business Administration Diploma.
Shorthand and minute taking certifications.
Full, clean driving licence.
Key Skills
Excellent timekeeping and organisational skills.
Capable communicator both in understanding client needs and delivering reports.
Skilled in management and confident when taking control of a project.
Experience
Project Support Officer at Anybiz
October 2012 - Present

Took all responsibilities for several projects and ensured their timely completion.
Facilitated communication between all levels of project staff.
Documented all stages of projects with in house database.
Organised and led all planning and project meetings.

Project Support Officer at Anybiz
October 2010 | September 2012
Organised all meetings and delivered notes to all attendees.
Prepared project schedules and was responsible for deadlines.
Assisted with project minute taking and report writing.
Civic Administrator at Anybiz
June 2006 | August 2010

Liaised between council officials and workforces.
Dealt with daily administration tasks for busy civic office.
Education
BA Urban Planning | Any College 2002-2006A levels: Design (A) Science (B) Maths (B) English Language (B)
References
References are available on request.
Conclusion call to action
Use this project support officer CV sample to customise your own CV. Together with our CV builder resource, we have numerous other tips and information to help you get the job you need. Make a start on your new career today with a little helping hand from us.