General Assistant CV Example
Although the term "general assistant" can be rather vague, the truth of the matter is that this position can be valuable for those who are looking to cement their place within a productive work environment.Additionally, an assistant position can quickly change into a supervisory role if you have the appropriate skill sets.Presenting yourself in the most impressive fashion is extremely important and the information provided within a CV is critical during the recruitment process.So, please have a look below at our general assistant CV sample to understand how to construct a streamlined template.
Create This CVSee all templates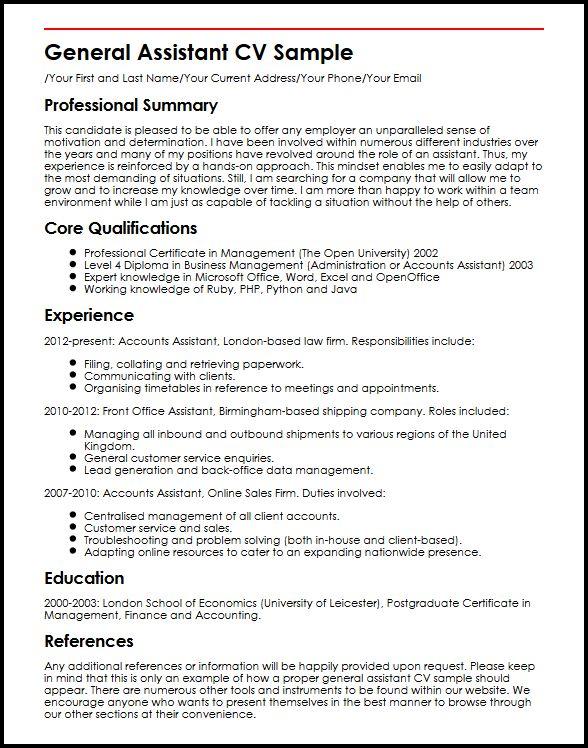 Build a professional CV that gets you hired.
General Assistant CV Sample/Your First and Last Name/Your Current Address/Your Phone/Your Email
Professional Summary
This candidate is pleased to be able to offer any employer an unparalleled sense of motivation and determination.I have been involved within numerous different industries over the years and many of my positions have revolved around the role of an assistant.Thus, my experience is reinforced by a hands-on approach.This mindset enables me to easily adapt to the most demanding of situations.Still, I am searching for a company that will allow me to grow and to increase my knowledge over time.I am more than happy to work within a team environment while I am just as capable of tackling a situation without the help of others.
Core Qualifications
Professional Certificate in Management (The Open University) 2002
Level 4 Diploma in Business Management (Administration or Accounts Assistant) 2003
Expert knowledge in Microsoft Office, Word, Excel and OpenOffice
Working knowledge of Ruby, PHP, Python and Java
Experience
2012-present: Accounts Assistant, London-based law firm.Responsibilities include:
Filing, collating and retrieving paperwork.
Communicating with clients.
Organising timetables in reference to meetings and appointments.
2010-2012: Front Office Assistant, Birmingham-based shipping company.Roles included:
Managing all inbound and outbound shipments to various regions of the United Kingdom.
General customer service enquiries.
Lead generation and back-office data management.
2007-2010: Accounts Assistant, Online Sales Firm.Duties involved:
Centralised management of all client accounts.
Customer service and sales.
Troubleshooting and problem solving (both in-house and client-based).
Adapting online resources to cater to an expanding nationwide presence.
Education
2000-2003: London School of Economics (University of Leicester), Postgraduate Certificate in Management, Finance and Accounting.
References
Any additional references or information will be happily provided upon request.Please keep in mind that this is only an example of how a proper general assistant CV sample should appear.There are numerous other tools and instruments to be found within our website.We encourage anyone who wants to present themselves in the best manner to browse through our other sections at their convenience.
Related CVs Administration CV Examples