How CV examples can help you
Recruiters decide if you're a good match for a role in a mere six seconds, so your CV needs to persuade them that you've got what it takes to do the job.
CV examples help with getting the layout right, setting the tone, showing you what to include, and they also give you a boost so you feel motivated to start building your own CV.
CV FAQs
What should I include in a CV?
A CV is made up of four parts:
Personal details: name, address, and contact details.
Personal Statement: a concise overview of your career and ambitions.
Work history and skills: detail your experience (using real world examples where relevant) and skills to prove your suitability for the role. Try to tailor this section to each role you're applying for.
Education and qualifications: include information on relevant degrees and certificates, and where you obtained them. It's standard for these to be listed using reverse chronological order (the latest first).
How long should a CV be?
While there's no set limit to how long a CV should be, it's standard practice for it to be two pages. If you have an extensive work history, customise it so it's relevant to the role you're applying for.
Should I explain a career gap on my CV?
A CV should include work experience that is relevant to the role you're applying for. So, if the career gap took place outside of this, there's no need to include it. However, if you took a prolonged break (for whatever reason) within the last 12 months you'll need to briefly detail it on your CV by listing the dates and heading it as 'Career Break'. You can go into further detail in your cover letter.
Do I need to include references on a CV?
It's not standard practice to include references on a CV unless the recruiter or employer specifically asks for them. References can be supplied later on in the hiring process - typically at the interview stage.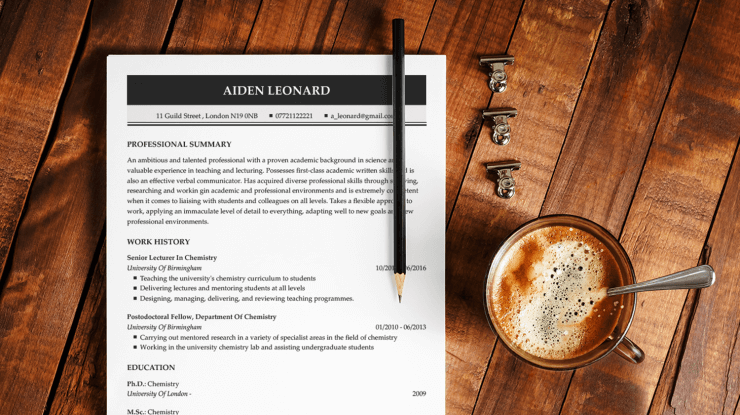 More popular UK CV examples
Here's more of our most popular UK CV examples:
Step up your career with CV examples
With over a decade of experience helping millions of candidates, we know what makes a great CV. All our examples show the CV template, layout, and content. They also guide you on what to say and how to structure it.
Take inspiration from our range of CV examples and hop on over to our CV builder to start building your own personalised CV.