Our customers have been hired by: *
Most candidates use one CV example and send it in response to multiple job offers. However, on average, it takes recruiters as little as 6 seconds to decide if you are a good fit for the role. That's why the example of CV you choose should match the requirements of the job description. It should be designed to convince hiring managers that you have what it takes for the job.
Our CV examples and samples are custom-made for each job and have the layout and the tone set by position and profile.
Good CV examples
Doctor CV example

This simple but effective CV example for a doctor keeps things professional with navy used subheadings to separate sections. The clean, well-spaced layout makes it easy to track their journey from junior doctor up to their most recent position.

Delivery driver CV example

The distinctive design and sparingly used bold colour make this CV example perfect for anyone who wants to guide recruiters through their work history, skills, and education - not to mention the all-important first stop at their professional summary.

Administrative Assistant CV example

What better way to showcase your organisational skills than with a neat, two-column design. This CV example makes it super-easy to find the contact details, skills, and qualifications with a blue backdrop.

Nanny CV example

This CV example puts the focus on the candidate with a large header for their name and a stand-out personal statement, which is backed up by clear, concise responsibilities in their work history.

Civil Engineer CV example

A good example of a cohesive CV with skills like transport engineering and sustainable building concepts backed up by responsibilities in the work history section, all presented clearly with a professional design.

Makeup Artist CV example

This CV example demonstrates how soft skills can be used as a big selling point. Transferable qualities like attention to detail, effective sales skills, and teamwork are listed to complement the hard skills discussed in the work history section.

Factory Worker CV example

They say 'less is more'. Despite having only two previous roles, the CV stays relevant and on point, using negative (empty) space to keep things looking tidy. The result is a CV that's brief and focussed, but certainly not lacking.

Management Accountant CV example

A good CV example for anyone with lots of experience. Despite graduating in 2007, the CV only includes the previous three roles to keep things concise and highlight the most relevant work history.

Veterinary receptionist CV example

Short, sweet and simple. This CV example ticks every box for the job at hand without the need to pad things out or waffle on. The ideal fit for junior or entry-level roles.
CV samples for all sectors and professions
Let our professional CV examples guide the way as you build your own CV. Find your sector then select your job title to see a tried-and-tested example CV that ticks all the boxes, from clear formatting to the right skills and experience.

Accounting
A strong accounting CV is detail-oriented, organised, and efficient at describing previous experiences as a string of professional phases throughout your career.

Administration
Showcase your administration skills and experience with a clear, concise CV that highlights your administrative background and any specialism.

Animal care
Get your dream job and follow your calling with a brilliantly written CV tailored to the animal care industry.

Banking
Crunch the numbers on your banking CV with a detailed work history to demonstrate your success to date as an assistant, officer, manager, or mortgage broker.

Beauty therapy
Create a CV that shines like your clients using our beautified examples and picture-perfect professional templates to briefly summarise your specialist skills and experience.

Business operation
Find new ways to outline your outstanding career as a business professional. Use our examples to make the writing easier and get inspired by professionals in your industry.

Cleaning

Construction

Customer service
Apply for positions in the customer service industry and advance your career with the best CV examples tailored to your role.

Engineering

Finance

Healthcare
Continue your career path in the healthcare industry and see how to write a CV tailored to your needs.

Hospitality
Host your career with top hospitality CVs. Take inspiration from sample CVs in this category and see how to create your own.

Information technology
Program the best outcome for yourself by finding a job that gives you satisfaction. See examples of CVs for jobs in the IT industry.

Law
Check out the best CV examples in this category and get your CV in order. See what a CV for a profession in the legal world should look like and get yours.

Logistics
Cleverly manoeuvre between requirements, skills and experience to create a top CV in the logistics sector. Check out the CV examples and navigate your career.

Marketing advertising communications
Put your professional profile on display and get that top shelf CV now. See the CV examples in the Marketing advertising communications category.

Medical
Boost your career and create your medical CV quickly using our step-by-step guidance. View examples of CVs in the medical category now.

Nursing
Nurture your future with a job you are passionate about. We can help you write a CV for nursing careers.

Retail
Seal the deal with a top-notch retail CV that ticks all the boxes. See examples of CVs and check how to make yours step-by-step.

Sales

Teaching education
Put your experience into practice and create the best teaching CV according to recruiters' suggestions. Check out CV examples for your category and get inspired to write yours.
More Popular Categories
How examples of CVs help you
Recruiters decide if you're a good match for a role in a mere six seconds, so your CV needs to persuade them that you've got what it takes to do the job.
CV examples help with getting the
layout
right, setting the tone, showing you what to include, and they also give you a boost so you feel motivated to start building your own CV.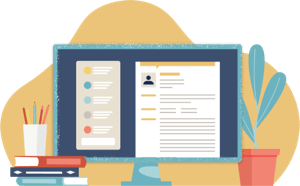 Why use our CV examples?
For the perfect model

Let's start with the basics – our CV samples give you a shining example of what recruiters are looking for. You can use them as model when building your own CV to check that you're on the right track with your design, structure and anything else you're unsure of.

When you're using good CV examples, you'll naturally use things like subheadings and bullet points to make your CV much easier to read. You can also reflect the length of our examples with a one-page CV for maximum readability!

And inspiration

Our CV examples can also give you inspiration if you're stuck for ideas. Let's face it – we all get writer's block from time to time, and it's not always easy remembering exactly what you've done at each of your jobs.

By reading through our polished examples, you can see what kind of things to talk about – and how to talk about them. That includes invaluable tips like mentioning specific figures and using plain English wherever possible.

Ticking every box

While it's important to keep your CV concise, you don't want to scrimp on the details. By using our top-rated CV examples as a reference, you can make sure your own application includes all of the necessary information – from your personal statement and work experience to your skills and education. Whether you're struggling with a specific section or can't decide what to include where, our examples are a handy one-stop-shop that will show you how to tick every box.

Find your job or sector

There's a world of difference between CVs for bookkeepers, teachers, receptionists and students – to name just a few. That extends from the format they use to the all-important responsibilities and skills. To make things easier, we've got over 300 CVs spanning a vast array of sectors and jobs.

By finding a CV example that's tailored to your role or industry, you're much better placed to include what your future employer is looking for. Going beyond visual assistance, you'll be able to read through the personal statement, work experience, skills, and education – before tailoring your own CV to perfection.

Examples for all experience levels

We've mentioned the importance of your industry. But let's not forget experience. So much of CV writing depends on how many jobs you've had in the past. It's no use looking at a CV that's 90% work history if you're applying for your first job.

That's why our selection of professional CVs includes examples for all experience levels. Our CEO CVs can show you how to summarise decades of experience while keeping your application concise. Or check out student CVs utilising a skills-based format that's perfect for a lack of experience.

ATS optimisation

What on earth is ATS? It's short for applicant tracking software – and it's used by so many recruiters to filter down CVs to the most relevant applicants. ATS systems check for keyphrases relating to experience, qualifications, or just key skills, depending on the job in question.

Thankfully, our CV examples have been written with that in mind. Their clear, concise style is the perfect fit for including keywords without the need to add loads more text. By following our lead, you'll be in pole position to pass that ATS check and get your CV seen by a real recruiter.

Nail the personal statement

We've already mentioned text or 'content'. But it's worth noting just how important the personal statement (or professional summary) is for your CV. This short paragraph sits at the top of your CV and should outline your current role, work background, and key skills.

With the average recruiter spending just six seconds scanning an application, you'll need to write a knock-out personal statement that makes them want to find out more. That's why all of our UK CV examples have a professionally written personal statement that's tailored to the job – so you can see exactly how to pick out and sum up the best qualities in 2-3 sentences.
CV examples – frequently asked questions
What is a CV example?
A CV example is a pre-made CV by a real or hypothetical candidate, based on an actual role with relevant skills and experience. CV examples are highly useful as a model to guide the CV writing process. That could be a specific example for the exact role you're interested in, or just a general example to give you an idea of the structure and design.
What are the most popular CV examples?
The most popular CV examples are those with a clear structure, good design, and great content, which can all be used to inspire your own application. In terms of job roles, some of the most popular CV examples are for administration, food service, and construction.
What are the best CV examples for students or entry level jobs?
The best CV examples for students and entry-level jobs are those which focus on education and transferable skills. That could be a CV for a university student, listing part-time or summer jobs alongside their A-levels – or a trainee CV example focusing on relevant experience from their training to date. Alternatively, a skills-based CV example is ideal for entry-level candidates with a lack of experience.
How do I make a CV example customised to my profile?
To customise a CV example to your profile, the best place to start is a CV template. This gives you the same structure and design as our CV examples as a starting point. You can then customise it by adding your own skills and experience or using pre-written content on our online builder.
Can you download a CV example from the myPerfectCV builder?
While you can't download CV examples, you can create your own CV based on our examples in a matter of minutes. Using the myPerfectCV builder is actually much easier than starting with an example. It allows you to tailor every aspect of your CV to your skills and experience, as well as the job you're applying for.
What is a headline in a CV example?
A headline refers to the text that sits at the top of your CV, typically in a bigger or bolder font than the rest of the content. Some examples include a sentence which summarises your main skills. However, to avoid repetition in your personal statement, we recommend using your name as the headline.
How to write a CV – examples
There are number of tips that can help you nail the writing style on your CV. To make things easier, we've provided some examples below:
Clear and concise – To keep your CV short and sweet like our examples, it's best to ditch any fluff or unnecessary text. For example, say you "Cleaned food preparation areas daily" rather than explaining how you "worked hard to make sure every last corner of the kitchen was clean at the end of each day".
Active voice – Use action words to explain what you did, not what happened while you were there. An example of this would be saying "managed 20 staff over a 5-year period", compared to "team of 20 staff were managed effectively"
Plain English – You might think jargon makes your application look more professional. But it can actually alienate recruiters. Keep things simple and explain any acronyms, such as "click-through rate" for "CTR" or even "managing director" for "MD".
Be specific – Eliminate the guesswork. Specific numbers can work wonders for your CV. For example, "managed marketing budgets exceeding £50,000" or "assisted 100+ customers weekly"
How to describe yourself in a CV – examples
Here are some tips for describing yourself in a CV:
Do it in your personal statement – The only place you should describe yourself in your CV is your personal statement. As an example, don't say that you have 10 years' experience in your work history section. Say so in your professional summary at the top, then let your work history back it up.
Use the third person – Even when you're introducing yourself, recruiters don't want to hear "I", "me", "we". For your CV, it's more professional to use the third person, for example "Hard-working accountant with ten years of experience in finance roles. Skilled in bookkeeping, VAT, and business planning"
Relevant adjectives – Adjectives (describing words) are essential to tell recruiters what you're like. But make sure they're relevant to the job. It's no use saying you're "physically fit" for a data entry role, for example, or "creative" as an accountant. Choose wisely with 2-3 adjectives that best describe your qualities in line with your job.
What should I include in a CV example?
If you want to build a CV like our examples, it's best to include these five key parts:
Personal details: name, address, and contact details.
Personal statement: a concise overview of your career and ambitions.
Work history: detail your experience (using real world examples where relevant) to prove your suitability for the role. Try to tailor this section to each role yo u're applying for.
Skills: add a bullet-point list of skills to emphasise your key qualities, especially for recruiters that don't want to read your entire work history.
Education and qualifications: include information on relevant degrees and certificates, and where you obtained them. It's standard for these to be listed using reverse chronological order (the latest first).
Step up your career with CV examples
With over a decade of experience helping millions of candidates, we know what makes a great CV. All our examples show the CV template, layout, and content. They also guide you on what to say and how to structure it.
*The names and logos of the companies referred to above are all trademarks of their respective holders. Unless specifically stated otherwise, such references are not intended to imply any affiliation or association with myperfectCV.