Fire Protection Engineer CV Example
The first thing that you need to land a new job in fire protections is to create a CV that accurately represents all of your skills and abilities. As well as highlighting any strengths you may have, it should cover all of your work history. By choosing to use a free fire protection engineer CV sample you will have discovered an invaluable tool that will help you to compose your work details in an appropriate format as well as offering advice into the kind of information that you will be expected to have included.
Create This CVSee all templates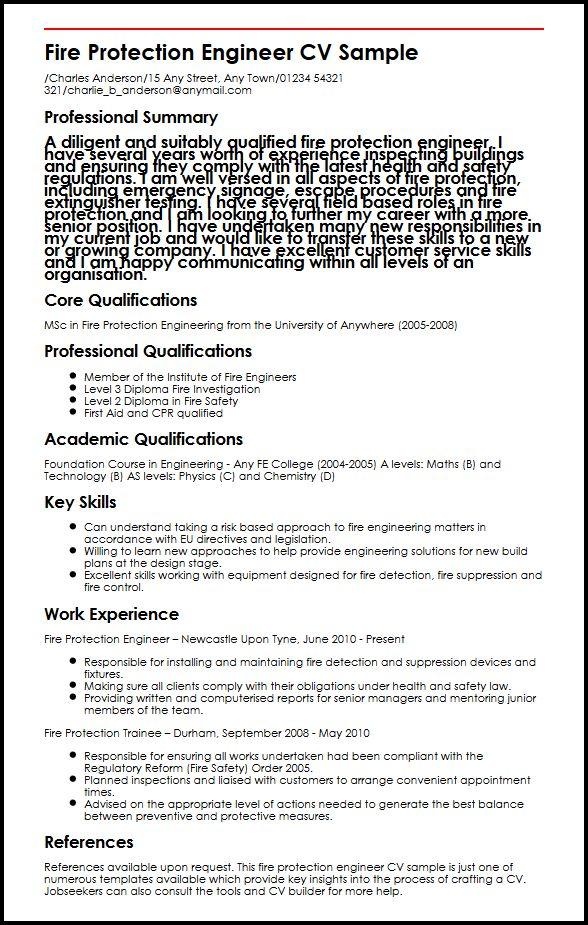 Build a professional CV that gets you hired.
Fire Protection Engineer CV Sample/Charles Anderson/15 Any Street, Any Town/01234 54321 321/charlie_b_anderson@anymail.com
Professional Summary
A diligent and suitably qualified fire protection engineer, I have several years worth of experience inspecting buildings and ensuring they comply with the latest health and safety regulations. I am well versed in all aspects of fire protection, including emergency signage, escape procedures and fire extinguisher testing. I have several field based roles in fire protection and I am looking to further my career with a more senior position. I have undertaken many new responsibilities in my current job and would like to transfer these skills to a new or growing company. I have excellent customer service skills and I am happy communicating within all levels of an organisation.
Core Qualifications
MSc in Fire Protection Engineering from the University of Anywhere (2005-2008)
Professional Qualifications
Member of the Institute of Fire Engineers
Level 3 Diploma Fire Investigation
Level 2 Diploma in Fire Safety
First Aid and CPR qualified
Academic Qualifications
Foundation Course in Engineering- Any FE College (2004-2005)A levels: Maths (B) and Technology (B)AS levels: Physics (C) and Chemistry (D)
Key Skills
Can understand taking a risk based approach to fire engineering matters in accordance with EU directives and legislation.
Willing to learn new approaches to help provide engineering solutions for new build plans at the design stage.
Excellent skills working with equipment designed for fire detection, fire suppression and fire control.
Work Experience
Fire Protection Engineer | Newcastle Upon Tyne, June 2010 - Present
Responsible for installing and maintaining fire detection and suppression devices and fixtures.
Making sure all clients comply with their obligations under health and safety law.
Providing written and computerised reports for senior managers and mentoring junior members of the team.
Fire Protection Trainee | Durham, September 2008 - May 2010
Responsible for ensuring all works undertaken had been compliant with the Regulatory Reform (Fire Safety) Order 2005.
Planned inspections and liaised with customers to arrange convenient appointment times.
Advised on the appropriate level of actions needed to generate the best balance between preventive and protective measures.
References
References available upon request.This fire protection engineer CV sample is just one of numerous templates available which provide key insights into the process of crafting a CV. Jobseekers can also consult the tools and CV builder for more help.
Related CVs Engineering CV Examples