Marine Engineer CV Example
The marine engineering sector requires many sorts of skills these days and in order to land a job in the industry you will first need to pay attention to carefully craftingCV that highlights all your aptitudes. Not only will you want to produce a work history which provides allof the key engineering skills you possess, but it must also highlight your abilities to deal with marine conditions. Your CV ought to be formatted in a ways that gives a fair representation of all of your strengths. By using our free mental marine engineer CV sample as a template you will make sure that all of the basic requirements are covered along with gaining further insights into the best method of presenting yourself.
Create This CVSee all templates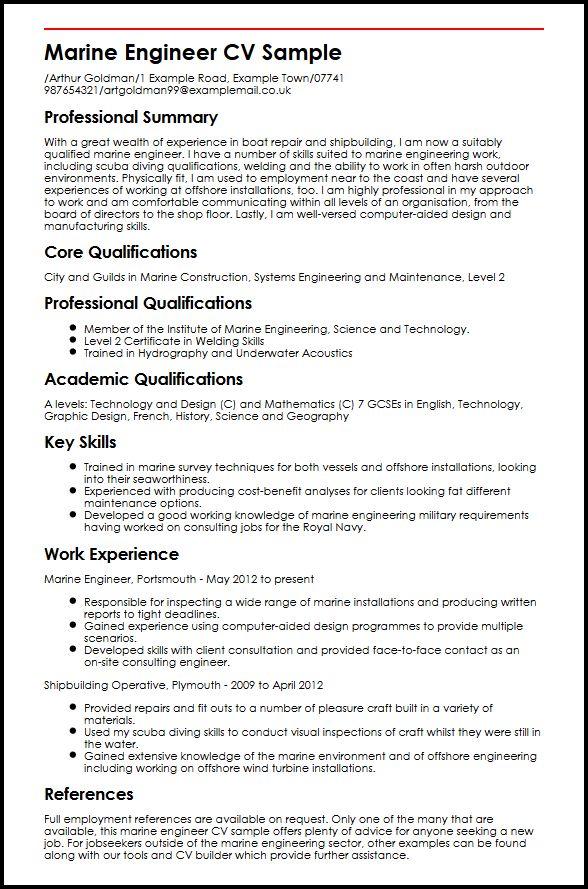 Build a professional CV that gets you hired.
Marine Engineer CV Sample/Arthur Goldman/1 Example Road, Example Town/07741 987654321/artgoldman99@examplemail.co.uk
Professional Summary
With a great wealth of experience in boat repair and shipbuilding, I am now a suitably qualified marine engineer. I have a number of skills suited to marine engineering work, including scuba diving qualifications, welding and the ability to work in often harsh outdoor environments. Physically fit, I am used to employment near to the coast and have several experiences of working at offshore installations, too. I am highly professional in my approach to work and am comfortable communicating within all levels of an organisation, from the board of directors to the shop floor. Lastly, I am well-versed computer-aided design and manufacturing skills.
Core Qualifications
City and Guilds in Marine Construction, Systems Engineering and Maintenance, Level 2
Professional Qualifications
Member of the Institute of Marine Engineering, Science and Technology.
Level 2 Certificate in Welding Skills
Trained in Hydrography and Underwater Acoustics
Academic Qualifications
A levels: Technology and Design (C) and Mathematics (C)7 GCSEs in English, Technology, Graphic Design, French, History, Science and Geography
Key Skills
Trained in marine survey techniques for both vessels and offshore installations, looking into their seaworthiness.
Experienced with producing cost-benefit analyses for clients looking fat different maintenance options.
Developed a good working knowledge of marine engineering military requirements having worked on consulting jobs for the Royal Navy.
Work Experience
Marine Engineer, Portsmouth - May 2012to present
Responsible for inspecting a wide range of marine installations and producing written reports to tight deadlines.
Gained experience using computer-aided design programmes to provide multiple scenarios.
Developed skills with client consultation and provided face-to-face contact as an on-site consulting engineer.
Shipbuilding Operative, Plymouth - 2009 to April 2012
Provided repairs and fit outs to a number of pleasure craft built in a variety of materials.
Used my scuba diving skills to conduct visual inspections of craft whilst they were still in the water.
Gained extensive knowledge of the marine environment and of offshore engineering including working on offshore wind turbine installations.
References
Full employment references are available on request.Only one of the many that are available, this marine engineer CV sample offers plenty of advice for anyone seeking a new job. For jobseekers outside of the marine engineering sector, other examples can be found along with our tools and CV builder which provide further assistance.
Related CVs Engineering CV Examples