Automotive Engineer CV Example
If you are applying for jobs in the motor industry, an automotive engineer CV sample can give you valuable guidance as you set out your work experience and skills. For the best results, you should tailor your CV to the exact job you want, both in the information you supply and in the way you format the page, and that's where an automotive engineer CV sample can help your application shine. The sample below has been researched and written with automotive engineering positions in mind. With the right CV, you will be helping employers to find you, as well as helping yourself to find a great job.
Create This CVSee all templates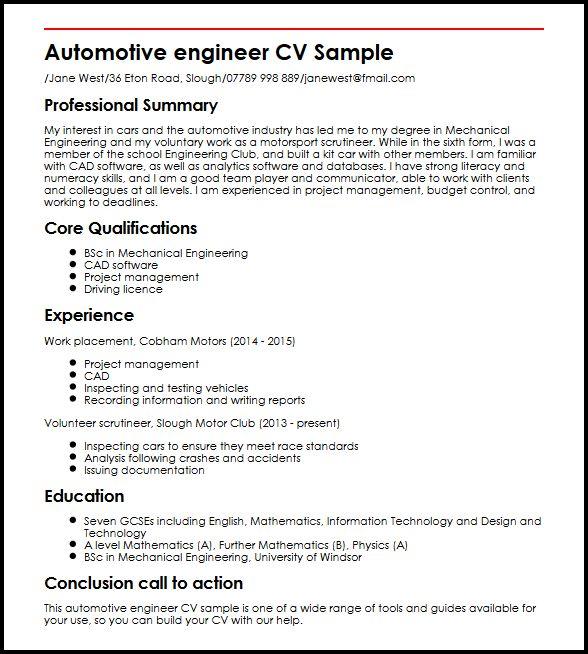 Build a professional CV that gets you hired.
Automotive engineer CV Sample/Jane West/36 Eton Road, Slough/07789 998 889/janewest@fmail.com
Professional Summary
My interest in cars and the automotive industry has led me to my degree in Mechanical Engineering and my voluntary work as a motorsport scrutineer. While in the sixth form, I was a member of the school Engineering Club, and built a kit car with other members. I am familiar with CAD software, as well as analytics software and databases. I have strong literacy and numeracy skills, and I am a good team player and communicator, able to work with clients and colleagues at all levels. I am experienced in project management, budget control, and working to deadlines.
Core Qualifications
BSc in Mechanical Engineering
CAD software
Project management
Driving licence
Experience
Work placement, Cobham Motors (2014 - 2015)
Project management
CAD
Inspecting and testing vehicles
Recording information and writing reports
Volunteer scrutineer, Slough Motor Club (2013 - present)
Inspecting cars to ensure they meet race standards
Analysis following crashes and accidents
Issuing documentation
Education
Seven GCSEs including English, Mathematics, Information Technology and Design and Technology
A level Mathematics (A), Further Mathematics (B), Physics (A)
BSc in Mechanical Engineering, University of Windsor
Conclusion call to action
This automotive engineer CV sample is one of a wide range of tools and guides available for your use, so you can build your CV with our help.
Related CVs Engineering CV Examples