Telecommunication Engineer CV Example
In order to land a job in the telecommunications sector you will need a well written CV that details all of your abilities and knowledge. Highlighting your relevant experience is important, however you should also make sure that your transferable skills are also mentioned on your application. By using our free sample telecommunication engineer CV sample, it becomes easy to make sure that all of the right sort of information is included for would-be employers. It will also help you to use the right sort of format that is expected for a modern CV.
Create This CVSee all templates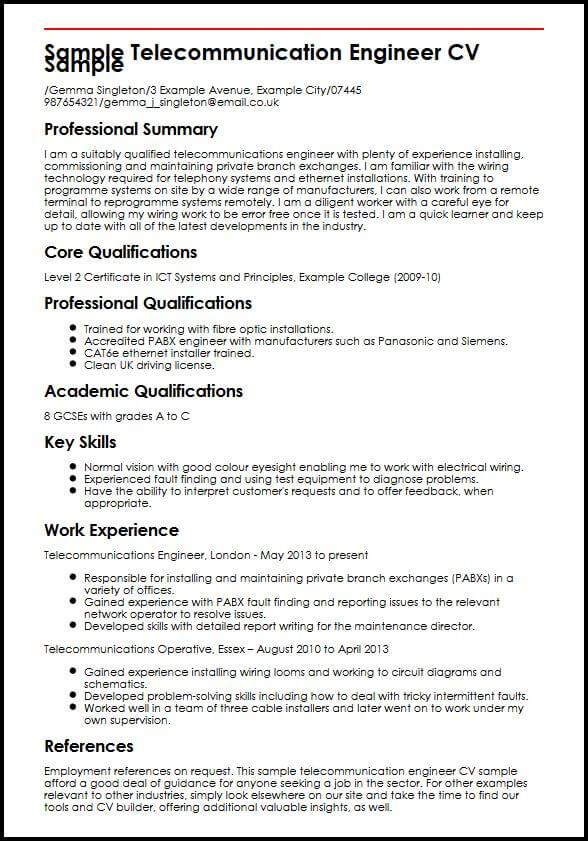 Build a professional CV that gets you hired.
Sample Telecommunication Engineer CV Sample/Gemma Singleton/3 Example Avenue, Example City/07445 987654321/gemma_j_singleton@email.co.uk
Professional Summary
I am a suitably qualified telecommunications engineer with plenty of experience installing, commissioning and maintaining private branch exchanges. I am familiar with the wiring technology required for telephony systems and ethernet installations. With training to programme systems on site by a wide range of manufacturers, I can also work from a remote terminal to reprogramme systems remotely. I am a diligent worker with a careful eye for detail, allowing my wiring work to be error free once it is tested. I am a quick learner and keep up to date with all of the latest developments in the industry.
Core Qualifications
Level 2 Certificate in ICT Systems and Principles, Example College (2009-10)
Professional Qualifications
Trained for working with fibre optic installations.
Accredited PABX engineer with manufacturers such as Panasonic and Siemens.
CAT6e ethernet installer trained.
Clean UK driving license.
Academic Qualifications
8 GCSEs with grades A to C
Key Skills
Normal vision with good colour eyesight enabling me to work with electrical wiring.
Experienced fault finding and using test equipment to diagnose problems.
Have the ability to interpret customer's requests and to offer feedback, when appropriate.
Work Experience
Telecommunications Engineer, London - May 2013to present
Responsible for installing and maintaining private branch exchanges (PABXs) in a variety of offices.
Gained experience with PABX fault finding and reporting issues to the relevant network operator to resolve issues.
Developed skills with detailed report writing for the maintenance director.
Telecommunications Operative, Essex | August 2010 to April 2013
Gained experience installing wiring looms and working to circuit diagrams and schematics.
Developed problem-solving skills including how to deal with tricky intermittent faults.
Worked well in a team of three cable installers and later went on to work under my own supervision.
References
Employment references on request.This sample telecommunication engineer CV sample afford a good deal of guidance for anyone seeking a job in the sector. For other examples relevant to other industries, simply look elsewhere on our site and take the time to find our tools and CV builder, offering additional valuable insights, as well.
Related CVs Engineering CV Examples