Modern CV Template
There are many aspiring professionals who require a competitive edge in order to excel within an increasingly fluid job market.Although possessing the correct skills and relevant qualifications are both very important, the fact of the matter is that many would-be employees are missing out on valuable opportunities due to the fact that they have a poorly constructed CV.This is one of the many reasons why the modern CV sample found below can be very useful.Please take a few moments to read its contents to appreciate how this document is formatted.

Create This CVSee all templates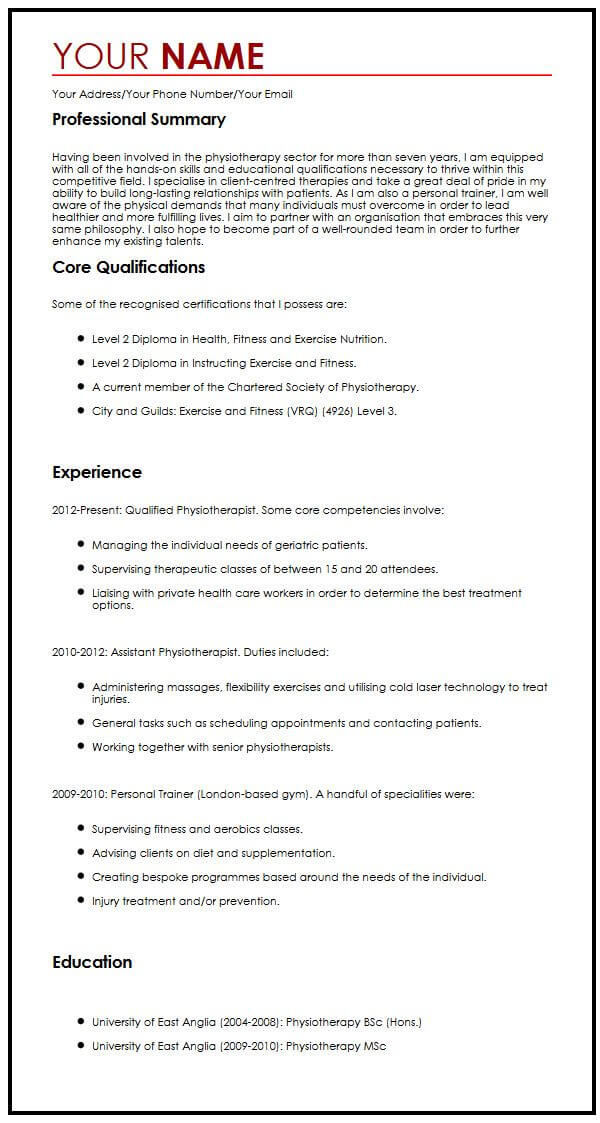 Build a professional CV that gets you hired.
Your Address/Your Phone Number/Your Email
Professional Summary
Having been involved in the physiotherapy sector for more than seven years, I am equipped with all of the hands-on skills and educational qualifications necessary to thrive within this competitive field.I specialise in client-centred therapies and take a great deal of pride in my ability to build long-lasting relationships with patients.As I am also a personal trainer, I am well aware of the physical demands that many individuals must overcome in order to lead healthier and more fulfilling lives.I aim to partner with an organisation that embraces this very same philosophy.I also hope to become part of a well-rounded team in order to further enhance my existing talents.
Core Qualifications
Some of the recognised certifications that I possess are:
Level 2 Diploma in Health, Fitness and Exercise Nutrition.
Level 2 Diploma in Instructing Exercise and Fitness.
A current member of the Chartered Society of Physiotherapy.
City and Guilds: Exercise and Fitness (VRQ) (4926) Level 3.
Experience
2012-Present: Qualified Physiotherapist.Some core competencies involve:
Managing the individual needs of geriatric patients.
Supervising therapeutic classes of between 15 and 20 attendees.
Liaising with private health care workers in order to determine the best treatment options.
2010-2012: Assistant Physiotherapist.Duties included:
Administering massages, flexibility exercises and utilising cold laser technology to treat injuries.
General tasks such as scheduling appointments and contacting patients.
Working together with senior physiotherapists.
2009-2010: Personal Trainer (London-based gym).A handful of specialities were:
Supervising fitness and aerobics classes.
Advising clients on diet and supplementation.
Creating bespoke programmes based around the needs of the individual.
Injury treatment and/or prevention.
Education
University of East Anglia (2004-2008): Physiotherapy BSc (Hons.)
University of East Anglia (2009-2010): Physiotherapy MSc
Conclusion
This modern CV sample illustrates all of the most important sections and details that should be mentioned.As we have utilised a very specific field as an example, we encourage you to browse through our other pages for additional insight as well as to uncover some valuable job-seeking tips.