Our customers have been hired by: *
Recruiters see hundreds of CVs with each job role – a modern CV template helps you to stand out from the crowd. Whether you're looking for a professional CV template or a creative CV, a clear and well written modern CV shows potential employers that you're the candidate they've been searching for.
Cut down the time and energy you spend on job applications by using a modern CV template. Browse myPerfectCV's collection of modern CV templates to discover the perfect CV for your dream job.
Download one of our modern CV templates
Modern CV templates by job title and industry
In today's digital world, practically every job is classed as modern. Take a look at some CV examples for different job titles and industries using our modern templates.
Top tips for using a modern CV template
Choose the right modern CV layout

A CV's job is to hold the recruiter's attention and showcase your achievements. A modern CV layout helps to draw an employer's eye from your contact details right down to your skills. A modern CV layout for UK jobs can help you stand out, but the layout should make the CV clear and easy to read, rather than complicating it. Adding a margin at side of your CV, for example, can create an effective space to display your contact details, skills, and languages. Ultimately, your modern CV template should complement your work history, not overshadow it.

Develop your CV design for modern jobs

Choosing the right CV design for a modern job needs some consideration. Whilst it might be tempting to go for a unique design, it's important to place the focus on your work and academic history. Keep your modern CV font simple and professional, rather than experimenting with bold or quirky fonts. Using a creative CV design for a modern job application can create a striking impression, but you should again tailor this to the job. If you really want to stand out, a modern CV template with a photo can create an immediate connection with employers. However, you should check in the job description if the company accepts them

Use a modern CV builder to save time

When you're job hunting, chances are you're sending out more than one CV. If you're creating your modern CV template from scratch, that can cut into precious time for other tasks. A modern CV builder provides you with bespoke layout and formatting options, so you can stay in control of your modern CV template without having to spend hours developing your own design. You can create a modern CV template with a photo, or keep the style streamlined to suit your needs.
FAQs about using a modern CV template
How to create a modern CV template
There are several major steps to creating a modern CV template. Start by researching the company you wish to apply to and looking at some modern CV examples from your field. Be clear on the type of modern CV format that your prospective employer accepts, because formatting will impact how your CV looks when they receive and read it. Next, if you're aiming for a job in the UK, you'll need to choose a modern CV template for UK jobs. This is because American resumes sometimes have different requirements for formatting and content. Next, start adding information to your modern CV template. Don't be tempted to include every last detail of your academic and work history. Keep your CV to two pages as a maximum. Once you've added in all your details, take a break from writing, and then come back to review your modern CV later in the day. Look for aspects in the design and formatting that could be confusing.
How to make a modern CV in Word
Word is generally the best format for a modern CV template. This is because many organisations utilise ATS software to filter CVs for relevant keywords. If your modern CV template uses PDF format, it's less likely for keywords to be picked up. PDF format is generally more useful for when you need to make a modern creative CV. If you want to know how to make a modern CV in Word, the key factor to consider is formatting. Since doc formatting can appear differently depending on the program recruiters use to open the file, you need to ensure you don't use complex formatting. A modern CV template Word doc can provide you with clear formatting outlines for your CV.
What does a modern CV look like?
Modern CVs can vary dramatically in appearance. A professional modern CV template will likely be sleek and streamlined. It will need to use subdued colours, and a formal, yet stylish design. In some cases, it can also help to use a modern CV template with a photo. A modern creative CV looks very different, because the focus is placed onto showcasing your creative skills. This type of CV should feature photographs, illustrations, or copywriting that demonstrates your creative style and achievements. Ensure you also add details about your work and academic history to support your application.
Dos and don'ts for writing a modern CV
Do
Do review modern CV examples before writing your CV. Looking at CV examples can give you inspiration and direction for your own CV. Look at the CV layout and font used in successful CVs. How is the information displayed? What colour has the candidate used? What skills have they mentioned? Is there anything they have included that you haven't? Examining a modern CV sample helps you to understand how to choose the right layout and content for your CV.
Do choose the right modern CV format for UK jobs. If recruiters are going to be impressed by your modern CV, they need to be able to see it. To ensure you don't get filtered by the organisation's ATS software, you need to make sure you're using the correct format. Generally speaking, a modern CV template Word doc is the most ATS-friendly format.
Don't
Don't focus on irrelevant information in your modern CV. Your modern CV should focus on your work achievements, rather than your interests. Don't be tempted to pad your CV with details about hobbies or skills if these aren't relevant to the role. For example, if you are developing a modern IT CV template, you should focus on your work experience with IT, your relevant qualifications and the types of software you are familiar with. Unless you want to work for a French company, your French GCSE is likely not going to be an important detail.
Don't ignore industry requirements for your CV. A modern-day CV template will still vary between industries. Illustrators may need to include samples of their work within their CV – or cover letter. A modern IT CV template will need more about work experience with computer software and hardware. Go into detail about projects or work successes related to the position, and describe any achievements or awards received in your industry.
Step closer to an amazing interview with a modern CV template
With our modern CV templates, showcasing your experience and qualifications has never been so easy. A bespoke modern CV template from myPerfectCV's collection features sections for your contact details, personal statement, work and academic history, and skills. Whether you're looking for a simple CV template or a modern CV template with a photo, you'll find exactly what you're looking for. Try our CV builder today and get started on your career journey.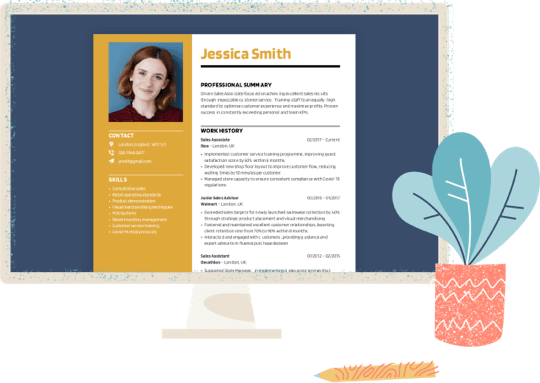 *The names and logos of the companies referred to above are all trademarks of their respective holders. Unless specifically stated otherwise, such references are not intended to imply any affiliation or association with myperfectCV.